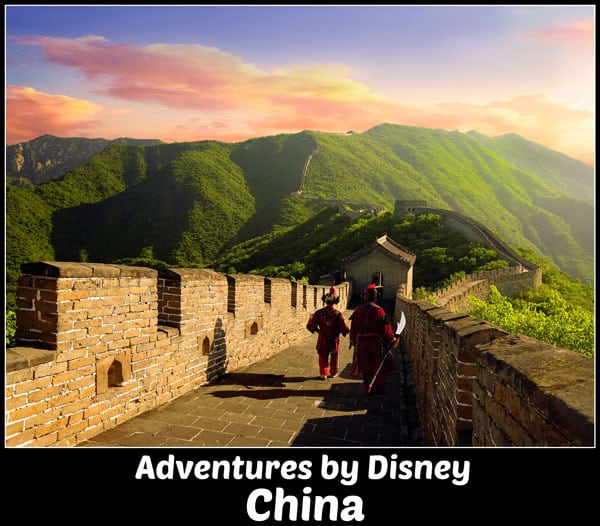 Beijing, Chendu, Guilin, Shanghai and Hong Kong – 12 Days/11 Nights
Adventures by Disney China – To truly experience China, you must immerse yourself in its history and spend time among its people. On this unforgettable trip, you'll walk atop the ancient Great Wall, get an up-close look at the famed terra cotta warriors of Xi'an, travel to the scenic gum drop mountains of Guilin, explore modern Shanghai and Hong Kong and learn centuries-old arts as you get to know this enchanted land.
Adventures by Disney China Vacation Highlights
Experience the History of Beijing
Explore Tiananmen Square and the Forbidden City on a privately guided tour. Walk along the Great Wall—one of the Seven New Wonders of the World—and see the beautiful forests below.
Meet China's Pandas
Observe a variety of delightful pandas on a privately guided visit to Chengdu Research Base of Giant Panda Breeding—China's premier institution devoted to the preservation of these rare and beloved animals.
Terra Cotta Warriors in Xi'an
Take an excursion to Xi'an for a privately guided visit to see the platoons of terracotta warriors and horses. Buried with China's first emperor, Qin Shi Huang Di, these reddish clay sculptures are among the most significant archeological finds of the 20th century!
Explore Hong Kong
Be awed by the panoramic vistas of Hong Kong from atop Victoria Peak, shop at the world-famous Stanley Market and enjoy this city's excellent culinary offerings.
Cultural Entertainment
Enjoy traditional Chinese culture with a performance of the Sichuan Opera—featuring the magical art of face changing. Be amazed when you see actors changing more than 10 masks in under 20 seconds!
Visit Hong Kong Disneyland Resort And Shanghai Disneyland
Top off your visit to Hong Kong with the magical experience of Hong Kong Disneyland, which boasts 7 lands. And while you're on the mainland, thrill to Shanghai Disney Resort—the newest Disney Resort in existence—with a theme park featuring some attractions you can't find anywhere else!
Adventures by Disney China Accommodations:
The Peninsula Hong Kong
Rosewood Beijing
The Ritz Carlton, Chengdu
The Shangri-La Guilin
The Peninsula Shanghai
Adventures by Disney China Meals Included: 11 Breakfasts, 9 Lunches, 7 Dinners
Age Requirements: Minimum age 6, Recommended age 8+
Adventures by Disney China Vacation Travel Dates and Itinerary
2020 Season Departure Dates
Jun 28, 2020 – Jul 9, 2020
Jul 5, 2020 – Jul 16, 2020
Jul 12, 2020 – Jul 23, 2020
Jul 19, 2020 – Jul 30, 2020
Jul 26, 2020 – Aug 6, 2020
Aug 2, 2020 – Aug 13, 2020
Aug 9, 2020 – Aug 20, 2020
Aug 16, 2020 – Aug 27, 2020
Aug 23, 2020 – Sep 3, 2020 – Adult Exclusive
Aug 30, 2020 – Sep 10, 2020 – Adult Exclusive
Sep 13, 2020 – Sep 24, 2020 – Adult Exclusive
Oct 18, 2020 – Oct 29, 2020 – Adult Exclusive
Download the 2020 Adventures by Disney Itinerary
Request Your Adventures By Disney Vacation Price Quote.
Begin Your Adventure Today!