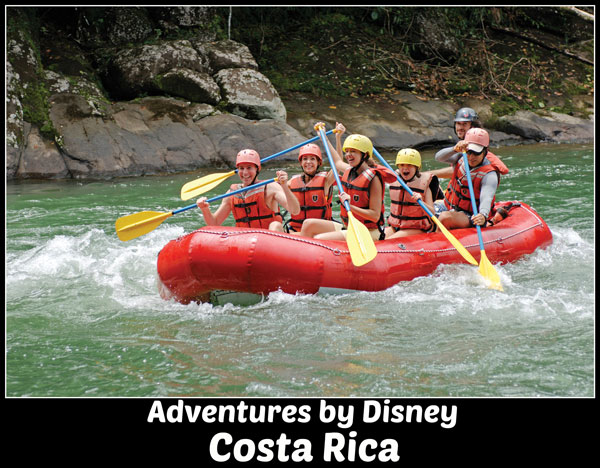 San José, Caño Negro, Arenal Volcano National Park and Guanacaste – 7 Days/6 Nights
Adventures by Disney Costa Rica  – From the Caribbean to the Pacific, experience a land that is as exciting as it is colorful. Zipline above the treetops of a rainforest teeming with exotic wildlife, race down white-water rapids, marvel at the sight of an active volcano and walk along breathtakingly beautiful beaches on this Adventures by Disney Costa Rica vacation.
Adventures by Disney Costa Rica Vacation Highlights
Caño Negro Experience – Explore the mysteries of the rain forest as you cruise down the Rio Frio while your guide points out the many varieties of plants and animals that inhabit this lush, tropical arena. Be sure to keep watch for monkeys, sloths, crocodiles and many other indigenous denizens of the rain forest.
Hanging Bridges Experience in Arenal – See the wonders of the rain forest from a different perspective—high above the ground! Cross any of the 15 hanging bridges that will give you a whole new perspective on life in this awe-inspiring part of the world.
Zip Lining in Arenal Volcano National Park – Soar above a rainforest canopy and through the clouds. Our Adventure Guides help make this the highflying thrill of a lifetime!
Tenorio River White Water Rafting – Enjoy a rafting adventure down roaring rapids and gushing waters on the Tenorio River (Class II – Class III). As you glide through smoother passages, marvel at the stunning forest scenery, tropical birds and other wildlife.
Private Catamaran Excursion – Cruise along Costa Rica's spectacular Gold Coast on this private tour. Drop anchor for fun in the sun on one of the white sand Guanacaste beaches or swim in the clear, warm waters of the Pacific Ocean. Go snorkeling for a deeper dive into tropical beauty.
Adventures by Disney Costa Rica Vacation Accommodations:
Costa Rica Marriott Hotel San José
Laguna Lodge
Hotel Arenal Manoa
El Mangroove Hotel
Meals Included: 6 Breakfasts, 4 Lunches, 5 Dinners
Age Requirements: Minimum age 4, Recommended age 8+
Adventures by Disney Costa Rica Vacation Travel Dates and Itinerary
2020 Season Departure Dates
May 30, 2020 – Jun 5, 2020
Jun 6, 2020 – Jun 12, 2020
Jun 13, 2020 – Jun 19, 2020
Jun 20, 2020 – Jun 26, 2020
Jun 27, 2020 – Jul 3, 2020
Jul 4, 2020 – Jul 10, 2020
Jul 11, 2020 – Jul 17, 2020
Jul 18, 2020 – Jul 24, 2020
Jul 25, 2020 – Jul 31, 2020
Aug 1, 2020 – Aug 7, 2020
Aug 8, 2020 – Aug 14, 2020
Aug 15, 2020 – Aug 21, 2020
Aug 22, 2020 – Aug 28, 2020
Aug 29, 2020 – Sep 4, 2020 – Adult Exclusive
Sep 5, 2020 – Sep 11, 2020 – Adult Exclusive
Oct 3, 2020 – Oct 9, 2020 – Adult Exclusive
Nov 7, 2020 – Nov 13, 2020 – Adult Exclusive
Dec 12, 2020 – Dec 18, 2020 – Adult Exclusive
Dec 19, 2020 – Dec 25, 2020
Dec 23, 2020 – Dec 29, 2020
Dec 26, 2020 – Jan 1, 2021
Dec 30, 2020 – Jan 5, 2021 – Adult Exclusive
Feb 10, 2021 – Feb 16, 2021
Feb 13, 2021 – Feb 19, 2021
Mar 6, 2021 – Mar 12, 2021 – Adult Exclusive
Mar 10, 2021 – Mar 16, 2021 – Adult Exclusive
Mar 13, 2021 – Mar 19, 2021
Mar 17, 2021 – Mar 23, 2021
Mar 20, 2021 – Mar 26, 2021
Mar 24, 2021 – Mar 30, 2021
Mar 27, 2021 – Apr 2, 2021
Download the 2020 Itinerary