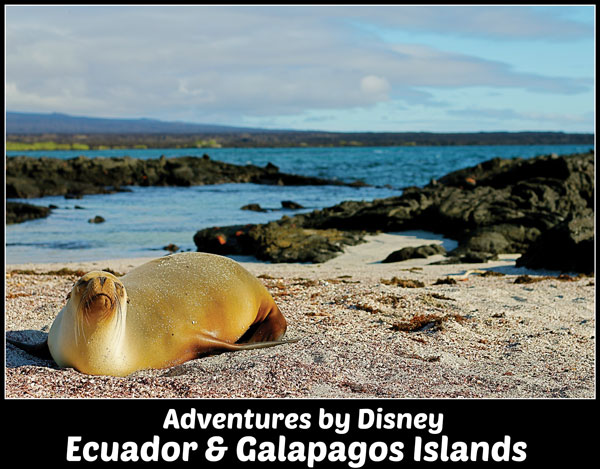 Quito, Otavalo Valley & Galapagos Islands – (9 Days/8 Nights)
Andean Highlands and Galapagos Islands – As you travel through this equatorial nation, you'll see and experience things that cannot be found anywhere else. From the exotic creatures of the Galapagos Islands, to the indigenous culture and cuisine of Ecuador's Andean highlands, there are extraordinary treasures at every turn.
Ecuador & Galapagos Islands Family Vacation Highlights
The Ecuador and Galapagos Islands family vacation from Adventures by Disney offers a land tour package that begins at the "Middle of the World" in Quito. The journey continues to the Andean Highlands with the silvery waterfalls of Peguche and the charming Hacienda Cusín of Otavalo Valley before you set sail through Darwin's paradise—the Islands of Galapagos.
4-Night Cruise In The Galapagos Islands
Board the Santa Cruz II ship for an eye-opening expedition voyage filled with visits to several islands, stargazing and storytelling.
Rose Plantation Tour
Find out about one of Ecuador's biggest exports and an important part of Ecuadorian culture—roses! Take a private tour of a working rose plantation and delight in a colorful array of beautiful flowers.
Quitsato Equator Sundial
Visit this enormous sundial that sits exactly on the equator. Built in 2006 with the goal of honoring the astronomical achievements of this region's ancient cultures, it works with impressive accuracy. Read the time and month on its clock face and track the movements of the heavens.
Hiking And Snorkeling In The Galapagos Islands
Hike across the Galapagos Islands and explore exotic underwater worlds, accompanied by a naturalist who enhances your experience with scientific facts and history. Encounter many species, some unique to these islands.
Experience The Andean Way Of Life
Be welcomed to Ecuador at a festive dinner, complete with music played by a local flute-maker and dance performed by spirited folk dancers. Also, learn weaving techniques and more from local experts at a renowned cultural center.
Ecuador & Galapagos Islands Accommodations:
JW Marriott
Puertolago Country Inn
Santa Cruz II Ship
Hotel del Parque
Meals Included: 8 Breakfasts, 6 Lunches, 7 Dinners
Age Requirements: Minimum age 7, Recommended age 8+
Ecuador & Galapagos Islands Travel Dates and Itinerary