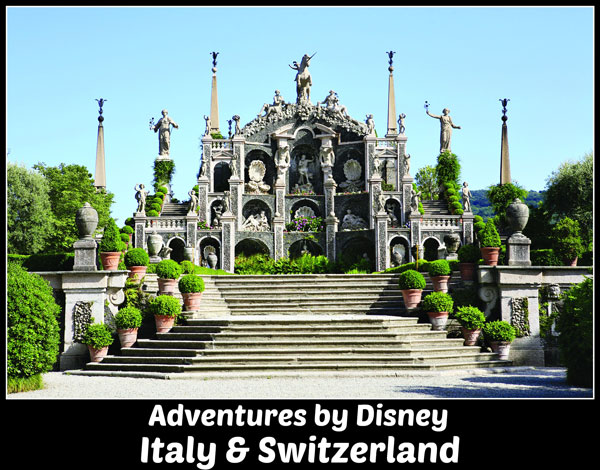 Lake Como, Lucerne, the Alps & Zermatt – 8 Days/7 Nights
Alpine Magic – From the majestic, snow-covered Matterhorn to the romantic Baroque villas on the shores of Lake Como. Experience the spectacular beauty of The Alps, discover the rich history and timeless traditions that make the Alpine way of life so enchanting.
Alpine Family Vacation Highlights
The Swiss Alps family vacation from Adventures by Disney begins in Stresa, Italy with a tour of breathtaking Isola Bella Island. Next, be swept up to the astounding heights of Zermatt, Switzerland near the Matterhorn Mountain and follow in the footsteps of the ancient Celts as you approach Lake Lucerne. It's a vacation that will leave you yodeling!
Cruise to Isola dei Pescatori on Lake Maggiore
Take a private cruise on Lake Maggiore from Stresa to the idyllic Isola dei Pescatori, or Fisherman's Island. Enjoy strolling the promenade that encircles the island and is populated with restaurants, gift shops and boutiques featuring local crafts.
Lake Como Cooking Class
Learn pasta-making with a professional chef in a private cooking class held at a local villa on the shores of Lake Como.
Ropes Course & Zip Lining in The Alps
Harness up and navigate over Zermatt's crisp pines, creeks and paths on Forest Fun Park's zip lines, enjoying a spectacular view of the Matterhorn
Excursion to Mount Titlis
Marvel at the stunning views of the surrounding Swiss Alps as you ascend to the summit of Mt. Titlis via an aerial car. Once at the top of the mountain, you can choose various activities to enjoy.
Alpine Magic Tour Accommodations:
Grand Hotel Des Iles Borromees
Mont Cervin Palace
Hotel Schweizerhof Luzern
Hotel Continental Park Luzern
Meals Included: 7 Breakfasts, 5 Lunches, 4 Dinners
Age Requirements: Minimum age 4, Recommended age 6+
Alpine Tour Travel Dates and Itinerary and Itinerary
2020 Season Departure Dates
Jun 8, 2020 – Jun 15, 2020
Jun 19, 2020 – Jun 26, 2020
Jun 26, 2020 – Jul 3, 2020
Jul 24, 2020 – Jul 31, 2020
Jul 31, 2020 – Aug 7, 2020
Aug 7, 2020 – Aug 14, 2020
Aug 21, 2020 – Aug 28, 2020
Sep 4, 2020 – Sep 11, 2020 – Adult Exclusive
Sep 18, 2020 – Sep 25, 2020 – Adult Exclusive
Download the 2020 Adventures by Disney Itinerary