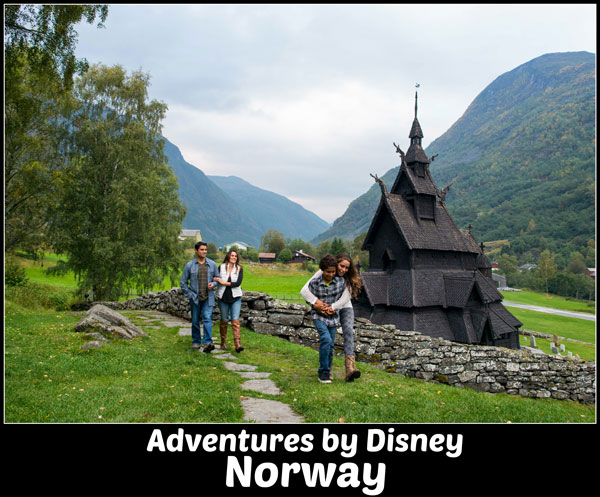 Norway – Fjords, Bergen & Oslo – 8 Days/7 Nights
Experience all the beauty and majesty our tour of Norway has to offer as you explore the quaint villages and majestic landscapes that make up this scenic country that served as the inspiration for the upcoming animated comedic-adventure, Disney's Frozen. You and your family will follow in the filmmakers' footsteps as you hike, raft and traverse the awe-inspiring terrain.
Norway Vacation Highlights
Discover Bergen
Visit this storybook village that was the inspiration for the kingdom of Arendelle, home to Anna and her sister Elsa in Disney's animated movie Frozen. Be sure to get a glimpse of life in the 14th-century with a visit to the Bryggen district!
Journey Through Fjord Country
Discover diverse landscapes ranging from beautiful island coastlines to snow-capped mountains, Explore Western Norway's best known fjords, including Geirangerfjord and Naeroyfjord—both UNESCO World Heritage Sites. Meet local storytellers, fishermen and farmers.
River Rafting Experience
Float along the pristine waters of one of Norway's breathtaking rivers as it carries you past gorgeous Norwegian landscapes, with professional local guides providing a wonderful experience for Adventurers of all ages.
Learn Norwegian Folk Dancing
Take part in the rich history of one of the region's most beloved pastimes—folk dancing. Whirl around like Anna in Disney's Frozen and feel like a local from Arendelle!
Trout Fishing Amid Glaciers
Float on the glacial blue waters of Lake Loen for a net fishing experience and catch some trout!
Visit Stave Churches
Get a close-up look at these wooden masterpieces that remain an important part of Norway's heritage as well as its contribution to the history of world architecture. The unique stave-style also served as the inspiration for much of architecture in the classic Disney movie Frozen.
Norway Vacation Accommodations:
Radisson Blu Royal Hotel
Fretheim Hotel
Hotel Union
Hotel Continental Oslo
Meals Included: 7 Breakfasts, 5 Lunches, 5 Dinners
Age Requirements: Minimum age 5, Recommended age 6+
Norway Travel Dates and Itinerary
2020 Season Departure Dates
Jun 13, 2020 – Jun 20, 2020
Jun 23, 2020 – Jun 30, 2020
Jul 4, 2020 – Jul 11, 2020
Jul 14, 2020 – Jul 21, 2020
Jul 25, 2020 – Aug 1, 2020
Aug 4, 2020 – Aug 11, 2020
Aug 15, 2020 – Aug 22, 2020
Sep 5, 2020 – Sep 12, 2020 – Adult Exclusive