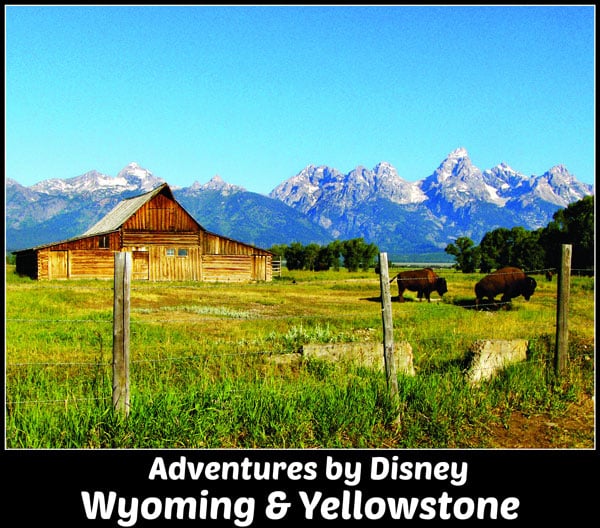 Jackson Hole, Grand Teton & Yellowstone National Parks & Brooks Lake – 7 Days/6 Nights
Adventures by Disney Wyoming and Yellowstone Quest for the West – Here in the heart of the American West, families will learn to ride, raft, fish and rope like true wranglers. And will do it all against the backdrop of some of the west's most impressive landscapes.
Adventures by Disney Wyoming Vacation Highlights
Snake River Whitewater Rafting – Shoot down the rollicking Snake River and feel the thrill of whitewater rafting. As you float along, watch for eagles, herons and osprey!
Grand Teton National Park – Cruise on the Jenny Lake Ferry before hiking to an 80-foot (24.4-meter) waterfall during a visit to Hidden Falls. Use heat-seeking laser thermometers to find natural wonders as you journey into Yellowstone National Park.
Yellowstone National Park Tour – Explore the natural beauty of this national treasure where you'll experience the mystery and explosive power of Old Faithful, hike around the Grand Canyon of the Yellowstone and view magnificent wildlife in expansive Hayden Valley.
Stay at a Dude Ranch – Enjoy an exclusive stay at the historic Brooks Lake Lodge. Have great family fun with activities that include fly-fishing, hiking, canoeing and archery. Saddle up and explore the mountains on horseback—and learn how to rope and ride from a real cowboy!
Adventures by Disney Wyoming Vacation Accommodations:
Wort Hotel
Yellowstone National Park Lodging
Brooks Lake Lodge
Meals Included: 6 Breakfasts, 5 Lunches, 4 Dinners
Age Requirements: Minimum age 4, Recommended age 7+
Adventures by Disney Wyoming Travel Dates and Itinerary
2020 Season Departure Dates
Jun 14, 2020 – Jun 20, 2020
Jun 21, 2020 – Jun 27, 2020
Jun 24, 2020 – Jun 30, 2020
Jul 1, 2020 – Jul 7, 2020
Jul 5, 2020 – Jul 11, 2020
Jul 12, 2020 – Jul 18, 2020
Jul 15, 2020 – Jul 21, 2020
Jul 22, 2020 – Jul 28, 2020
Jul 29, 2020 – Aug 4, 2020
Aug 2, 2020 – Aug 8, 2020
Aug 5, 2020 – Aug 11, 2020
Aug 12, 2020 – Aug 18, 2020
Aug 16, 2020 – Aug 22, 2020
Aug 23, 2020 – Aug 29, 2020
Aug 26, 2020 – Sep 1, 2020 – Adult Exclusive
Download the 2020 Itinerary