Welcome aboard!  Maria & Enzo's Ristorante is one of the newest dining options in The Landing section of Disney Springs, having just opened in January 2018.
Maria & Enzo's is located next door to The Edison, Pizza Ponte, and Enzo's Hideaway Bar. From the moment you set foot in the restaurant, you'll feel like you were transported back to one of the grand airlines from the 1930's. The host/hostesses are dressed in classic airline uniforms, blending perfectly with the art deco theme. The entrance and waiting area are both located on the upper level. From there, you can look down onto the dining room, located on the lower level. The views are simply spectacular!  With an open design, 50-foot-high ceilings and huge windows overlooking the waterfront, this could easily be one of the most beautiful and impressive venues on Disney property.
As you walk down the staircase, be sure to take in all the details—the retro travel posters, colorful mural, and huge globe make you feel like you've been transported to a distant time and place. Note: The grand staircase is a popular place for selfies and group photos, so don't miss the chance to get your photo taken here!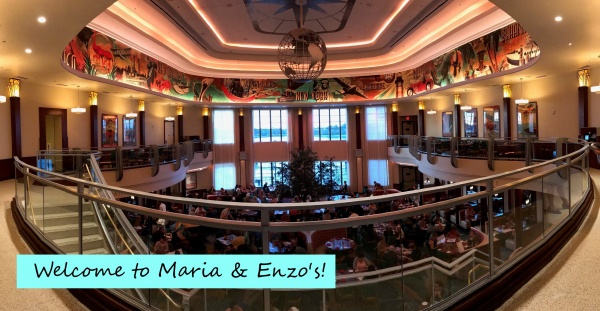 All the waitstaff we met were native Italians, willing to speak to us about their hometown and the specialties of Italy.  After ordering drinks, your server will start you off with warm bread and virgin olive oil (or you can request butter). The menu includes some of the Sicily's best recipes.  For appetizers, our group feasted on the calamari and the arancini di carne (balls made of rice and meat). We then ordered the chicken parmigiana, three-cheese ravioli, and chicken sausage ragu.  I can heartily recommend all these dishes—the portions were hearty (especially the parmigiana and the chicken ragu), and we all agreed this was some of the best Italian cuisine we've ever tasted!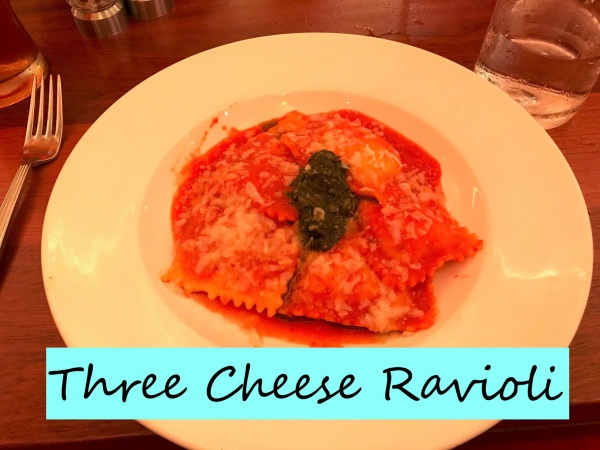 Don't leave before sampling some of the desserts!  I would recommend the cannoli—a crisp pastry shell filled with creamy filling and chocolate chips.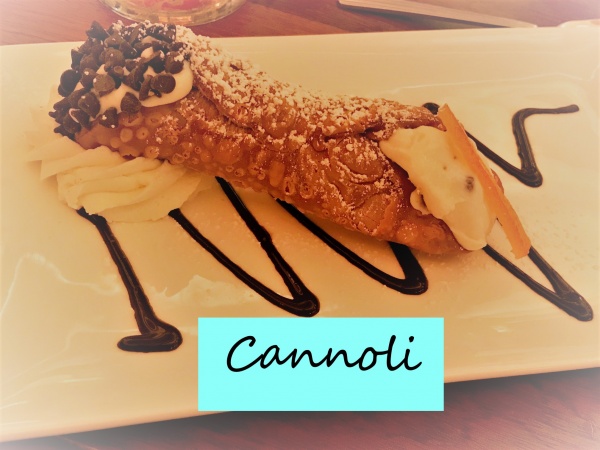 The next time you visit Disney Springs, make plans to visit Maria & Enzo's…. you won't be disappointed!

My love for travel started when I was just a child, and has grown exponentially ever since! I've been traveling since I was a toddler, visiting family in Europe and South America (Brazil). Since then, I've visited many countries, taken dozens of cruises, and visited all the major Disney Destinations. I'm a Disney Cruise Line Platinum Castaway Club member, have visited Disneyland and Disneyland Paris, and have experienced the magic of Adventures by Disney. Growing up in New York, I didn't have much of a chance to visit Walt Disney World, but once I made my first trip, I knew I'd eventually move down to Orlando to be closer to the magic. I'm happy to say I now live just a short ride from the "World," and have lost count of my visits!When looking for a travel consultant, experience is very important. I've been in the travel business for over 10 years, am a graduate of the College of Disney Knowledge, and have attended seven EarMarked Conferences (designed for the very best Authorized Disney Vacation Planners). My passion is helping my clients plan their vacations to all parts of the world. Each and every client receives my excellent service and attention to detail, and no request is too small or extravagant. I've helped clients with everything from short cruises to a stay in a 500-year-old European castle, and everything in between! So, if you have a travel goal, I'll find a way for you to get there!