Disney's Paradise Pier Hotel is located on property at Disneyland Resort. The hotel design is of a seaside theme which celebrates the heyday of California beachfront boardwalks. It has a unique and whimsical feel which feels old-fashioned yet modern. The accommodations and distinct room types of the hotel make it a fun and restful resort for a family of any size. Paradise Pier is within walking distance to the Disneyland theme parks and to Downtown Disney. In this article, we review our experience at the hotel after a recent stay.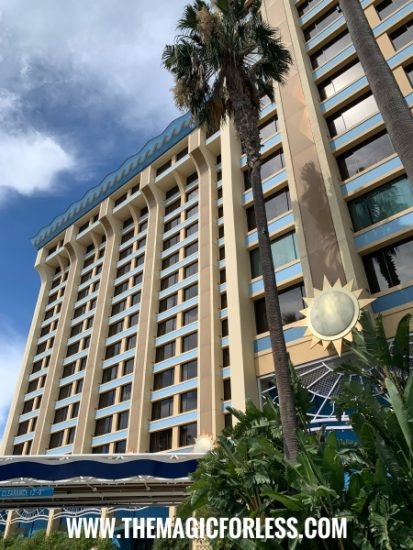 We should note that in regards to some amenities, some large refurbishments were taking place during our stay and we were not able to experience all amenities offered. Additionally, the resort has since announced a transitional phase into a re-theming of the hotel.
Despite the temporary pause in some available amenities, we did experience a pleasant stay and there are plenty of reasons to recommend the hotel for future stays.
Disney's Paradise Pier Offers Easy Access To Disneyland Theme Parks and Downtown Disney
Disney's Paradise Pier is one of three onsite hotels at Disneyland Resort. One perk to staying on property is having easy access to the theme parks and to Downtown Disney.
For getting to the theme parks, there is a walkway next to the hotel that guests can take to get to Downtown Disney and both of the theme parks. We calculated our walk to about 7 minutes from start to finish. This was a perk in getting to the theme parks bright and early to start the day. It also helped when returning back to the room quickly to rest our tired feet after a full day in the parks.
Also, a brand new entrance has been added for guests to enter directly into Disney's California Adventure theme park via a separate walkway. Hotel guests have a dedicated entrance in Pixar Pier between Seaside Souvenirs and Corn Dog Castle.
Bright and Comfortable Room

 Design
Our room type was a standard room view which had two queen beds and one pull out day bed. The room was comfortable with plenty of closet space and room to relax. Subtle details depicting Mickey and friends was pleasant and welcoming. Our view overlooked the rooftop hotel pool, however at the time of our stay the pool was under refurbishment.

Both of the queen beds were quite comfortable, allowing us for a good night's rest, especially after a full day experiencing the parks. In the standard room, the bathroom has a shower/bathtub combo and large counter with one sink.
Also in the room is a mini fridge and coffee area as well as a writing desk.
Beautiful Hotel Design with A Seaside Feel
The hotel design is very bright and cheerful. Subtle details make it a comfortable and fun hotel to relax in. Upon walking into the resort, the vibe is of a seaside feel. A large statue of Goofy welcomes you inside. Other details found around the resort are nods to California beachfront boardwalks.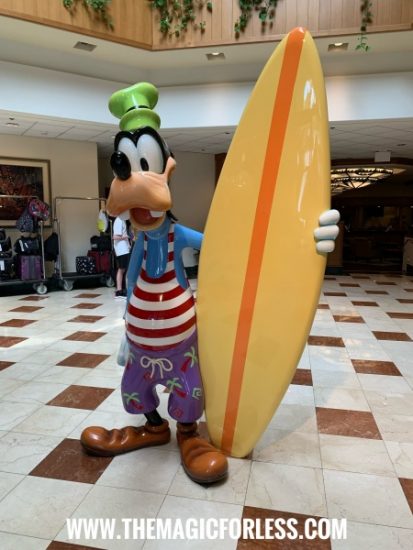 Exciting

Hotel Amenities
Disney's Paradise Pier boasts several great amenities. These amenities include:
Onsite pool on the rooftop


Fitness center

Character dining

restaurant

as well as grab and go options

Gift shop

Separate m

ovie

and television

viewing room

Easy access to Downtown Disney and theme parks

Dedicated entrance to Disney's California Adventure them

e

park

Fireworks viewing

from the pool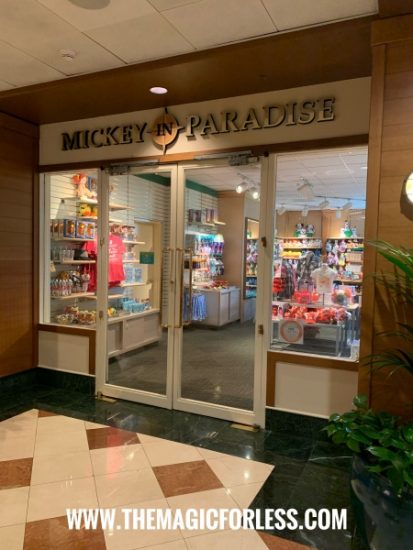 While some amenities were temporarily disabled during our stay, there were alternate options offered to us. For example, guests looking for dining options could mobile order from at Downtown Disney for delivery to the hotel. Additionally, guests can order from Disney's Grand Californian hotel for carryout. This is another great alternative since Disney's Grand Californian is directly across the street from Paradise Pier hotel.
Since the rooftop pool was also under refurbishment, we had the option to utilize the pool at the Grand Californian hotel instead. We felt these were great considerations for guests during a time of refurbishment at the hotel.
Our Review of Disney's Paradise Pier Hotel
Despite some amenities not available during our stay, we thoroughly enjoyed our visit. We recommend this hotel for families looking for a convenient way to access the theme parks and Downtown Disney. We'd love to stay here again and experience more of the wonderful amenities offered.
For more details about the hotel, amenities and top tips check out a definitive guide here.
Would you like more information on a vacation package for the Disneyland Resort, including a stay at Disney's Paradise Pier? Contact us today for a free no-obligation quote.
Similar Posts: