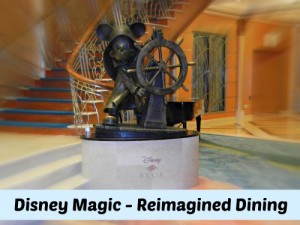 With so many changes and improvements, on the Disney Magic I wasn't sure which one to write about first.  Since a cruise and food seem to go hand in hand, I thought I would start with the changes to the dining spaces on the reimagined Disney Magic.  Disney was an innovator in the cruise industry and the first to offer rotational dining and they didn't disappoint with the improvements made to the dining spaces on the Disney Magic.
Carioca's was the restaurant that saw some of the largest changes.  Named after "The Three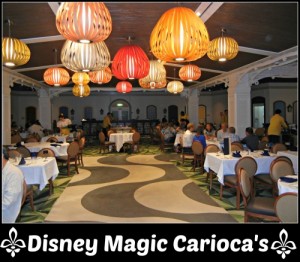 Caballeros" Jose Carioca, it occupies the former location of Parrot Cay.   The decor in Carioca's is inspired by Rio de Janeiro and now has a more sophisticated feel.  During the day, it is bright and fun with lighted lanterns & bright colors.  At night the lights are dimmed and the lanterns flicker to add a bit of magic to the room.
The new menu has a Latin flair. Appetizers include beef empanadas and an ahi tuna and avocado tower.
There is a Havana black bean soup and an interesting Cuban salad with watercress, pineapple, and avocado.
Entrees feature grilled orange and lemon marinated flank steak and a slow roasted pork belly.
There are also few interesting choices for dessert, but I think stand outs include the coconut tres leches cake and Carioca's ice cream sundae with apples and a churro.
You can see the complete Carioca's menu below.
Animator's Palate also has some new features.  The restaurant looks polished, and it also features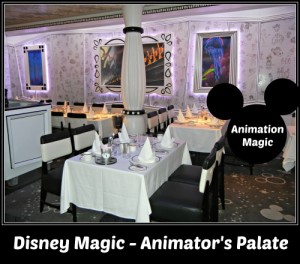 the popular Drawn to Magic show.  The show utilizes the screens located throughout the restaurants and celebrates the magic of Disney animation.  I don't want to give too much away, but guests will enjoy a show that includes many of their favorite Disney-Pixar characters as well as a surprise guest at the end.  Make a point to notice the music throughout the show.  I think you will hear some familiar tunes.
I love the idea that each of the Disney ships has a unique show in this signature restaurant.  It gives us all an excuse to experience all four of the Disney ships.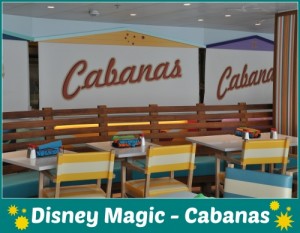 The Disney Magic's casual dining spot, Cabanas, also had a huge transformation.  The former Topsiders received a new name and like its counterparts on the Disney Dream and the Disney Fantasy, now has a more open feel. In fact, more indoor space was added to the restaurant, and it is much more spacious and comfortable.  It still has the outdoor seating area and is a great spot to enjoy a buffet style breakfast, lunch or snack.  Look for little sparks of decor inspired by Finding Nemo throughout the restaurant.
Finally, my favorite dining location on all of the Disney ships, Palo, also received some attention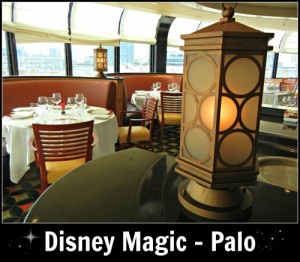 and sports a new decor.  It has beautiful new decorative lighting, art, flooring and decor that helps set the stage for this excellent dining experience.
Don't worry, brunch and dinner offerings are still wonderful, as always.
You will still find the wonderful pizzas, lobster and mascarpone ravioli, and the famous chocolate soufflé.
The reimagined Disney Magic sports some wonderful changes to their dining location. Each venue looks great and is worth experiencing. Which restaurant are you most looking forward to most?  Tell us in the comments below.
Similar Posts:

About
The Magic for Less Travel is a travel agency dedicated to making your vacation dreams a reality. We specialize in Walt Disney World, Disney Cruise Line, Disneyland, Adventures by Disney, and Universal Orlando Resort Vacations. We can help you save time and money on a vacation that is customized to your needs. We know that each guest is unique and we work with you to design the personalized vacation of your dreams.Life moves fast. Don't wait another day to create vacation memories that will last a lifetime!