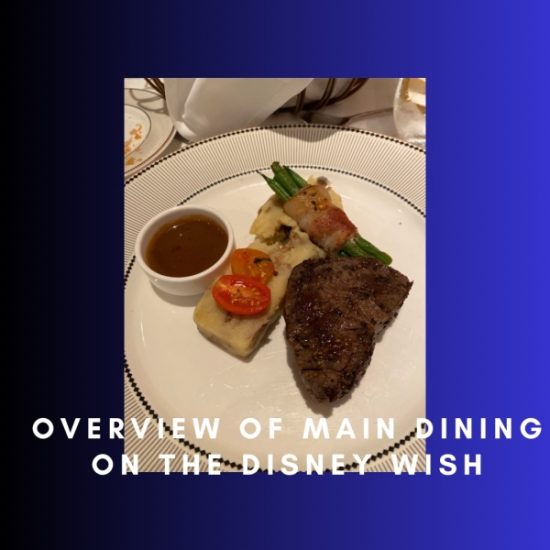 How best to describe your dining experience onboard the Disney Wish? Attention to details, world class service, theming, entertainment and delicious food.
The Disney Wish and its restaurants offer their own unique experiences that you will want to enjoy each night. 1923 transports you back to the Roaring 20's. Worlds of Marvel: Avengers Quantum Encounter will have you help with part of a science experiment with the Quantum Core. Arendelle: A Frozen Dining Adventure will have  you attending a royal engagement celebration. Marceline Market gives you the taste of the world.  Each guest will be able to enjoy all the experiences that the Disney Wish has to offer through rotational dining.
Before you board the Disney Wish
Guest boarding the Disney Wish they should download the Disney Cruise Line Navigator App before they arrive.  The App will be your guide for everything onboard the Disney Wonder, including your dining rotation. Select the section on the App that says "Dining Schedule," and you will see not only your dining rotation but the location of your restaurant, which includes not only the Deck number but the location (forward, midship, or aft). Having this information the moment you board also gives you the opportunity to explore the ship beforehand and find each restaurant before you set sail.
The Main Dining Locations onboard the Disney Wish
1923 – Deck 3 Mid-Ship 
Celebrating the year the Walt Disney Studios was founded, 1923, brings guests back in time to the Golden Era of Hollywood. Relax in this elegant setting that celebrates animation from the studios all around you and the brothers that brought it to life.
1923 shows you the creativity of Walt and Roy from past to present. Tour both sides to see how some of your favorite Disney animation came to life. 1923 offers both past and present of animation and are featured on both sides, holding true to Walt's words, "Around here, however, we don't look backwards for very long. We keep moving forward."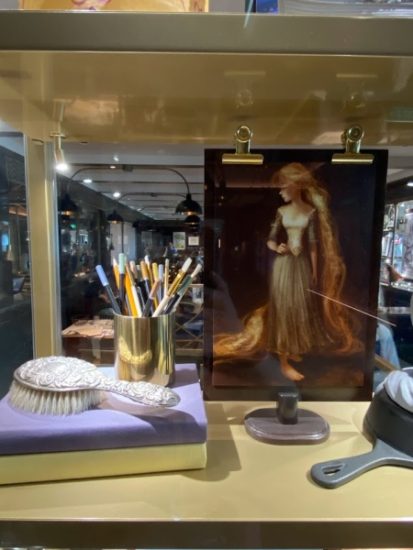 1923's food is California-inspired, with a diverse menu celebrating the Golden State and its diverse culture. This restaurant is divided into two sections. Roy Disney, located on Portside, and Walt Disney, located on Starboard. The Navigator app will let guests know which side to enter.
Breakfast is served as a sit down menu on most days as well as lunch. Check your Disney Cruise Line Navigator APP for updated information.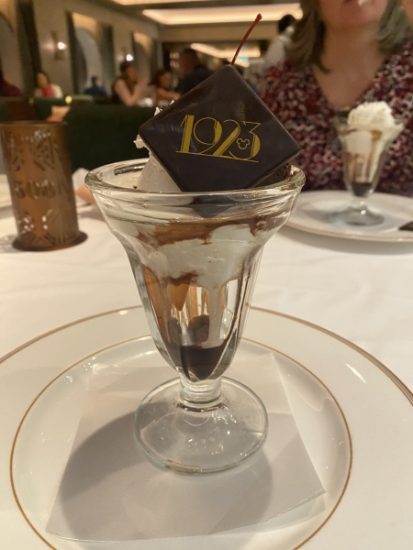 Worlds of Marvel – Avengers Quantum Encounter – Deck 4 – Aft 
Calling all Avengers! Help Ant Man and Wasp as they introduce PYM Tech's newest technology, the Quantum Core.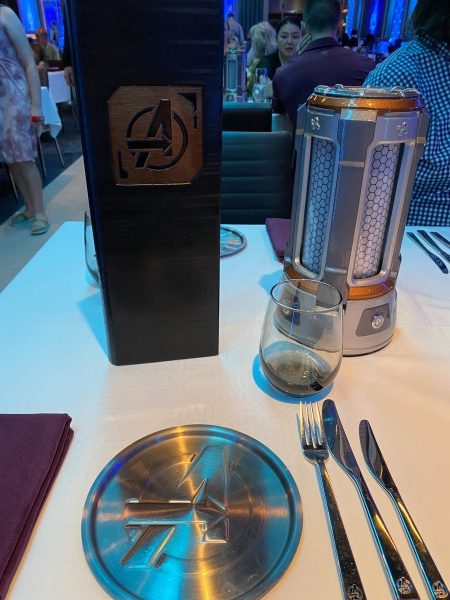 World of Marvel will have guest be a part of the experiment in this fun and exciting dinner adventure. Your dinner will be inspired by many of the great Marvel characters. You never know who will be showing up to dinner, so have your camera ready! While I could go on more about this experience, I will keep you in suspense since we don't want to ruin all the fun.
World of Marvel is open on embarkment day for lunch, while you won't see the show, you will get a sneak peak of what is to come. Check you Disney ds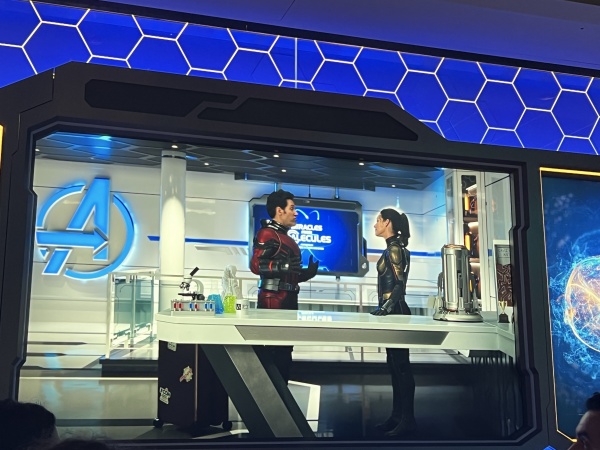 Arendelle – A Frozen Dining Adventure – Deck 5 – Aft
Queen Anna and Kristoff have invite you to be their special guest at a royal celebration. Arendelle: A Frozen Adventure is a celebration prepared by Oaken himself. Guest will enjoy entertainment front and center, which will include singers, musicians, and, of course, the couple of honor, Queen Anna and Kristoff.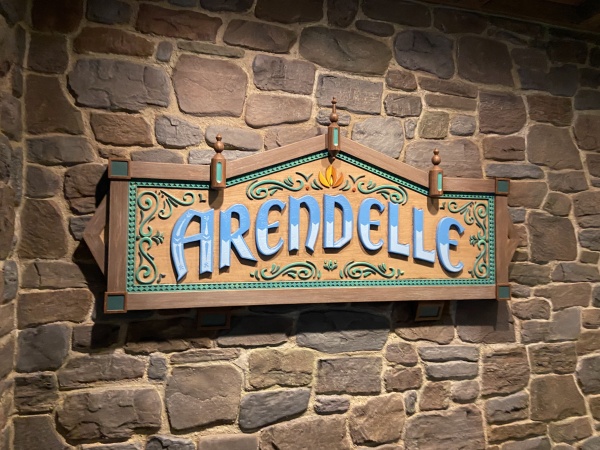 Oaken, the party planner,  will come on stage and introduce the soon-to-be newlyweds, Queen Anna and Kristoff. Arendelle will treat you to wonderful music and entertainment to celebrate the upcoming wedding along with Elsa and Olaf. This is a celebration that will leave you feeling like you got a warm hug from Olaf himself.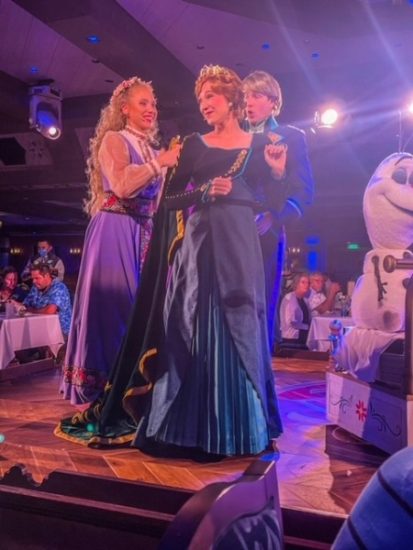 Oaken has prepared a menu made up of Norwegian inspired menu that is sure to tickle the taste buds. The menu items have a contemporary Nordic flare and are perfect for any celebration. Arendelle will have you singing and dancing along to the wonderful live musicians playing during your meal.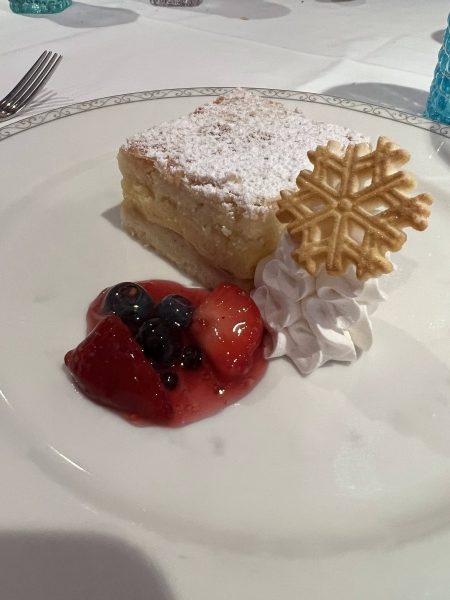 Marceline Market – Deck 11
Marceline Market offers guest onboard the Disney Wish a chance to taste a flare of cuisines from around the world. This buffet style setting is perfect for every eater in your family. It offers classic American Cuisine, European Cuisine, Asian Cuisine and much more.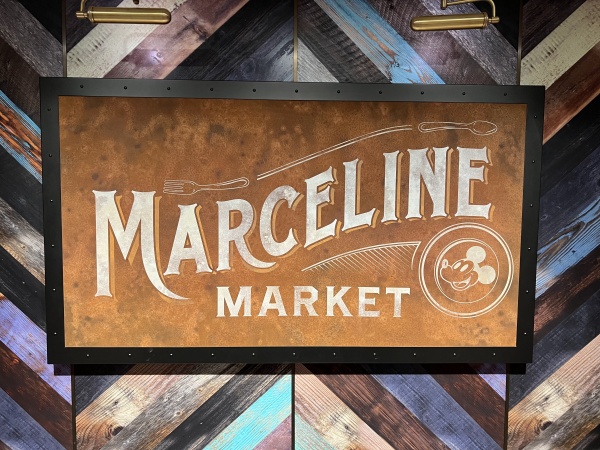 Marceline Market is open for breakfast and lunch daily as a buffet and has ample seating inside. It has two sides to the buffet, which gives guest easy access to all the delicious food. Occasionally, Marceline Market is open for dinner as a sit down meal, make sure to check your Disney Cruise Line Navigator APP for more details.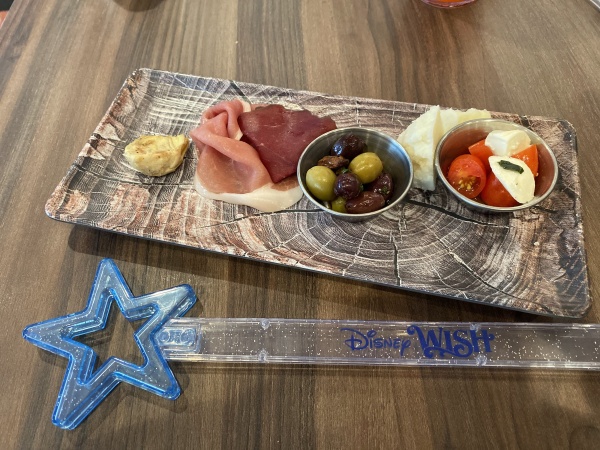 The Disney Wish offers a variety of dining experiences that are included with your cruise fare. Each night will present a fun and new experience for you and your family. The best part, besides the food, is your servers will be with you every step of the way at the three main dining restaurants and add that little extra magic to your vacation.
Similar Posts: