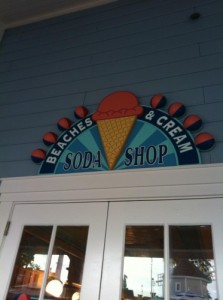 I have long believed that the best hamburger on Disney property was at the Sci Fi Dine-In at Hollywood Studios.  It is a favorite restaurant for me and my family and we always stopped there every trip.  Over the years, however, I heard a crazy rumor.  Supposedly, the BEST hamburger on Disney property was over at a tiny diner at Disney's Beach Club Resort, Beaches and Cream.  I knew Beaches and Cream had great ice cream concoctions and delicious sundaes but hamburgers? Hmmm.  I'd have to go over and try it for myself.  On my first trip to Beaches and Cream my mother, sister, 3 year old son, and 1 year old nephew joined me.  Beaches and Cream does not take reservations so we put our name on a list and had about a 20 minute wait.  To pass the time, we walked to a nearby arcade and spent a few dollars playing video games.  The time went quickly and before we knew it, we were being called in to eat.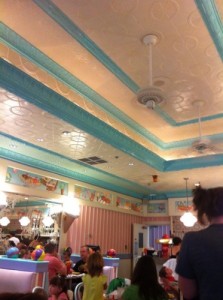 I had seen pictures of Beaches and Cream before but they didn't really convey how cute and cozy this little eatery is.  The pastel colors are inviting and it has the feel of a 1950's diner.  Like I said earlier it is VERY small, hence the long-ish waits to get in, but it is worth it!  The menu is pretty small but it seems like everything here is delicious.  My sister and I ordered the Angus beef burger and my mother ordered the grilled cheese with tomato bisque.  Our meals came out quick and hot and I have to admit, the burger was really tasty!  It was juicy and flavorful and came with tomato, cheese, lettuce, fries, and a pickle on the side.  Even the pickle was really great and I know good pickles!  My sister and I both raised our eyebrows at each other as we took bite after bite and admitted that it was at least as good as the Sci Fi Dine-in Burger.  I think, for us, the Sci Fi burger will always be number one though, mostly for nostalgic reasons.  Now, moving on to the grilled cheese and tomato bisque.  This was fabulous!  My mother still to this day talks about how great that tomato bisque was (and it was!).  The grilled cheese looked like it had at least three or four different types of cheeses on it and the bisque was thick and creamy with an intense tomato flavor. If you love tomato soup, you are going to love this tomato bisque!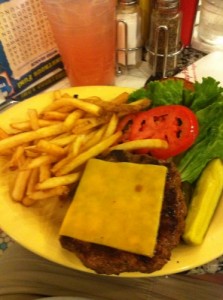 After our meals we just had to get dessert.  I ordered a good old-fashioned banana split which was just the way I remembered having them as a kid with pineapple, strawberry, hot fudge, butterscotch, and marshmallow topping.  My mom, who is a peanut butter-holic, ordered the famous No Way Jose, which is described on the menu as "A Peanut Butter and Hot Fudge Delight with Chocolate and Vanilla Ice Cream, Peanut Butter and Chocolate Morsels, Whipped Cream and a Cherry ".  It fit the bill for her and she loved it.  We even saw a nearby table order the Kitchen Sink, which is a gigantic sundae that you cannot order unless there are at least four people sitting at your table.  They literally put everything in that sundae, including the kitchen sink!  The kitchen sink dessert is so famous, I have seen it on a few Travel Channel and Food Network television shows.
My family and I left the restaurant with happy bellies and smiles on our faces.  This was actually our very last meal at Disney World and we all commented that we were happy that we chose Beaches and Cream as the place to eat at before we went home.  We all said we would love to go back there again and discussed bringing our husbands with us next time (we were on a girl's trip!).  All I can say is I don't know what took me so long to head over to Beaches and Cream to eat.  It's a fun little spot with great food and a fun atmosphere, and the burgers are almost the best on Disney property.
Similar Posts: