I felt at ease knowing all plans were in order.  I have not been to Disney in maybe 5 years.  So much has changed.  A vacation to Disney requires some work.  My travel counselor made sure I knew all that was required and answered my questions.  I thank her and will refer her to anyone who needs help with a Disney vacation!!
-Nancy R
Having your service & especially my agent is invaluable. It allows me to prepare for my trip with less stress. She is wonderful and is always there to help.   No matter how much you know about Disney having a Disney Travel Specialist is a must. It allows you to be able to focus on other aspects of your vacation while your agent works the Magic!

-Melinda S
It was the best from the begining since she told me a lot of things we can do to make our experience the best. We had been in Disney before, but this was the first time we take advantage of things we didn't know before. Also she was very helpful with the perfect location of our room.
-Bea M
Thanks Bea for sharing this lovely picture from your vacation, you have a beautiful family!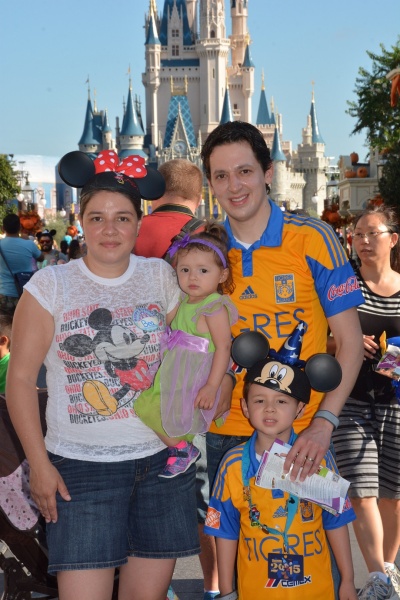 Our TMFLT agent took care of everything – (we)didn't have to remember when to pay the next deposits, she recommended shuttle services, she sent park and packing tips, etc.  She answered any questions that I had.
-Lisa S
Our counselor is the best !!! I drive her crazy every time we take a trip and she's always there to help with anything and everything, I don't know what I would do without her.  She makes every trip relaxing and stress free.  Keep up the good work !!!!

-Rebeca B
I knew I was getting the best information about available rooms and prices for my trip.  I also feel secure in knowing that if a lower price comes along, my vacation will be re-booked.
-Barry J
I love making our travel arrangements through our agent. I know she will take care of everything so that our focus can be on getting ready for and then enjoying our trip.

-Traci D
Easier to understand arrangements
-Carole A
She answered all of my questions, no matter how silly they were, in a timely manner.  she made reservations for dinner, and got us in when we wanted to, even when i had to make changes.  she is extremely friendly and extremely knowledgeable.

-Sharon A
I didn't have to worry about when a discount would come out, my TMFLT counselor made sure to apply the discount as soon as possible.
-Samantha M
greatly added by assisting with "secret events" planning   great suggestions that we used

-Paul A
This was our second time to go, our first one we planned ourselves on a tight budget.  This time was so much more relaxed, enjoyable, no rushed, planned but not to planned and certainly magical!  Our TMFLT agent was absolutely amazing.  She took into consideration that all of my kids were each 5 years apart (ages 3 ,8, 13)and planned our trip so that everyone had magical moments!
-Kara I
We were new to Disney so definitely helped us understand how the hoppers and such worked and gave dining suggestions.

-Kristi K
saved us money, gave suggestions to any question I asked and kept me on track for deadlines
-Amy M
They shared prior knowledge of trip experiences to help us decide which excursions would best suit us.  They got us exactly the right airline seats for our special needs.  We felt like our trip was specifically tailored to fit our expectations!

-Melinda L
Our counselor allowed us to have the absolute best time possible in California! If she would not have suggested the hotel she did and set it up, we might not have had as great of a time as we did!
-Michelle A
Our TMFLT agent held our hands through travel preparations for our trip with reminders and nudges.  She gave us tips on "what not to miss. She seemed genuinely concerned with making our trip everything we hoped it would be

-Sherri D
As always, everything went smoothly from the first Magical Express ride to the return to the airport.  All reservations were in order even though we asked our TMFLT counselor to make some last-minute changes in our dining, which she was able to do with persistence. 
-Cheryl V
Our counselor is absolutely amazing.  She made this vacation stress free.  We had a wonderful vacation and really appreciate her knowledge and expertise.

-Liza Q
Once again, our agent did a fantastic job with handling our trip details!  She was a huge help with giving Disney Cruise Line advice so we could enjoy our first cruise worry-free, and as always she took good care of the WDW portion of our trip.  We travel knowing we are in the best hands with her and TMFLT
-Kelly N
Similar Posts: