If you're ready to plan your Disney vacation there are some important Disney World vacation planning dates to consider. Check out our list below so you don't miss your chance to book advance dining reservations (ADRs), book FastPass+ reservations, customize MagicBands and complete on-line check-in. You can also download our free pdf to help you remember these important date
Free  Download: Walt Disney World Vacation Planning Dates Guide
You can also use our handy Walt Disney World Date Calculator  to help you calculate some of these dates.

Six Or More Months in Advance
It's best to start planning your vacation as soon as you have some dates that work for you. Planning early allows you have access to the best availability. Some resorts and room types sell out. By planning early you can choose your preferred resort and room type.  Don't think you will miss out on discounts by booking early!  The Magic for Less Travel, an Authorized Disney Vacation Planner, offers discount checking and will monitor your reservation and apply any available discounts even after your trip is booked.
180 Days in Advance
On-site Walt Disney World guests can book advanced dining reservations for their vacation 180 days in advance.  If your vacation is 10 days or less, you will be able to book your dining reservations for your entire trip at that 180 day mark. We know it can be difficult to plan so far in advance, but there are some Walt Disney World restaurants that fill-up early. If you aren't ready or able to plan this far in advance, don't worry. We have some recommendations, tips and hacks for getting those hard-to-book dining reservations.
60 Days in Advance
This is one of the most important Disney World vacation planning dates because can complete your on-line check-in.  During the on-line check-in process you can attach a credit card to your reservation and choose a PIN for your hotel account.  Guests can indicate a resort arrival time and also make certain room requests. During the on-line check-in process, you will also be able to indicate your mobile number so that you can receive communications from Disney throughout your stay.
60 Days In Advance
In addition, Guests staying at an on-site Walt Disney World Resort, can make Fastpass+ arrangements 60 days in advance. FastPass+ reservations open up at 7:00 AM EST. Make sure that your reservations are linked to your My Disney Experience profile. You can use either the app of the website to make your FP+ arrangements and you can read more about your FastPass+ choices.
30 Days in Advance
If you have booked a Walt Disney World package, this must be paid at least 30 days in advance.  This is a Disney World vacation planning date you won't want to miss. We recommend that guests pay their package off at least 35 days in advance.  This his ensures that your final payment is made in a timely manner and you won't lose your reservation.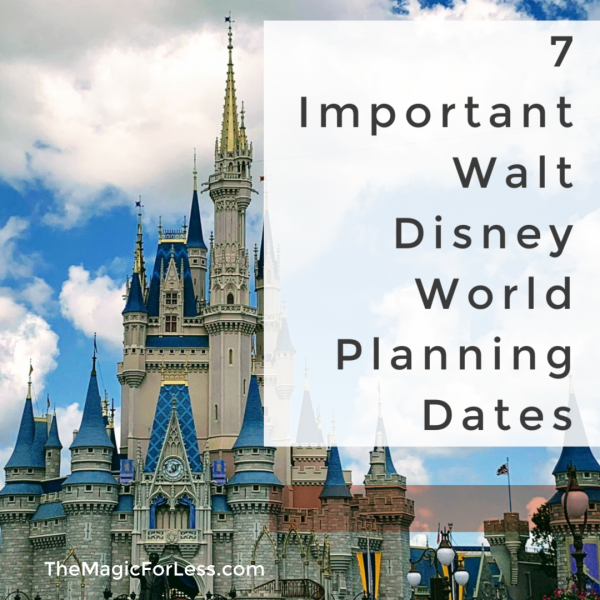 10 Days In Advance
We recommend you customize your MagicBands when you do your online check-in but 10-days in advance it the last day you can do this. Guest staying at a Walt Disney World resort receive free Magic Bands with their resort stay! Make sure that you personalize these bands at least 10 days in advance of your reservations.  Customizing your MagicBand is fun and each member of your party can choose a color for their MagicBand.  You can order a MagicBand skin from MagicYourBand.
Three Days In Advance
Take advantage of the pre-arrival discount and save money by adding Disney's Memory Maker to your vacation package at least three days in advance.  Memory Maker allows you to access unlimited downloads of photos captured by Disney PhotoPass photographers at hundreds of locations throughout Walt Disney World Resort.  Memory Maker also includes photos and videos at select attraction and dining locations. The photos are conveniently connected to your online My Disney Experience Account. Our guests tell us that this is one of the best options to add to their vacation package and we receive overwhelmingly positive feedback on Disney's Memory Maker. Vacation photos make the best souvenir!
One Day In Advance
This might be the most exciting of the Disney World vacation planning dates. You're almost there!  It's time to make sure that you have your ID's packed.  You also want to pack your MagicBands, and any travel documents. Check out our blog for some suggestions for vacation packing and items that may make your travels easier and more comfortable!
The most important thing you will want to pack is your vacation attitude!  Have fun and make memories!

The Magic for Less Travel, an Authorized Disney Vacation Planner, can help you save time, money and stress while planning a vacation crafted just for you!  Their services are provided FREE of charge.  Let a vacation specialist help guide you through the process of planing your next Disney vacation.  Contact The Magic for Less Travel.
Similar Posts: