It comes as no surprise that Central Florida (Orlando) is the vacation capital of the world. While most families visit Walt Disney World, Universal Orlando, Sea World, and LEGOLAND, there are several new attractions to add to your list. A few weeks ago, a new area debuted on International Drive called the "I-Drive 360". This entertainment complex includes restaurants, shops and three attractions: SEA LIFE Orlando Aquarium, The Orlando EYE (giant Ferris wheel), and Madame Tussaud's Orlando.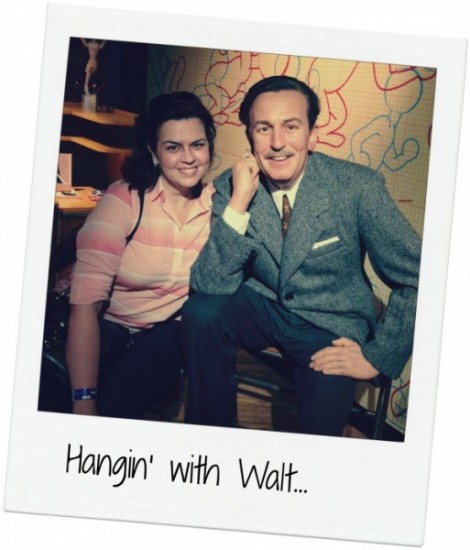 Madame Tussaud's has several locations around the world, featuring wax replicas of some of the world's most famous stars from sports, entertainment, and history.  The museum is very hands-on, allowing guests to take photos with their favorite stars, up close and personal. I will give you a short guide of who we met on our recent visit, plus a few tips to make your visit extra special. Just keep in mind that the list of wax figures is subject to change at any time!
The entrance to the museum, aquarium and Orlando Eye are all in the same building, a short walk from the multi-level free parking garage. The first star we encountered was actor Vin Diesel, posed just at the entrance to the ticket line.  *Tip: you can purchase discounted tickets online prior to your visit, saving you a few dollars.
One person from your group will get a bracelet with a bar code—this will be scanned a few times during your visit whenever one of Tussaud's photographers snaps a photo of you and your family. You will have the opportunity to purchase photos at the end of your visit. The first photo op is right at the entrance, when you'll pose in an airboat in the Everglades (they add an alligator to your photo to make it look "real").
The first section of the museum introduces you to important people in the history of Florida and the U.S.:  Juan Ponce De Leon, "Uncle Sam", Pres. Abraham Lincoln, and Neil Armstrong.  *Tip: look for "props" you can borrow while taking photos: helmets, hats, wigs, champagne flutes, microphones, etc. positioned next to several figures. President Obama welcomes you to the Oval Office, and you can stand with Dr. Martin Luther King as he addresses a crowd. Turn the corner, and you'll see some of history's greatest creators and inventors: Walt Disney, Thomas Edison, Albert Einstein, Andy Warhol, and Steve Jobs.
The next section brings you face-to-face with sports legends: David Beckham, Dale Earnhardt Jr., Muhammad Ali, Dan Marino, Peyton Manning, Serena Williams, Shaquille O'Neal, Tiger Woods, and Derek Jeter.  *Tip: be sure to put on the boxing gloves to pose with Ali, and grab a mini basketball to get an action shot with Shaq!
Next, we move into the world of music: Ross Lynch (from the Disney Channel and R5), Taylor Swift, Madonna, Rihanna, Katy Perry, Elvia Presley, Beyoncé, Ricky Martin, Michael Jackson, and Miley Cyrus. *Tip: look for the wigs, giant lollipops and microphones near Katy, "Elvis" wigs near Elvia, fedoras and sparkly jackets near Michael.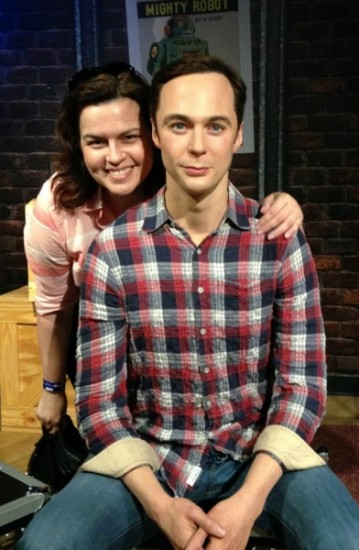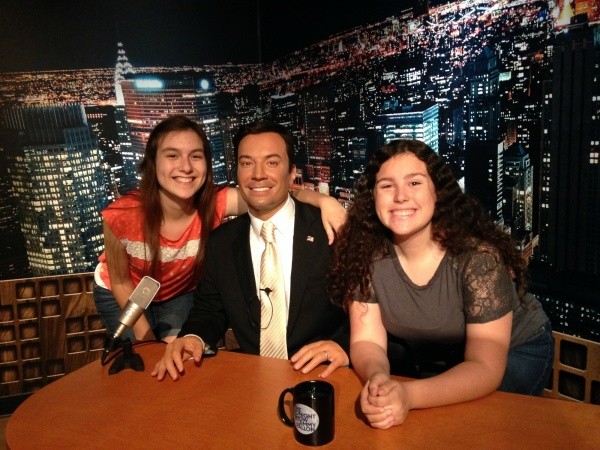 Television and movie stars complete the rest of your visit: Jimmy Fallon (sitting at his "Tonight Show" desk, Oprah Winfrey, Neil Patrick Harris, Jennifer Lopez, Sofia Vergara, Jim Parsons, Marilyn Monroe, Shrek and Fiona, Audrey Hepburn (in a scene from "Breakfast at Tiffany's"), Jackie Chan, John Travolta and Olivia Newton-John (in a scene from "Grease"), Steven Spielberg, E.T., and Jennifer Lawrence. Tip: for fun, you should get in on the act—run away from the dinosaurs from "Jurassic Park", ride the bicycle in "E.T.", and pose with Katniss in "The Hunger Games").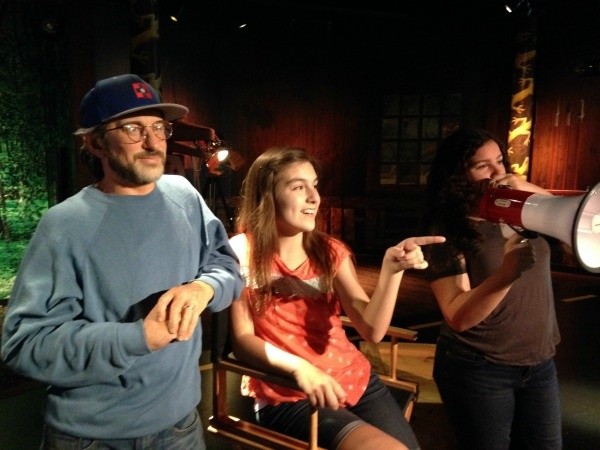 For the last portion of your visit, you'll step into the glitzy world of a Hollywood party, where you'll meet Selena Gomez, Taylor Lautner, Johnny Depp, Ryan Reynolds, Samuel L. Jackson, Will Smith, Jennifer Aniston, Emma Watson, Leonardo DiCaprio, Ryan Gosling, Anne Hathaway, Angelina Jolie and Brad Pitt. *Tip: for more "realistic" photos, interact with the stars, engaging them in fake conversation, or use the champagne flutes to look as if you're part of the party!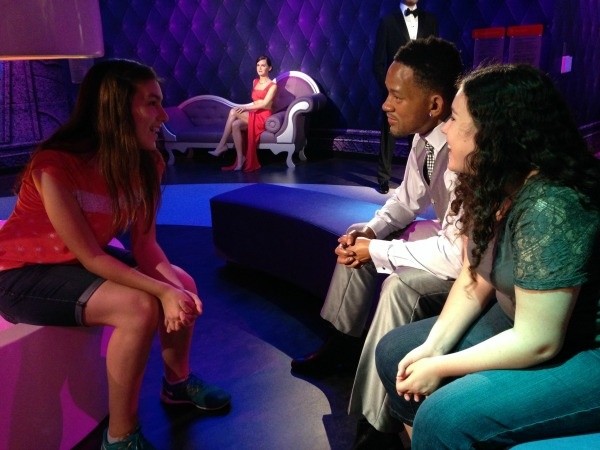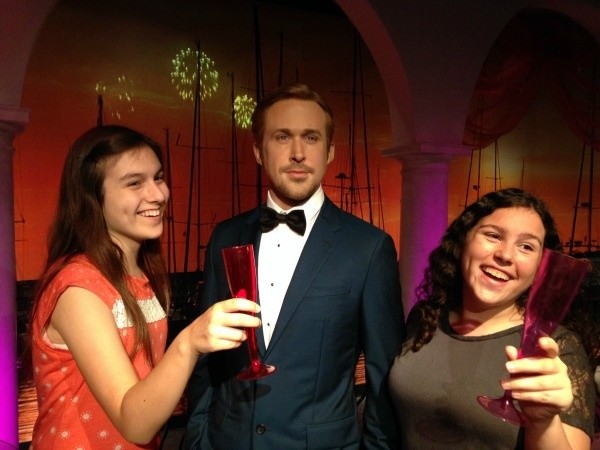 Midway through the museum, you'll see a figure of the real Madame Tussaud, learn how she started making death masks of famous people, and also have the chance to make a wax replica of your own hand! Your entire visit will last about an hour from start to finish, and you are free to go back to visit your favorite stars before leaving the museum. There is a store at the exit, and that's where you'll meet the final star, Tom Hanks. An employee will also offer you the chance to purchase a book of photos including the few they took of you along the way. At the time of this article, the book cost $35, and single photos cost $15 each.
For most of us, a visit to Madam Tussaud's is the closest we'll ever get to these celebrities, and it is also an amazing way to see historical figures from the past. Remember—each figure is made from precise casts and measurements of the actual person. You might find yourself thinking one of the figures is a real person—or, you might mistake a visitor for a wax dummy (I did this a few times!)—that's how realistic they are!
So, the next time you're in Central Florida visiting the Mouse, add a few days to your vacation to visit the "stars"!
Feel free to visit my webpage for more info, or request a quote for your upcoming vacation here! For the complete photo album, visit my Facebook page here.
Similar Posts: