Make Magical Memories at Pirate's League!  This is a wonderful alternative to the ever popular Bibbidi Bobbidi Boutique.  My best friend and I took her daughter to WDW for her 8th birthday.  Pirates League turned out to be a highlight of the trip!   Cailyn wanted to dress up as a Mermaid Princess before lunch at Cinderellas Royal Table.   Magic Kingdom is all about Fantasy and Magic, so why not!?
Pirates League is located in Magic Kingdom's Adventure Land.
At Pirates League, your little one can get dressed up as a Pirate, a Mermaid or an Empress!  As a Pirate; choose from a Zombie Pirate, Captain Hook, Black Eyed Jack, and more!
I booked a morning appointment.  We checked in and only waited about 5 minutes.   Upon entering the room, I was pretty sure we made the right decision.  The room is completely Pirate themed; as you can expect nothing less from Disney!  We were introduced to our Pirate, who was a man dressed in full Pirate gear!
Keeping with the theme, our Pirate spoke like a Pirate, yet he was so conscious of Cailyn being a little shy at first.  He made so many jokes, and made her feel so comfortable.  Within minutes she was all smiles and laughing, a lot!  Magical Memories at Pirates League were in full swing!
First our Pirate painted Cailyn's nails a pretty teal/aqua color.
The makeover is complete with a hair clip that changes color in the sun, and a matching necklace.  Every Mermaid needs a sash too!
Cailyn then changed into her Princess dress, and we now had a complete Mermaid Princess!  Ready to go to Cinderella's Royal Table!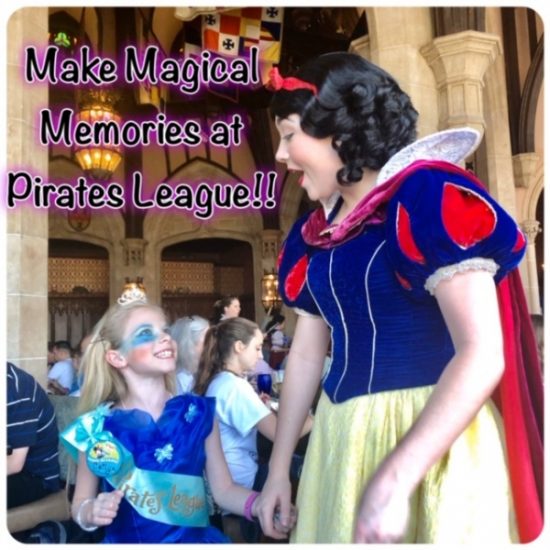 Pirates League was the perfect beginning to a perfect Birthday celebration!
To learn more about Pirates League click here https://www.themouseforless.com/walt-disney-world/parks/magic-kingdom/pirates-league/
To make your magical memories at Pirates League contact me to plan your Walt Disney World vacation! https://www.themagicforless.com/about-us/meet-our-agents/laura-augenti/
I am a native New Yorker and reside there now; (after several moves, including a 5 year stint on Maui, HI). The first time I went to Walt Disney World was 1997, as a young adult; I was hooked! I went back over 40 times over the next 10 years and continued to do so! Having also visited DIsneyland and Universal; I also went on my first Disney Cruise in 2002, and became a huge advocate of DIsney Cruise Line. I have attended several on-site training programs, and am a graduate of the College of Disney Knowledge. I have been a Disney Specialist Travel Agent since 2002; planning Disney vacations for others is what I love to do. Assisting you in creating vacation memories that will last a lifetime is very rewarding! My passion for Disney stems from learning about Walt Disney, the man himself!