Universal Orlando is always an awesome vacation mecca with two amazing theme parks and three (soon to be four!) beautiful onsite resorts.  We always enjoy spending time here and experiencing all that the resort has to offer.  It truly is a destination in and of itself!
On my most recent visit, which was a guys only trip with my best friend, we had the opportunity to see the "NowMoreWow" Blue Man Group show at the Aquos Theatre.  The show, which originally premiered in the summer of 2007, is labeled as an "indescribable celebration of art, technology and music".  And indeed, that it is.
Now, I have to admit that both of us were somewhat less than excited and a bit hesitant about the show, especially since it was nearly 2 hours without an intermission.  But something larger just didn't appeal to us about it (hence having never seen it in its 6 year run) and we even considered not using our tickets when we had to make some changes to our vacation itinerary.  Boy, let me tell you what a mistake it would have been to skip the show as it turned out to be an amazing experience and absolutely a highlight of the vacation.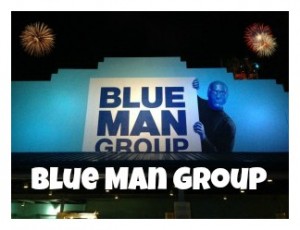 After entering the theatre we made our way to our seats which were located in the front center of zone one (there are three other zones behind zone one and a special "poncho" zone in front of zone one where you are given ponchos to wear throughout the performance – and trust me, you'll want to wear them if you are in this section!).  The theatre was full of energy with funny sayings running across the jumbo electronic screens surrounding the stage as the preshow entertainment.   Waiting for the show to begin was actually a bit fun, but Ric and I discussed a strategy to perhaps bail out of the show early in case we didn't find it appealing once it began.
The show began and the three Blue Men came out and started off by playing music on drums that splashed neon colored water with each beat (thus drenching the poncho section) creating a multi-color paint rain explosion.  We found ourselves quickly immersed and mesmerized with the production – and realized immediately that there was no way were we going anywhere after the first act!   The music was a loud techno beat and was full of energy.  We were drawn in and ready for more by the end of this sequence.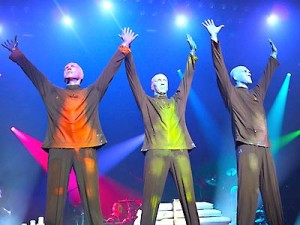 From here the show moved on to focus on some of the most hilarious comedic performance art routines performed by the insatiably inquisitive and curious Blue Men (who do emerge into the audience to interact with you – watch out for your glasses if they are on top of your head!).  It is all combined with music, lights, color, Twinkies (yes, Twinkies and again you'll be glad you are wearing a poncho if you are in the poncho section during this particular routine) with a ton of audience participation – and a few lucky "volunteers" actually become a part of the show.  We found our inner 10 year old selves coming out during one sequence where the audience stands and dances, shaking their derrieres to the music along with the techno jokes about various (clean) names for one's rear end flashing across the screen.   At one point I turned to see Ric laughing harder than I have ever seen him laugh in all the years I've known him (and he would later say the same thing about me).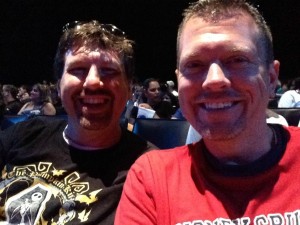 And the finale of the show was one of the most eclectic high energy, interactive events I've ever experienced with dancing, signing, and volleying gigantic (and I mean HUGE) inflated balls that turned different colors based on the what was happening on stage.  And you haven't seen anything yet until the entire theatre is TP'd.  Yes, everyone is completely entangled like bugs trapped in a spider's web by the end of the show in what seems like miles of toilet tissue (perhaps it was really streamers, but since I had reverted back to my pre-adolescent self by this point it was toilet tissue for me).
Juvenile?  Perhaps. Fun?  Absolutely!  Entertaining?  Incredbily!  Isn't letting go and being a kid again part of being on a vacation?  I'm not sure why we had preconceived notions that this show wouldn't be anything other than what we would ultimately be talking about for days, weeks and months ahead, but I can say that it by far exceeded our expectations.  It was a night full of fun and rib-slitting laughs packed with a huge entertainment value in the ticket price.  I can't stress enough how much I recommend this show – there is definitely now more wow in every minute!
Oh!  Make sure you are not late for curtain call or you'll find yourself immersed in the experience whether you want to be or not!!
Blue Man Group tickets can be added to any Universal Resort vacation package as part of your inclusions.  Make sure to ask your Magic For Less Travel agent for more details on how you can see this amazing show!
Similar Posts: