Diagon Alley at Universal Orlando:  a 'soft opening' report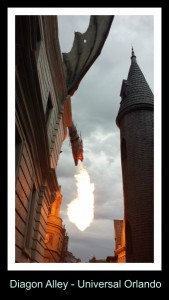 The internet was just buzzing about Universal Orlando opening Diagon Alley early and since I'm in Orlando for a while I decided to make a trip over there to check it out.   Prior to doing this particular trip I re-watched every one of the Harry Potter movies with my older teen kids.  It had been quite a while since I had seen them, and even longer since I read the books, and I had to brush up on my characters and places prior to visiting Diagon Alley.  I'm really glad I spent the time to do this because the details in the park are just amazing.  If you don't know the stories behind the movies, you'll think the theming is very detailed and entertaining.  If you have read the books you'll recognize all of the details that went into the construction of this area, and if you've just seen the movies and not read the books , most of what you see will be familiar but you will notice many new things that are in the books but not the movies.
When we first arrived to Universal Orlando we jumped into the line at Kings Cross Station because my daughter was just too excited to see a 10 minute wait.  We made our way through the very long queue line and eventually ended up at Platform 9 ¾ and the Hogwarts Express where we were addressed as Muggles—and we continued to be addressed as Muggles in both Diagon Alley and Hogsmeade.   Loading went pretty quick and the train compartments seat 8 people.  There's a video in the window and from King's Cross Station to Hogsmeade we go through London into the countryside, encounter some Dementors, see Hagrid and the Weasley's flying car, and end up at Hogsmeade Station.  For the return trip, I thought there was much more detail in the window.  We leave Hogsmeade with Centaurs galloping alongside through the Forbidden Forest, then Fred & George fly on their broomsticks and advertise their joke shop in Diagon Alley, there is a reference to some spiders (nothing creepy), and as we get back in London the Knight Bus starts driving past us doing its usual morphing to get through alleys and traffic.  As great as the ride was, the best part was not having to walk to the next park, which usually took about 15 minutes.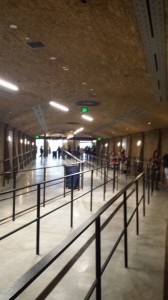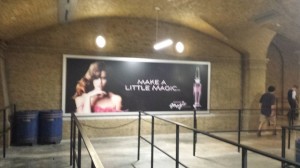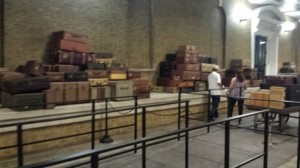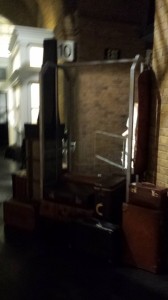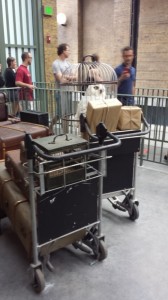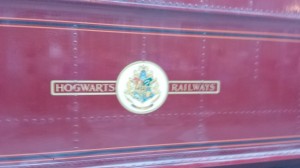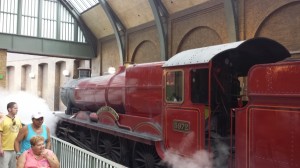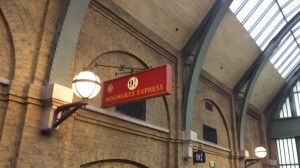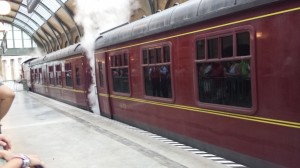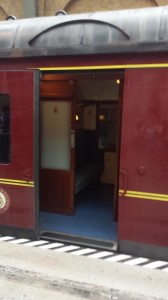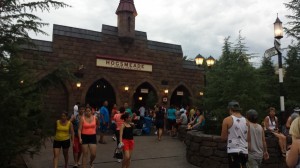 In Diagon Alley itself the details in the shops are just fabulous.  Olivander's Wand Shop has been expanded and we were able to walk right in to a show.  There are a lot of different wands for sale too.  In Diagon Alley we have Florean Fortescue's Ice Cream (I had way too much ice cream today), my favorite being the Earl Grey and Lavender.    Butterbeer (frozen and regular) can be purchased at a couple of places. We got ours at the Fountain of Fair Fortune which also offers Fishy Green Ale and Gillywater, real beer including two offered just at Universal called Wizard's Brew and Dragon Scale, as well Strongbow, Fuller's London Price, and Amstel Light. In Diagon Alley there is a lot of merchandise to purchase and a great variety of it.  I found several things that will likely be going home with me.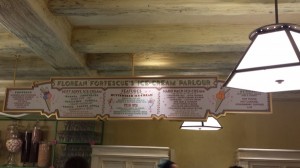 Knockturn Alley is also part of Diagon Alley, and includes Borgin& Burkes (it even has the Vanishing Cabinet from Book 6!).  This is where you can buy your Dark Arts merchandise, including Azkaban and Deathly Hallows items.  In Knockturn Alley there were Wanted posters with the moving faces, and the ceiling was made to look like the night sky.  It was also air conditioned so it will be a great place to be during the hot Orlando summers. This location was too dark for photos, so I'm sharing these shirts from Borgin& Burkes: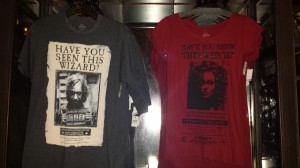 Back outside, one of the most exciting things is the Ukranian Ironbelly dragon on the top of Gringotts Bank.  It breathes fire every 10 minutes (listen for the roar and then wait a couple of minutes.)  You really feel the heat of that fire too.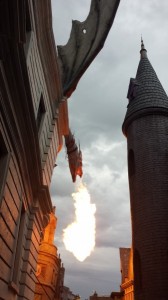 Universal  has just done so  much right with their expansion of Diagon Alley and I'm looking forward to going back in a couple of days to spend more time there when its not raining.  If you visited Universal Orlando theme parks pre-Harry Potter, you need to go back.  Getting the rights to the Harry Potter franchise and constructing these areas was a huge change for the positive at Universal.  I love these two parks and you just might too.
Similar Posts: