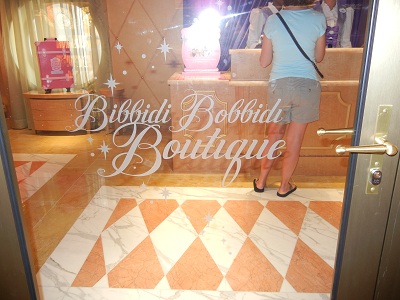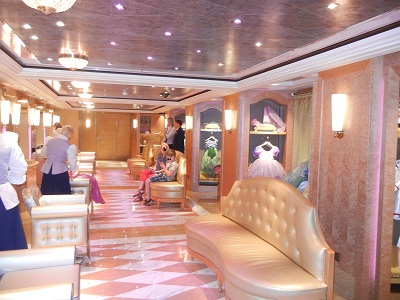 Exclusively on the Disney Fantasy is the Bibbidi Bobbidi Boutique just like guests have been enjoying at Walt Disney World and Disneyland.  Now you feel like a Disney princess in this magical salon, which is owned by the Fairy Godmother and operated by Fairy Godmothers-in-training. Consider such entrancing options as hair styles, nail polish, make-up and a total package including Disney princess costume and photos.
Girls three and older can choose from three hair styles — Fairytale Princess, Disney Diva and Pop Princess — and three packages:
Coach Package includes hair style and shimmering make-up, face gem, cinch sack and princess sash — $54.95
Crown Package includes Coach Package plus nail polish — $59.95
Castle Package includes the Crown Package plus your choice of complete costume and coordinating wand, tiara and shoes — $184.85
Fantasy Package is exclusive to the Disney Fantasy and includes Crown Package plus tutu, sparkly t-shirt and head band
Under the Sea is exclusive to the Disney Fantasy and includes your choice of swim suit and cover up, vibrant sun block application, Del Sol floral clip, necklace and nail polish
Royal Sea Package comes complete with a Princess Rolling Trunk created just for this package plus three makeover experiences including Castle, Under the Sea and Pirate package plus a boutique frame with a photo of the Fairy Godmother plus a special invitation with a glass slipper ribbon necklace and a keepsake glass slipper from Cinderella's helpers!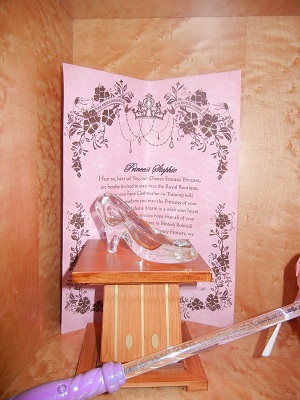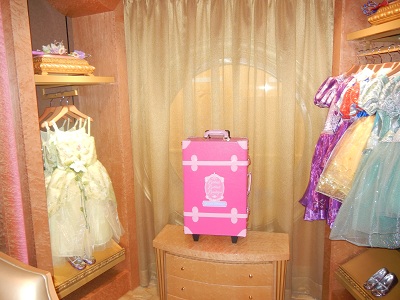 Pick from a host of wondrous costumes, accessories, including faux hair and tiaras, at this enchanting place.   Some costumes are exclusive to Disney Cruise Line and include Captain Mickey, Princess Minnie and First Mate Minnie as well as the Under the Sea swim suits.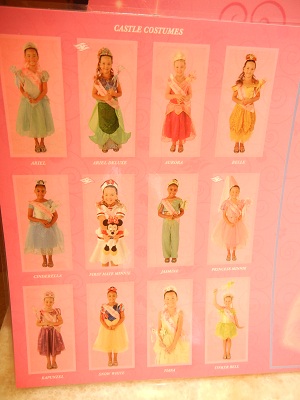 On pirate party night, Bibbidi Bobbidi Boutique transforms into a swashbuckler's hideaway where boys, girls and grownups can get ready for the pirate life in The Pirates League.
Girls and boys can choose from four packages:
First Mate includes bandana, facial scars tattoos, fake teeth, earring, eye patch, sword and sheath –$34.95
Empress (includes bandana, shimmering makeup, face gem, tattoos, nail polish, earring, eye patch, sword and sheath –$34.95
Captain or Maiden includes First Mate or Empress package plus costume —$99.95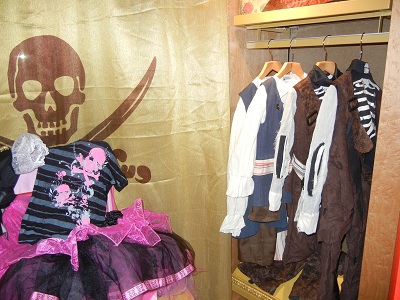 After the new buccaneers recite a sacred pirate oath, they are officially part of Captain Jack's motley crew, leaving their old identities behind as they leave with their own pirate name. The shipmates and scoundrels are then turned loose on their pirate vessel.
This Bibbidi Bobbidi Boutique is located on deck 5 midship and is exclusive to the Disney Fantasy.
Please arrive 10 minutes prior to your scheduled time.  Girls must come with clean hair and nails (no polish) and their own comb or hairbrush;  boys must come with clean hair.  All participants must be free of scalp conditions for at least 30 days prior to their makeover.
Booking in advance is strongly recommended. Contact your travel counselor for reservations or book online at My Cruise Activities.  They require a credit card as a guarantee.   No-shows or late cancellations will be charged $10 per person.  Cancellations must be made 24 hours in advance.  Child must be age 3-12 only.
Similar Posts: