Its summertime and vacations are in full swing.  How many of you want to take a cruise?  How many want to take a DISNEY Cruise?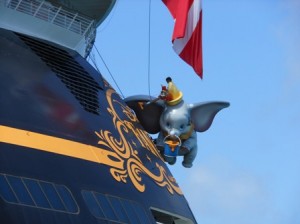 As someone who loves cruising, and especially loves the Disney Cruise, I was recently able to try out the Disney Fantasy.  Boarding the ship is always exciting for me as there is so much to explore.  So what do you do when you board the ship and you're waiting to sail?  Pretty simple… eat!
Dining upon embarkation of the ship usually means plenty of choices from sandwiches, burgers and pizza to full buffets.  On the Disney Fantasy, if you board early enough you might be able to dine in Enchanted Garden, located on Deck 2, which is set up as a buffet on embarkation day.  However they have limited guest capacity and a trip to the Lido Deck and Cabanas buffet might be where you end up.  No worries though as both locations have the same food selections.  Expect a salad bar with plenty of veggie options, peel and eat shrimp.  You'll find carved meat, soup, salad, bread and rolls, and some tasty desserts too.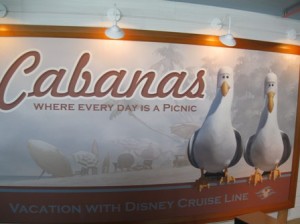 Faster fare for families on the go may be found at Flo's V-8 Cafe.  This is the quick service area named after Cars characters is located by the pool that includes Tow Mater's Grill (burgers, hotdogs and chicken), Fillmore's Favorites (sandwiches, paninis, salads, and wraps) and Luigi's Pizza.  My favorite is the Brie, Bacon and Tomato sandwich, served on a slice of delicious whole grain bread.  I also love the tomato and mozzarella panini too.  Its a cruise… have one of each.  Add some fresh pineapple and I'm in cruise ship dining heaven.  I admit it doesn't take much to make me happy on a cruise.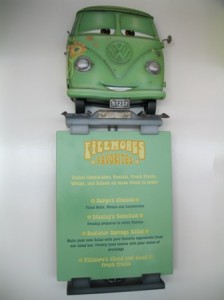 Fillmore's Favorites Sandwiches

Tow Mater Grill
Want an ice-cold fountain drink to wash it down?  Feel free to find the self-service beverage station.  On the Disney Cruise, fountain drinks are included with your cruise fare.  (On other cruise lines soda is an extra cost.)  The beverage station has select Coca Cola products, milk, coffee, hot water for tea, and hot chocolate.
Let the feasting begin!
Similar Posts: