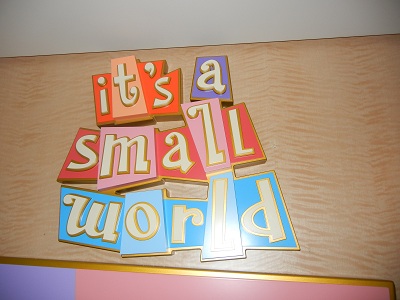 It's a Small World Nursery— located on Deck 5, Midship, is a delightful daycare center for children ages 3 months to 3 years, whose whimsical design was inspired by the classic Disneyland attraction.
Open throughout the day, It's a Small World Nursery invites parents to enjoy more adult-oriented adventures during the cruise while their children are safely cared for by trained Disney counselors.
This space is inspired by the classic Disneyland attraction "it's a small world" and  provides a relaxing atmosphere that infants and toddlers are sure to enjoy. The nursery's décor is a stylized patchwork of colorful shapes associated with the attraction.
The facility consists of 3 distinct areas:
An acclimation zone, designed to help youngsters adjust to the nursery
A main play area, with a 3-dimensional façade of the small world attraction that's filled with interactive features and hidden delights
A separate room for naps that is quiet and peaceful
The main play area also includes kid-sized tables and chairs where toddlers can enjoy crafts, books and games are also present.
Activities at It's a Small World Nursery are unscheduled and vary depending on the mood of your child. However, with programs like movie time, story time and nap time, counselors are sure to keep your children grinning from ear to ear.
It's a Small World Nursery is available at an additional charge—$6.00 per hour for first child and $5.00 per hour for the second child—and must be reserved in advance.
Because space is extremely limited, be sure to book your child's nursery stay early. Cancellations may be made without penalty up to 4 hours in advance of reservation.
Parents should bring baby food, formula, milk and bottles; Disney's trained counselors will be more than happy to feed your child. Additionally, parents are urged to include diapers or pull-ups, diaper wipes, extra clothing and a baby blanket or pacifier, if applicable, when dropping off their child.
Children ages 3 months to 3 years with special needs are welcome at It's a Small World Nursery. Simply let the counselors know in advance and they will accommodate the best they can.
This is a great way to have some time to enjoy the adult area and know your child is being cared for by professionals and having a great time themselves!
Similar Posts: