Jan. 23
I had shopped around trying to find the right price with the right flight times and thought I'd found it.  We left Orlando at 8:50am, so didn't have to be at the airport too early (although I'd worked until 4:30am).  Flight left on time, but as we neared LAX we found they were having bad weather so we had to circle until we could land.  This would have been fine if we'd had more time between flights.  Now we were down to an hour, and had to run 4 terminals to get to our next flight.  Whew!  After 12 hours in the air we did make it into Honolulu a few minutes ahead of our 5pm landing.  Our bags were the first off—all's well…until we had to wait, and wait, for our town car.  I had booked a car through Honolulu Airport Shuttle and after calling them, and waiting awhile longer, the car finally showed up.  Not impressed.  He said he was slowed down by traffic.  Hmmm, they live there, they know the traffic—oh well, we're off to Aulani and we were there in probably 30 minutes or so.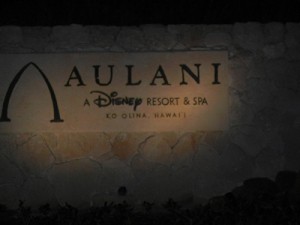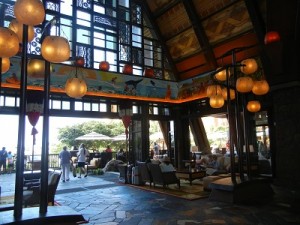 Aulani is on the leeward (drier) side of the island and the driver said it seldom rains there.   As we entered the area where Aulani is found, Ko Olina, everything changed from brown to green—with lots and lots of flowers.  That's the one thing that stood out to us everywhere in Hawaii was all the flowers, on the ground and on the trees.  What a beautiful place!  We were greeted at the door with leis—mine was purple orchids and Rick's were Kukui nuts.  Check in was quick then we went to drop our stuff in the room so we could grab a bite to eat.  Our 14th floor room was amazing.  We had an ocean view parlor suite that also looked down on the lazy river as well as a great view of the ocean.  Our room had 1.5 baths, a whirlpool tub, 2 TV's, mini fridge and coffee maker and a toilet/bidet.   Sliding doors go out to the balcony from the living room and the bedroom and since it's an end room we have a beautiful view all round.  I could easily live right there!  We headed down to the Olelo Room for Kobe sliders, then to bed.  With the time difference it was really late according to our body clocks.
Jan. 24
We had breakfast at 'Ama Ama, which has the most gorgeous view of the ocean!  How nice that would be to have that view to work in!  One of my dear clients had been there and told me to be sure to try the French toast.  I've never had anything like it—dipped in chocolate milk, with bananas, peanut butter and chocolate syrup.  Oh my!!!  Thank you Sager!!  That stuff was absolutely wonderful, and very light, which you wouldn't expect.  My husband had some kind of  hash, unlike any he's ever had before, which was served with fried rice that just got better and better the more you ate it.
We went back to the room so I could work and Rick hung out on the balcony.  We went for lunch at a quick service location One Paddle Two  Paddle, which was our favorite quick service place to eat.  Again I'd been told that the sweet potato fries were the best ever, and boy were they!  I had to have those every day after that!  I also had the fish taco (can't remember what kind of fish but something that started with O and that I'd never heard of)—very good, and Rick had the field greens salad with sea asparagus with the best mango salad dressing!   We had that salad a few times over the week, as well.  We explored the resort and checked out the gift shop, meeting the first of our favorite people, Patty.  What a card she was.  We had lots of fun with her over the week.
Tonight was our luau at Paradise Cove, which was just a short walk from Aulani.  When we got there we got a shell lei as well as drink tickets  then just wandered around where they had several activities going on.  We saw the Shower of Flowers where a guy climbed a palm tree (quite quickly!) and threw down lots of flower petals.  The ladies were to take those to put in their hair (left means taken, right means single).  After that was the Hukilau on the Beach and a display on netting fish followed by the Imu Ceremony, which was uncovering the underground oven with the pig for the feast.  The food was buffet-style and included Hawaiian foods such as poi as well as salads, pork and chicken.  It wasn't wonderful, but was basically standard buffet food.   As we ate there was a show with hula dancers, fire eaters, etc.   This is supposed to be the best luau on the island and the entertainment was great.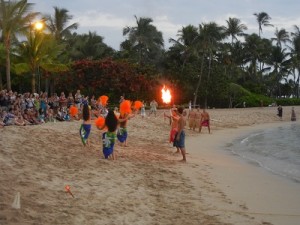 Jan. 25
Today we went back to 'Ama Ama for breakfast.  This time I tried the macadamia nut pancakes and I'm not sure why as I'm not a huge fan and one pancake is usually enough, but they were ok-for pancakes.  Rick just had eggs, Portuguese sausage (just ok) and the Aulani potatoes (which were seasoned potatoes with onions and peppers and quite good).  We explored more and had the salads from One Paddle Two Paddle again.  We ran into the storyteller who invited us to come listen around the fire pit.  What a unique character he was.  I'd love to just hang out with him!  He was a great story teller and told the story of Menehune's coming down the mountain to help people in need during the night.  You'll find Menehune's (little statues depicting the Hawaiian myth of little people that live in the forest and valleys and stay hidden from humans) all over the resort, even in the elevator, so that was fun just looking for them.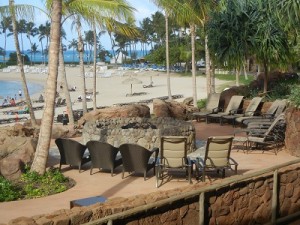 After I worked awhile we went down to the lazy river and spent the afternoon there, plus going down the tube slide.  Both were lots of fun.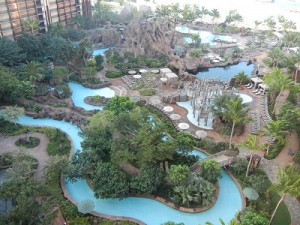 We must have eaten something for dinner, but I have no idea what it was.  We went back to the room where all of a sudden we heard this loud noise.  We went outside to see the most amazing fireworks display out over the ocean—equal to anything we've seen at Walt Disney World or Disneyland.  What a magical surprise!
Jan. 26
Again, breakfast at 'Ama Ama—yes, we really liked this place.  There are no walls so you're sitting in the large open rooms with the ocean right outside so an amazing view all the time.  We really enjoyed starting our day here.   I had the eggs and Aulani potatoes, Rick had oatmeal with some great fresh fruit (although he didn't like the oatmeal) and we also had the Hawaiian flavors bread basket.  Wow!  It included croissants, guava fans, coconut cream pockets and orange-macadamia nut muffins.  Incredibly good!  We took some back to the room for a snack later.  On the way to breakfast we took a new path and found an underwater viewing area at the Rainbow Reef, which is an area with a separate fee where you can snorkel.  They have 1500 fish in there, so it's quite a site.  We happened to be there at feeding time.  The Cast Member brought over a head of lettuce to one window and a wire mesh thing with some kind of food in it to the other window where the fish converged to eat.  It was quite a sight to see!
We walked around some more, just enjoying the resort.  We did run into a few characters around as well.  We walked across the street to check out the few shops over there, the best being the Island Market, which is an ABC Store.  ABC is about like Walgreen's-you find them everywhere!  They're a great place to buy your Hawaiian souvenirs at a reasonable price!  If you save your receipts, when you get $100 in purchases you can get a gift such as a coffee mug or calendar.  Hawaii is expensive so this is one place where you feel like it's more reasonable to shop.
Back at the resort I went over to the stingray lagoon to see that (they also have private experiences there for a fee) and the quiet pool.   Tonight was to be a show at the Starlight Hui, so they were setting up a stage and chairs in the Makaloa Garden.  We were really looking forward to seeing this, but alas, the side of the island that doesn't rain—lied.  It not only rained, it poured!
There's also bar by the quiet pool as well as cabanas to rent.  They also have the cabanas at the main pool area as well, which have some lounges, mini-fridge, iPod dock and phone.  We saw some interesting trees—the Hala looks like it has the roots growing down the side of the tree, and the monkey pod tree.  These just added to all the beautiful flowers and trees on the island.  This is the first place I've seen them sweeping the leaves off the grass with a broom!
For dinner we went to 'Ama Ama as there were some items on that menu I really wanted to try.  I had the Kahuku corn chowder with taro and salmon (taro is pretty much included somehow with most meals—it's like a potato, but isn't and is grown in water with the part you eat being under water and growing quite large).  Rick had the Hawaiian apple and Maui onion soup and both soups were wonderful.  I would have had another bowl!  I had the filet with creamed swiss chard and soufflé potatoes (interesting, but good), but the filet had an herb butter on it that I really didn't care for and wish they'd left off.  Rick had the duck, which would have been much better if he'd sent it back to be cooked more.  The server recommended medium rare, but there's just something about eating pretty much rare duck that just didn't do it for us.  They brought a dessert for Rick to celebrate his birthday, which was pretty good.  Rich, but I managed to get it all down.  LOL  During dinner it started pouring and they lowered shade by the tables to keep the rain out.  We waited for a lull in the rain before making a dash back to the room.  There wasn't any way to get back to the room (which was pretty much across the resort) without being outside.
Jan. 27
Breakfast again—yes, 'Ama Ama.  We were going to eat at the character meal but just enjoyed this restaurant so much we didn't want to go anywhere else.  We had our favorite server, Liane, and spent some time visiting with her.  We both had the eggs and I had the fried rice, which is addicting and I had to finish every bite of it.  We also had to have another Hawaiian flavors bread basket!  Not sure what we did for the rest of the morning, but lunch was the salad at One Paddle Two Paddle again.  We walked along the lagoon to check out the wedding chapel next door to Aulani (they usually have 6-8 weddings each day there!) and to the lagoon 2, which is next to ours (we're lagoon 1) where there is another wedding chapel and resort.  There is also a shuttle that just runs the one street that is Ko Olina so you can go to lagoon 4, or the other resorts, if you don't want to walk.  We were going to do that all week and just never had time.  Now, as you can see, it's not like we were terribly busy, but somehow our days were full and went quickly.  The beaches along here are just gorgeous.  I did come back to our resort through the ocean, which was much cooler than I expected.
We also started seeing some pretty large men walking/running by.  We then found out that all the football players that were going to be in the pro-bowl on Saturday were staying at the J.W. Marriott, which shared our lagoon and was literally next door to us.  It was quite humorous to see these guys trying to stand on the surf boards (no idea what this is called, but we saw lots of it during this trip-you stand on a surf board and paddle around while standing).  They and their families were having a great time.  It's nice to see when rivals on the field can get together and just be friends and have fun.
Jan. 28
Our last morning, so we stopped to watch the fish feeding on our way to eat, where I had to have the French toast again at 'Ama Ama.   We said our good-byes to our saleslady Patty and Paul at the Off the Hook bar.  We'd enjoyed visiting with him and hearing tales about his dad in WWII.  The same car service was to pick us up at 11am, so we were out front by 10:45am, where again we waited and waited.  I called; the driver was coming…his excuse this time was all the traffic due to the pro-bowl.  Whatever—I'm not too impressed, but the drivers were all nice, just couldn't tell time evidently.  I guess they were all on island time.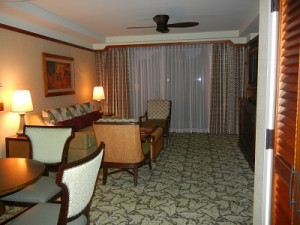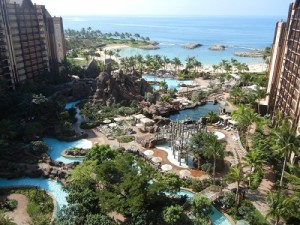 See pictures of Aulani:  https://www.facebook.com/media/set/?set=a.10150552899139512.398839.659319511&type=3&l=8fa70cac90
or the long version with all pictures at http://www1.snapfish.com/snapfish/thumbnailshare/AlbumID=5637939015/a=3669331_3669331/otsc=SHR/otsi=SALBlink/COBRAND_NAME=snapfish/
He took us to the cruise port so we could board NCL's Pride of America.  I thought after we'd gone so far we might as well see the other islands while we were there.
Similar Posts: