We just returned from our Disney trip February 22-March 1. We always use our TMFLT agent as our travel agent and once again had a wonderful vacation.  It is nice to have my questions answered by a professional. I am one who frequents Disney message boards and we know how rumors and misinformation abound there. It's nice to have someone close that has the correct info:)  I believe that February may be my new favorite month to go. Low crowds and great weather!   We absolutely loved the Magic Bands. I was very skeptical at first after reading about the problems/glitches but we never ran into any issues. I LOVED not having to dig around for a key card for the room, park entrance and FP. FP+ was great, to my surprise. We hit rope drop 3 out of the 7 days and enjoyed more afternoons at the pool than we normally would because we couldn't collect FP after FP like we normally would.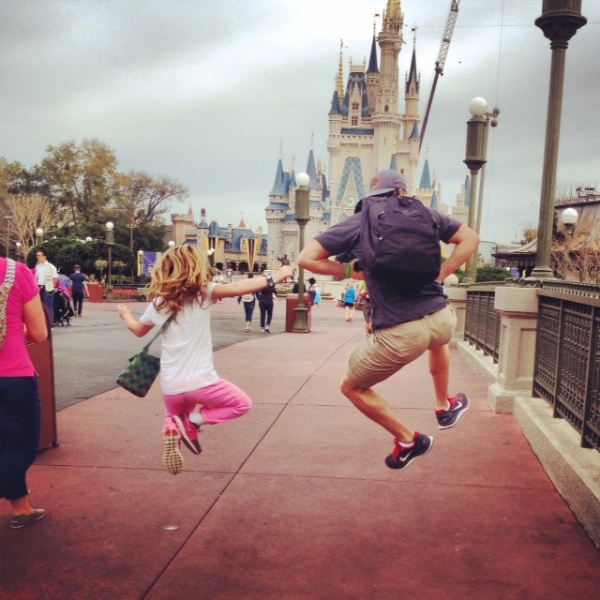 My brother, Evan (Uncle Bubba to his neices:)), has something he calls his "Disney Heel Click". He's a big kid and does this every trip–he says Disney is the only place where you can do this without getting a second look. I captured it on our cruise last year for the first time but this time my daughter, Lillian, decided to join him as we walked down Main Street USA. I can't believe I captured such a perfect, spontaneous picture (except for the crane, of course:)).
-Whitney F, Alabama
First hand experience to give real tips and suggestions

-Alvaro
Our agent found us discounts we were not able to find ourselves
-Pam P
I have used The Magic For Less for quite a few Disney trips…I've lost count of how many but I think about 10. I am always so happy to let my Travel Counselor take care of all the details!

-Sabra P
All reservations were made asap and efficiently.
-Loralae L
We thoroughly enjoyed all the great tips and insider information that our TMFLT agent provided to me when we went the summer of 2012 so it was a natural thought to have her help us plan our second Disney trip. When we go back I can't think of anyone else I would rather talk to than her. She's simply the BEST!

-Melissa B
Our TMFLT counselor was always quick to respond to my emailed questions, she offered helpful tips & was extremely polite when it seemed like (to me) that I was hounding her with questions to make our trip magical for my family. Will most definitely use them again!
-Susan H
Helped me secure the best deal when it came out and the personal attention my Counselor provided.

-Keith B
She handled everything for me that all I had to do was show up. I loved it. I will be contacting her in the near future to help me plan another cruise in 2015 if not not sooner
-Rita B
Surprise trip for an experienced Disney person that successfully exceeded her expectations. Couldn't have done it without my TMFLT agent's help.  Magic band and My Disney Experience app first time used based on my agent's recommendation

-Phil S
My agent does a great job of mentioning anything 'new' or anything she thinks might interest us based on her knowledge of our needs/wants/experience. She pays attention to us as a individual client, not just as a 'generic' vacationer. This is greatly appreciated.  Outstanding!! I will always use MFL Travel when booking Disney vacations that need extra 'TLC' in planning. My agent is THE BEST. I will continue to recommend MFL Travel to my friends.
-Jane J
Deb was incredibly responsive and at all hours of the day…………6 am to midnight it seems. She is always available, very knowledgeable, and if she doesnt not know the answer, she goes and gets it. Pretty amazing lady actually.

-Richard H
Our Counselor helped us with every step of our trip,even when I panicked a time or two. When our initial flight home was canceled she got us sorted out quickly and got us the next available flight.She was great! Just keep doing the great job you are! Oh and I really appreciate her letting me know about the Pirate Fireworks cruise. It was fantastic!!!
-Barbara M
Similar Posts: