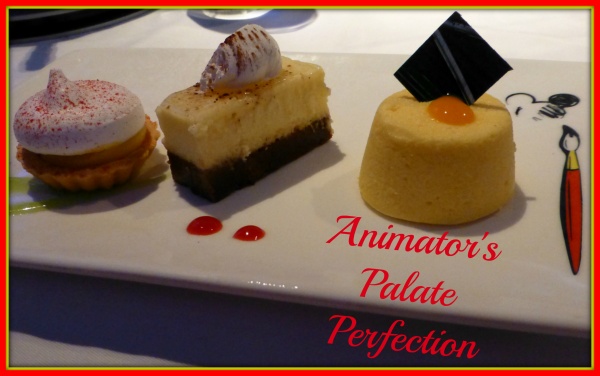 If you know anyone who has ever been on a cruise then you've heard about the food.  If you've been on a cruise you know there's a lot of great food.  I've cruised with Royal Caribbean, Carnival, and Disney.  They all have excellent food.  They all have scrumptious desserts.  They all serve exotic dishes you may not have access to back home.  But nothing compares to the way Disney serves those fabulous meals with a bit of that Disney magic.
When you cruise on a Disney ship you get to experience not just one dining venue but several over the course of your cruise.  On our last cruise aboard the Disney Magic, they saved the best for last….Animator's Palate.
I'm not a foodie so I'm not going to give you a food review here.  To me this is the best rotational dining venue on the Magic because the overall dining experience is so unique and entertaining.  Here's a look at the menu offerings for our cruise.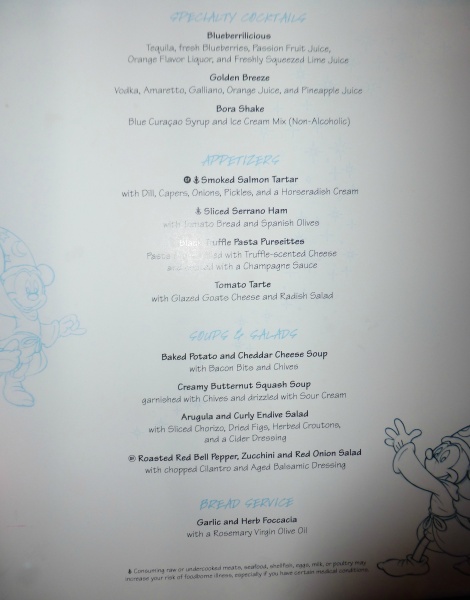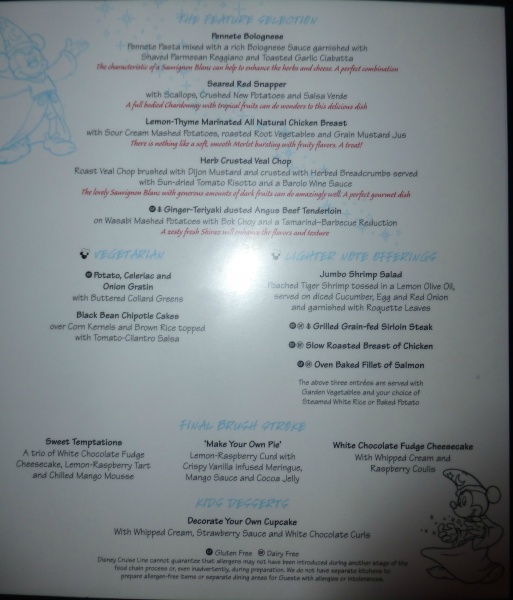 As you can see there are a variety of choices and, of course, this menu is subject to change.  Here's a few pics of just some of the items that came to our table.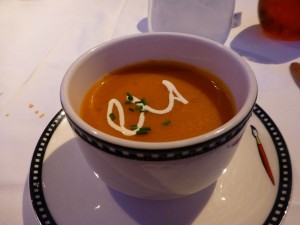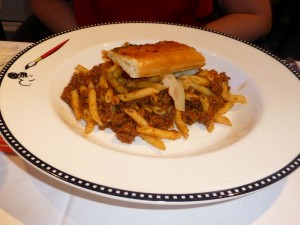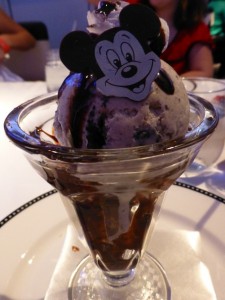 It all looks great.  It all was great.  But it's what happens in the dining room that really captured our attention.   The room which starts out as mostly black and white transforms into the beautiful kaleidoscope of color courtesy of our beloved Disney characters.  It's a bit hard to describe. So I'll attempt to show you just a taste of it here.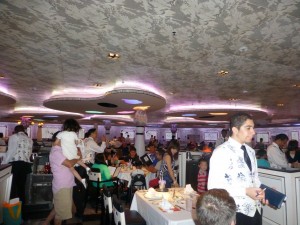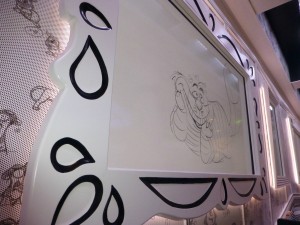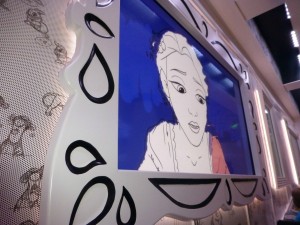 The evening starts out with the pictures being drawn in black in white sketches.  Then as the evening progresses these drawings get more and more interesting.  Color is added and the drawings start to take on a life of their own.  It really is incredible.  It's something you just have to see to believe. Then at the end of the meal, just when you think they've shown you all there is to see, they bring out the mouse.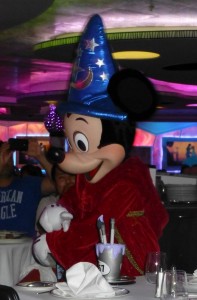 What a great ending this was to a fabulous Disney Cruise vacation.  I will treasure it always.
Request a quote: https://www.themagicforless.com/request-free-no-obligation-quote/?ldsrc=TMFL-TMFLTriciaF
Follow me on Facebook: https://www.facebook.com/TriciaFurmanTMFLT
Similar Posts: