Loved that I didn't have to be on the phone making reservations or worrying about little things like that. Also very helpful to have someone to ask basic questions about our trip.  Had a great trip and can't wait to plan another!!!
-Claudia S
My agent always had an answer to my question! She always responded in a very, quick way!   I have worked with her on several occasions and I have never been disappointed!!

-Pukszta
I never have to worry about anything! Restaurant reservations – done! A new discount popped up overnight? Our agent already applied it before I even heard about it. I will never book another Disneyland or Walt Disney World vacation without TMFL again. In fact, we're looking toward a Disney Cruise in 2016...
-Kristina V
Thank you for sharing a picture of your magical vacation Kristina!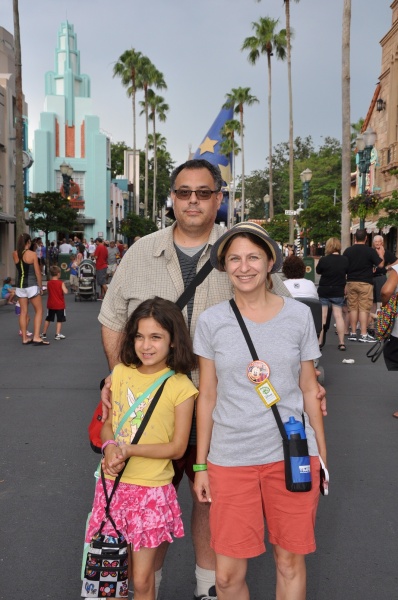 At first, we were overwhelmed with all the options available for our Disney World vacation. After contacting Magic for Less Travel, our counselor quickly provided us with the information we needed. Her suggestions were very helpful and made our trip one that our family will never forget.

-Zachary W
I had absolutely no stress while planning this vacation. My TMFLT Counselor sent me emails and updated me whenever it was time to plan or confirm things.  With all the other stresses in my life, it was perfect.  This is a fabulous, helpful place for Disney vacations!
-Cyndi L
Our TMFLT agent took worries away and was so responsive that there was never time for uncertainties to build. She has a great sense of humor and was a pleasure to work with her.

-Stan H
Our counselor t assisted in the daily activity planning so we were able to efficiently tour all of the Disney sets and she made sure that all of the Princesses and Disney characters were going to be on our selected set each day. As a result, our grandchildren got to see and have pictures and autographs with all of the Disney Princesses and characters. Heckuva good deal. And all of our dinner meals were planned by her restaurant selection and each turned out great. Yummy.
-Joe G
'Insider' tips, suggestions for age appropriate activities and taking the leg work out of accommodation arrangements. Our agent was so helpful.

-Emma P
Our agent is an amazing Disney resource! He knows the area so well and knows what age-appropriate attractions, accomodations, and restaurants our family will love. I refer everyone I can to him!
-Chris S
I went knowing that I would have the best experience possible and a room overlooking the park for maximum experience.  She also provided me with park information so I could pre-plan our days at the park. Everything she promised came through.

-Carla A
Our agent was extremely knowledgeable and helpful! She helped us plan our dinners, fast passes, and our daily schedule! She is wonderful and went above and beyond for us even while we were on vacation!
-Jen J
Our counselor was able to help us pick a room and helped get us prepared for our first Disney cruise.

-Paul M
There is so much to do at the Disney resorts and our agent helped us decide what made the most sense and would be the most fun for our kids. He was great.
-Debbie A
Planning a Disney trip can be overwhelming. Our counselor was able to answer questions and narrow options. I would use her again most definitely!

-Wendy S
Our counselor gave us very helpful tips for traveling, lodging, and visiting the parks for our family of 5.
Vicki D
We have know and worked with our agent for a number of years and have truly enjoyed our relationship. She has always been attentive, responsive and helpful in resolving issues when they arise. Our most recent trip to WDW's AKL is a perfect example. Our room was fantastic, assistance with restaurant booking resulted in several memorable dining experiences and advice regarding converting to annual park passes will save us hundreds of dollars on our next trip to WDW in December. she is a terrific agent and we are happy to recommend her to our friends and family.

-Mark J
I have always planned my own WDW trips but after my experience with my TMFLT agent I will never go back to doing it myself! In fact we already have our Disney Cruise booked with her for next year. She answered every inquiry promptly and secured every dining reservation we wanted during the timeframe we requested (incuding the very popular Be Our Guest and Le Cellier for dinner); while I got to sleep in instead of worrying about dialing WDW dining at 7am /180 days out. I have been telling everyone thinking about a WDW vacation that they would be crazy not to take advantage of her excellent service!
-Mira B
I was very impressed by our agents promptness in responding to emails–no matter what hour of the day or night we wrote to her, seems like she wrote back in a jiffy–and also her availability for phone calls, which was invaluable to clear up a few questions.

-Patrick H
All the planning saved a lot of time when actually on vacation.  Is a real life saver.
-Daryl D
Our agent provided a hassle free vacation for us! I usually have to put a lot of time and energy into researching to make our vacations great. But with The Magic For Less, I didn't have to worry at all. They provided all the insight and suggestions for a wonderful vacation!

-Lakisha W
Similar Posts: