May 29, 2013
We had to leave our vacation earlier due to a death in the family and our TMFLT agent assisted us. We sincerely appreciate that kind of assistance and service. He was very helpful in general with any questions prior and after our trip.

-Greta K
Our TMFLT agent sent a lot of helpful hints that were nice to know before we left for our vacation.

-Rebecca BA
Sometimes I worry that my agent doesn't sleep–it seems she gets back to me so fast! I have had her help for several years and have never had a problem with TMFLT Travel. My agent is a joy to work with, always helpful with answers and information.

-Nancy L
Our counselor is great—this is our third trip with her and it's always great!

-Melinda P
Our agent was able to get us a dinner reservation at Be Our Guest during our trip, making that day extra special.

-Julie F
I have worked with our counselor on 3 trips during the last 3 years. She is very timely with her responses and very helpful. She has been able to answer every question I have. Thanks for all your help.

-Meleah M
Our agent was able to clarify information for me about the different resorts. She also shared many tips to help our travels go smoothly.

-Kelly S
She helped with all the details and was a big help.

-Kevin J
---
May 25, 2013
Thanks! We had a wonderful trip!! There was a slight problem with our room when we got to it the first night, so their Customer Service was what I expected from Disney. Other than that one little hiccup everything was as wonderful as expected.
My 5 year old daughter loved seeing the Princesses and so did my 2 yr old son. My son's favorite souvenir was the sword he got at Cinderella's Royal table. 🙂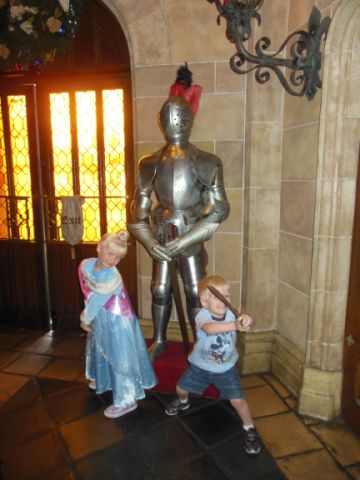 Thanks for all your help planning the trip, you made the process much less daunting since this was our first visit to Disney.
-Vickie D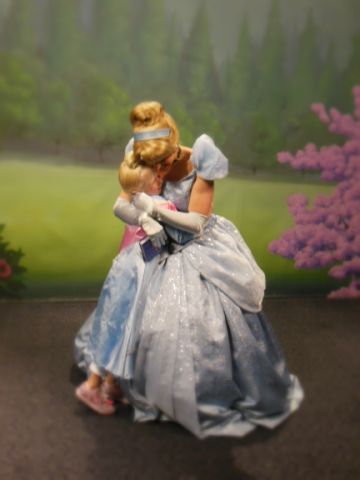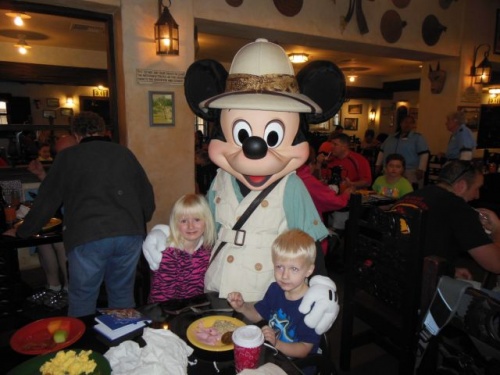 ---
May 22, 2013
I liked that we could e-mail questions and didn't have to wait on hold on the time like before we transferred from Disney.

-Monique B
With our TMFLT agent at the helm I knew every detail had been taken care of. She did her best to make sure we were prepare for our vacation and kept us up to date on our travel arrangements. Our cruise went off without a single problem or concern! Thanks!

-Ann G
Peace of mind knowing that we were receiving the best possible discounts on our plans.

Jerry K
Our TMFLT agent made our reservations and sent all the necessary paperwork to us so all we had to do was pack for our vacation. We have been working with her since 2009 to plan our Disney vacations. She helped us plan a trip to WDW in 2009, an Adventures by Disney vacation to Alaska in 2010 and another trip to WDW in 2012. We have loved all our trips and thanks to her, we just had to pack. She did the rest of the work for us.

-Christy LM
Our MTLFT agent took care of everything for us and I had no worries during the planning of our vacation. She also sent a welcome home message to make sure everything went smoothly and to find out how our trip was.

-Jennifer W
Very helpful and informative. Will definitely use Magic for Less Travel in the Future! 🙂 Our counselor was OUTSTANDING! She went above and beyond what I expected for a Travel Counselor.

-Lanette L
Our TMFLT agent made everything so simple. She took care of all our special requests and help to make the trip so magical for my daughter, whose birthday we were celebrating.

-Heather W
(Our agent) made our trip so enjoyable and relaxing knowing everything was taken care of!! We were so excited to have reservations for "Be Our Guest" Thanks to our agent!! It was wonderful!!

-Greg and Terri M
---
May 18, 2013
(Our vacation experience was enhanced by) Mainly, it made it very easy to plan. All we needed was the dates we would be there, where we wanted to stay, and what restaurants we wanted to eat at (along with day and time preferences). Then our TMFLT agent took care of all of the arrangements, discounts, and reservations for us. Essentially, to plan a vacation for the entire family (15 of us), it took us almost no time to plan. In the past, it would take us days and days to everything planned, scheduled, and reserved.
I cannot wait until our family is ready to go to Disney again. I already told everyone I would take care of all of the reservations since I know I can just call The Magic for Less Travel and get it taken care of quickly and easily.
-Dan L
---
May 16, 2013
Our TMLFT agent got us every reservation we asked for. The dessert party was a highlight of our trip, and she had our reservations before I even knew tickets were on sale. Our room location was perfect at our resort! We had the perfect vacation, thank you for all of your help.

-Susan T
I let my agent know what I need and he takes care of all the details for me. If I have questions about anything, he always helps me. I've recommended TMFL and my agent to many people over the years.

-Janet M
Our TMFLT agent was great – she researched & answered all inquiries in a very timely basis.

-Sandy C
Our counselor is extremely efficient and prompt in communication as well as securing reservations on short notice. She's been a delight to work with on this as well as my prior cruise. She has a customer for life with me!

-Eric Mis
Our TMFLT agent was great – worked with us on dining reservations and managed to get us into Be Our Guest! A castmember told me that was like winning the lottery 🙂 I like the spreadsheet she sent with our itinerary on it as well.

-Kim Mc
Our TMFLT counselor made planning our Disney vacation easy and flawless. She available via phone call and text before and during our vacation. We will definitely use her and The Magic for Less program for our next vacation.

-Jessica C
I'm crazy about our TMFLT agent–she knows her stuff and is extremely helpful. And I personally like her too:)

-Susan S
We have had the same counselor for several years now. She has been so much more than helpful! She has always been there for all of our needs, changes, and anything else we have required. She has made our trips a lot less stressful.

-Dawn E
We have booked our last several WDW vactions with our TMFLT agent — she is amazing.

-Ann Marie F
---
May 11, 2013
Our agent is a wonderful person. She was always there when we had questions and was always prompt to give back answers. I will always use her in the future.

-Tera S
It was my first trip ever to Disney. Everything was taken care of. We had all our reservations made for us. Everything was really magical. I can't wait to go back, and when I get ready I will want my TMFLT agent to help me again.

-Debbie L
Our agent and TMFLT was able to fund the best deals for me and my family, saving us $100's of dollars. We also got good dining reservations and tips for maximizing our time at the parks. Even though we had a few unexpected "problems" your company and WDW itself came through and resolved those concerns, making our "mountains into molehills". Overall we had an excellent time at WDW. I would certainly refer any of my acquaintances your services if they're planning a trip to any Disney property. I've only used your services one time and I've never used a travel agent before. But for my experience, your company has so much covered, with your agents experiencing all aspects of Disney travel. They see what can be done and try to smooth over any foreseeable problems before they can happen. You have my five stars for your services.

-Joanne M
Having someone book everything and knowing my reservations are taken care of is a big relief to me. I know that I can always count on getting the best advice and service from your company.

-Lois B
We had SO many changes to our schedules/number of guests, etc throughout the time we were putting this trip together, but my agent handled them all with ease and a sweet spirit. So patient and kind. I was very impressed. Our travel agents also made special arrangements for our grandson, who is deaf so that he could enjoy everything too. Everything was taken care of when we arrived. Thank you.

-Joyce S
She was really understanding when I told her how important dining with Cinderella was and that it was really meant for me, not so much my daughter. I was grateful for that. My daughter and I had a great time! You guys are great! I have recommended you to others and will continue to do so! Thank you so much!!!

-Patricia S
Traveling to Disney for the 1st time with 4 small children was very overwhelming. Our agent took care of so many things & guided me in a very helpful way. Loved the service! We would have never made it there so smoothly on our own!

-Shannon V
Thanks for sharing the great picture of your family in front of the Castle Shannon, love the matching t's on the kids!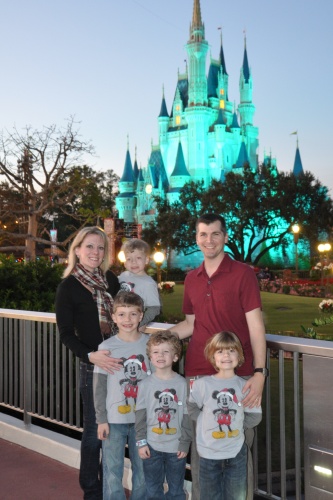 ---
May 8, 2013
Relaxed in the knowledge that my agent is taking care of everything for me – calling down a few days before my vacation and checking on any requests I made.  Love that she sends me updated refurbishments, park hours, etc. so I am aware of things going on.
Linda K and family enjoying the December Holidays at Disney World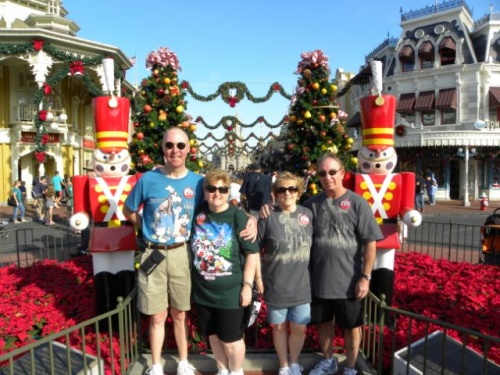 Similar Posts: