When visiting the Disneyland Resort in Anaheim, California it's almost inevitable to make a comparison to Walt Disney World.  Many attractions are duplicated from coast to coast, but more than often there are some differences – big and small – between the Florida and Southern California counterparts.
One such subtle difference between coast to coast attractions lies with Fantasyland 's "It's a Small World" at Disneyland Park.  While the classic Sherman Brothers' song and the Blaine Gibson dolls are a constant, Disney has embedded nearly three dozen of the classic and modern Disney characters into the attraction in a refurbishment that occurred in 2008.  It's a delicate, subtle infusion so as not to take away from the beloved original attraction.  It adds a wonderful Disney touch with the characters placed strategically in the either the countries they are from or the area they best represent.
As you pass through the attraction you'll first notice Peter Pan and Tinker Bell in England flying overhead soon followed byAlice and The White Rabbit.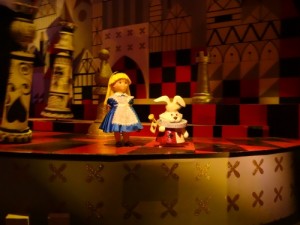 Cinderella with her mice friends Jaq and Gua are up next in France and note she's in her work clothes, not her ball gown: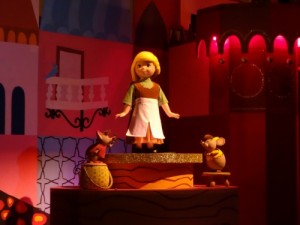 Pinocchio (strings and all) will greet you in Italy: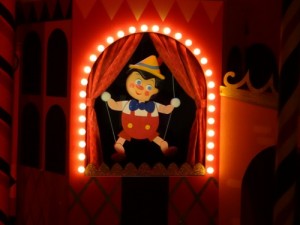 In the Middle East you'll find Aladdin and Jasmine (and Abu!) flying overhead on the magic carpet.  You can almost hear them singing "A Whole New World" over the iconic attraction score: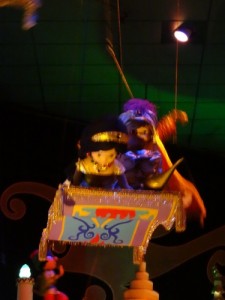 Mulan and her guardian dragon sidekick, Mushu, make an appearance in China – although you won't find Shan Yu trying to spoil the fun: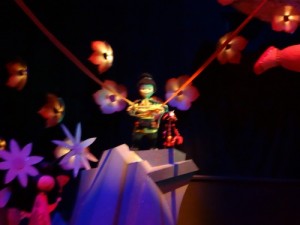 Simba and Pumba (and also Timon) can be found just waiting to be King in the African themed room: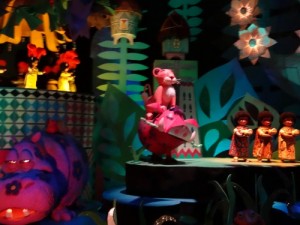 Donald, Panchito and Jose Carioca greet your boat in Mexico: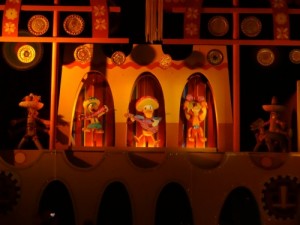 As you enter the South Seas you'll find Ariel in her clam shell: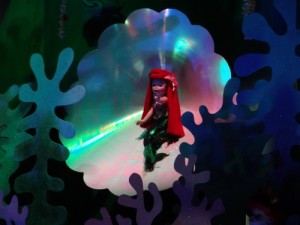 'Ohana!  You'll also find Lilo and Stitch surfing:
And as the attraction ends its run in North America you'll find the Toy Story favorites Woody, Jessie and Bullseye: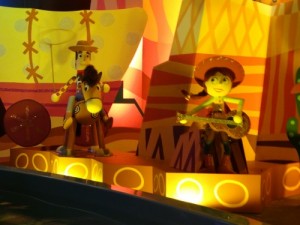 What a wonderful addition and a nice change these additions are to this attraction.   Be on the lookout for them next time you ride the Southern California version.  I know Walt would love it!
Similar Posts: