My daughter received a letter from Mickey!!! We receive free autograph books and a "care package" before our trip which was fantastic. I absolutely love our agent.
-Melissa K
Although we are WDW veterans and have used other travel agents in the past, I still feel it's beneficial to work with an agent to ensure that we are getting the best rates for our stay.

-Michael F
Our agent took care of all the reservation details, like adding on a pre-package night at the value resort, booking magical express , etc.  He also had a package sent to our resort for us; a shoulder bag and a laundry bag, both of which came in very handy!
-Christy A
Thank you to Justin McC and family for sharing this great photo with talking Mickey!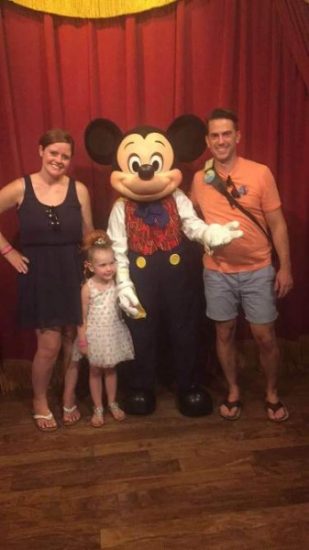 Our Magic for Less counselor always gives great recommendations.  This time he gave us some opinions on the water parks which we decided to do and loved.  It's also just so easy with him making all of the dining reservations. 
-Melissa S 
We fully enjoyed our interactions with our agent and The Magic for Less Travel,she answered all our questions and fulfilled all our wishes.She made our vacation very special.

-Michelle L
Our counselor always provides us with lots of information and helpful hints for our vacations.  We know that when we arrive, everything is taken care of and we can just enjoy our trip.
-Madeline P
Our agent always offers information specific to the time of year and special events that will apply.  Since this is our 3rd trip, she is familiar with the types of attractions and shows that my family enjoys and helps me plan our time effectively.

-Becky S
She was amazing! She helped with the millions of questions I had! If we ever get to go on another trip we will definitely be contacting her!
-Sandra S
Our counselor has been excellent with his help for rooms at wdw & Disney cruises. I know he will find me the best discounts I can use!

-Shirley E
Working with our Magic for Less agent was great. He was able to provide us with all of the information we needed to ensure a smooth vacation.
-Lane L
This was my first trip with a new travel counselor, and she was fantastic!  Right off the bat, there was a mistake on the number of nights for my bounceback offer and she fixed Disney's error right away.  She was helpful, knowledgeable, and prompt with all communications.   Her skills as a travel counselor made me feel secure in knowing that my vacation was in excellent hands.

-Kelly N
Lined up dinner reservations, answered frequent questions and outlined itineraries to maximize trip.
-John C
This was our 5th cruise booked through The Magic for Less Travel and our agent,  and we have since booked a couple more.  I know he will get us the best rate, also he is very fast in getting back to us and is very knowledgeable.  During this past cruise, we booked another cruise onboard and never got the email we were supposed to get through Disney.  One email to him and we got our confirmation which saved us a ton of time so we could enjoy our cruise instead of standing in an additional line.  We highly recommend the Magic for Less Travel agency and our agent.  Thank you for all you do!

-Renee W
Our counselor is so knowledgable that she really guides us to make the right choices for the type of experiences we are trying to have.  She has always been very honest and informative when answering our questions.  We have done two very different trips to Disneyworld, and they have both been absolutely wonderful thanks to her guidance.
-Susan H
Our counselor was awesome to say the least!!  She was so very helpful in helping me plan and create a magical vacation for me and my kids!!  She put up with me being difficult in trying to nail down my days!!  I definitely look forward to having her plan my next vacation!!

-Stephanie B
I was extremely overwhelmed with the entire process and our agent made things sooo easy and took care of so much for me.  I loved that I could depend on her to apply new discounts to my trip and offer wonderful tips.  The daily itinerary was extremely helpful.
-Lauren W
Deb always relieves the stress of planning complex Disney vacations. Even after multiple trips to Disneyland and WDW, Deb's timely assistance and knowledge is of great benefit.

–Natalie A
Our counselor was very helpful in getting us the best room at the resort that she could.  Double checking to make sure everything we needed or wanted was in place before we arrived.  She and the private website had so many helpful hints and ideas it really made our vacation enjoyable.
-Mici B
Our travel consultant was absolutely wonderful. She was extremely personable, incredibly helpful, and made the whole experience of planning our honeymoon stress-free and enjoyable. The only thing that was negative about our experience was of no fault of hers, but rather American Airlines. We checked out itinerary the night before our flight and saw that it had changed times, the destination of our first flight (we were originally supposed to connect in Dallas and it changed to Phoenix) as well as our returning flight (changed from Dallas to Phoenix.  My husband and I were also not sitting together after the flights were changed. These changes delayed our arrival time in Maui and were just an overall inconvenience. When I alerted our consultant of the changes, she jumped on it immediately (late on a Sunday evening no less) and got on the phone with AA to make sure that we were seated together. As it turns out, AA never alerted her or us about these changes.

-Ashley S
Similar Posts: