Yes, it really IS a good deal!  
Its confession time:   Although I help other people plan their Disney trips, I tend to under plan my own.  After hundreds of trips to "the world" since  my first annual pass purchase in 2002, I've pretty much seen and done it all in the parks.  There are things I love at Disney and tend to do every time, but while I stay in Disney hotels, I often meet friends off site for food and would even park hop for cheap eats.  I also tend to go to the same restaurants every trip.  In fact many of my friends and colleagues remind me that there are more than 10 restaurants at Disney!  Because of my general loose park touring style I do not book vacation packages with dining plans for myself.
Why Disney's Dining Plan?

 
In early December I booked a trip with a check in date of Dec 31, 2016. Normally I book farther out but my college student daughter really needed the break to do something fun.  When I saw how stressed out she was, toiling away with things like Statics and Dynamics, Calculus and Physics, and other subjects of which I have little understanding, I decided she needed a trip.  With hotel (Disney's Coronado Springs Resort) booked, and air secured with Southwest thanks to my Rapid Rewards points, it was time to think about meals. Normally I have a rental car and go off site for some food.  I also tend to dine at Disney Springs : Raglan Road, House of Blues and Earl of Sandwich are part of my rotation, mainly because I can get decent food and not spend a fortune.  Earl of Sandwich is probably the best bargain in all of Disney… but it is just sandwiches and salads and it also comes with horrendous lines most of the time. I do not do character meals or buffets on my typical trip mainly because of cost. However car rentals for this time of year were astronomical in price and I wasn't going to spring for one.  Without a car I'm locked in to Disney for food, and my normal budget is about $50 per person per day.  Lines and wait times at Disney Springs would also be horrible.  I started thinking that it was time to add Disney's Dining Plan as I would probably eat a whole lot better than usual as well as experience things I haven't done for a while if I did the splurge. That meant I had to make reservations and come up with a way to best use this plan.  By now I was only two weeks off from check in so I was really late to this whole planning thing.  My goal was to at least break even for the amount I paid and minimize my time trying to get to those meals.  The boundaries I set for this trip were as follows:
No buying extra food. The dining plan had to cover us for the time period we were using it.  I will confess to having bottled water  (which you can buy by the case in the shops at the resorts—but in my situation I brought it from the house as I had already been in Florida for 11 days), and I also had my usual granola bars which accompany me in checked luggage for all trips. We drank all the water—the granola bars came back home.  I actually did not buy anything until the last day where I *had* to have a certain snack.
The meals had to be reasonably healthy. I don't live on burgers and fries or chicken tenders at home, and I can't remember the last time I had a quick service hamburger at Disney.  There are PLENTY of really great meals at Disney which are good and good for you, and aren't swimming in grease or fat or calories.
Snacks for this trip could be a splurge, and preferably something I normally would never buy if I didn't have a dining plan. Sharing was optional this time (normally we share snacks at Disney.)
If DD left and did something on her own, she had to photograph the food and the menu, and keep the receipt. (This was research after all!)
All dining credits had to be used by the time Magical Express picked us up as they expired at midnight on date of check out. No leaving anything at Disney.
Adult beverages would be ordered, but are not included here because they are not part of Disney's Dining Plan. However they are on my receipts.  Amount paid for these are not on the summary spreadsheet.
Gratuity/tipping is not part of the dining plan and these were paid via room charge.
With the check in date of December 31, 2016, were on the 2016 Disney's Dining Plan (DDP.)  This included one (1) Table Service meal credit (entrée, dessert, beverage), one (1) Quick Service meal credit (entrée or combo meal, dessert, and beverage) and one (1) Snack credit per person at a cost of  $63.70 per person, per night of stay.  With the goal of breaking even with what I paid for the plan I had to do some character meals or buffets and the better restaurants.  We weren't going to visit inexpensive places like The Plaza Restaurant or the Sci Fi Dine In as I would not likely hit my breakeven point.  (The 2017 Disney's Dining Plan has had small changes, and a small increase in price.  The change was removing the dessert from the Quick Service meal, and adding an extra Snack.  I thought this was a great change.)  Prices below were menu prices at time of purchase without tax.  Amount of value includes 6.5% Florida sales tax.
Day 1:  Friday, Dec 31, 2016- 
We had already been in Florida for about 11 days and we arrived to Coronado Springs around 1:30 pm.  Check in was a long and tedious process due to a lot of people in line; I do not do online check in as I like to speak to a real person at arrival and find out if my room is ready as I like to drop off my own belongings.  Got to my room by 2:30 pm and we turned around and walked back to the front of the hotel to meet a friend and go to Animal Kingdom.  We all entered the park but she quickly bailed out on us as she had been sick and was not up to crowded theme parks.  Our party of three was now down to two, so we toured the park a bit and had dinner at one of my favorite locations, Tusker House Restaurant.  Cost:  $45 per person, and one Table Service meal credit on Disney's Dining Plan. The food was excellent, as usual, and we both agreed it was the best tasting meal of the trip. Tusker House never has disappointed me and they had no problems with our decrease in table size either.
Day 1 Dining Plan Value: $95.85 w/tax. Amount Paid $127.40.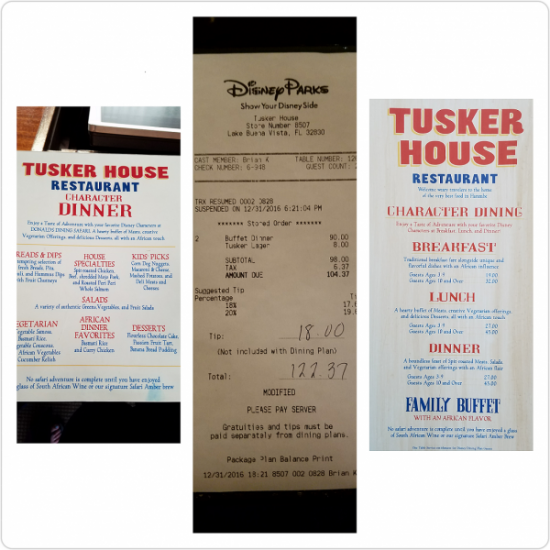 Day 2:  Saturday, January 1, 2017 – 
Our early start has us up at 6:30 am and out the door by 7:15 am to Magic Kingdom for a Be Our Guest Restaurant breakfast. I had allowed a lot of time for transportation and the bus was pretty quick, dropping us at the Magic Kingdom just 17 minutes later.  Arrived to park at 7:45 am to see a very long line for security, however we were walking down Main Street by 8:00 am as we had no bags and could go through the 'no bag' line.  Made it to BOGR and we were promptly sent in where I paid for our meals with my quick service dining credits as I had done the online pre-order.  We headed to the dining room and the food arrived within 8 minutes of us sitting down. The temperature of the meal could have been more hot, but it was OK.  I actually ate everything including the sausage, which I think was a chicken variety. Despite not usually eating breakfast meat other than bacon, I thought this stuff was pretty tasty. The pastries were quite good—and I would have liked more of them.  Breakfast:  $24 per person + tax, or 1 Quick Service Credit on the DDP.  Would I ever pay $24 for this if I had to use 'real money'?  Absolutely not. However it was a great deal for a quick service meal credit on Disney's Dining Plan.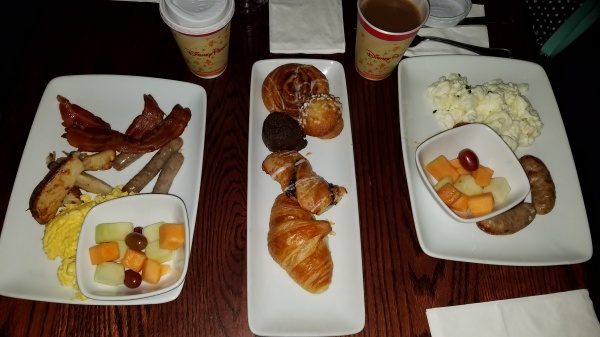 The Magic Kingdom tends to be pretty crazy by noon so we bailed out of there via the new Express Transportation which I added the day prior at the launch price of $24 per person (current pricing in March 2017 is $29 per person for 2-7 days.)  We get to Epcot and head to Les Halles Boulangerie-Patisserie (France) for a ham and cheese croissant ($4.75 each.) I was looking for a snack that was more like a small meal as it had been a long time since that 8:10 am breakfast.  For one snack credit it was a decent amount of food to get us through until dinner which was at Akershus Royal Banquet Hall (Epcot-Norway) and Princess Storybook Dining.
Back in the 'old days', Akershus had a traditional Norwegian menu which was not broadly appealing to typical Americans.  As a kid I remember my Swedish grandmother eating some of those foods–like pickled herring in sour cream sauce–and Disney used to have those more authentic Nordic specialties on the 'cold board'.  Thankfully the addition of Disney Princesses changed the menu and things have become far more mainstream. Everyone should now find something they like at Akershus. As a character meal, Akershus is pretty pricey at $57 per adult, but it was also one table service credit on Disney's Dining Plan.  The characters were great:  Belle in the gold dress greeting guests, with Cinderella, Snow White, Aurora, and Ariel in the dining room. It was fun to see the little girls in their fancy dresses meeting the 'real' Disney princesses.  We thought the food was delicious too.
Day Two Dining Plan Value: $177.59 w/tax.  Amount paid: $127.40.  (See how this works?  You're averaging it out for your stay.)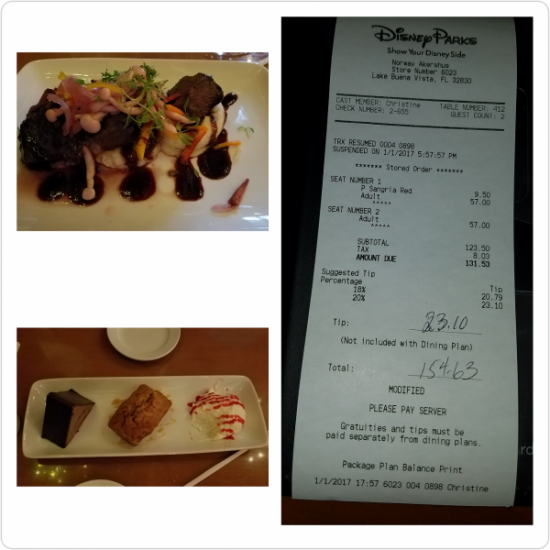 Day 3:  Sunday, January 2, 2017 – 
It's the holidays, so another early day at the parks.  Today was Disney's Hollywood Studios, and my daughter hit the park for rope drop while I stayed in and worked for a bit.  She was done with that park in a few hours so we met for lunch at Epcot's Sunshine Seasons, located in Future World's "The Land" building.  This is one of my favorite places for quick service food in all of Disney and I park hop just to eat here.  I had my usual grilled salmon ($13.49), and she tried the Asian station for Sweet & Sour Chicken ($11.99).  Since dessert was part of our dining plan we got a cupcake ($4.99) and the strawberry shortcake ($4.69.) Rounding out our lunch were drinks ($3.29 each.)  If I were not on a dining plan I would have skipped the desserts, but wow, they sure were good!  I have never been disappointed with the food quality or the selections at Sunshine Seasons.
Another trip on the Express bus took us to the Magic Kingdom as dinner that night was at a place where I have very fond memories with my kids:  the Crystal Palace in the Magic Kingdom. Pre-2005 when my kids were little a character lunch was relatively inexpensive and we went to the Crystal Palace a lot. (A 'kid' at Disney also used to top out at age 12 too back then!) I have never had a bad meal there, and while the desserts are not as elaborate as they were 10 years ago (I do miss that huge bowl of Tiramisu), if you leave hungry it is usually your own fault.  Cost for that character dinner buffet:  $45.00 each.  Our snack later that night was a Pineapple Float at Aloha Isle ($5.29 each.)  I am not a fan of the regular Dole Whip but I do like the floats made with pineapple juice.
Day 3 Dining Plan Value: $151.14 w/tax.  Amount paid: $127.40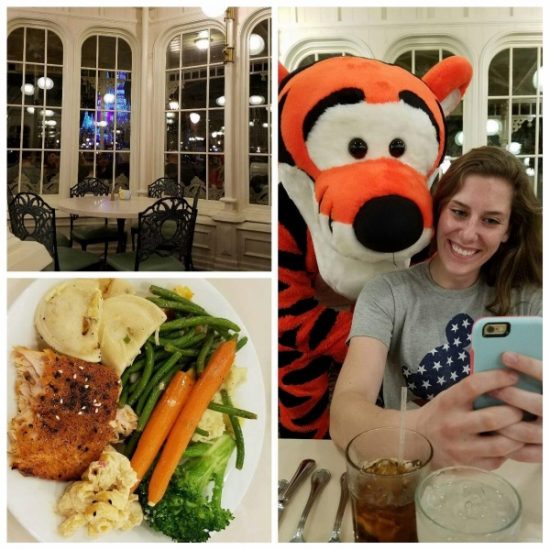 Day 4:  Tuesday, January 3, 2017 –
It was time to head back to the Magic Kingdom and brave the now insane crowds.  After all it was still the holidays and folks were coming in for the Marathon that weekend.  Lunch was a place I usually do not visit on my trips:  Pecos Bill's Tall Tale Cafe.  Nothing wrong with it, but last time I was there with my friends and colleagues I ordered the Uncrustables Kids Meal.  Not much on that menu appealed to me back then but the new Mexican food looked good and I was willing to give it a try.  We ordered two Fajitas platters ($14.99 each) , two drinks ($3.29 each) , and for dessert the Churros ($4.99) and the Red Velvet Cake ($4.29.)
Well, that Fajitas platter was just too.much.food.  Seriously, it was a huge portion of chicken and BBQ beef, with beans and rice.  Was it good?  Well… the best way for me to describe it is that it's a heavier meal than what I'm accustomed to eating and it is not something I would ever order again. The two of us could have probably split one of those platters and not left hungry.  If you're feeding someone with a huge appetite this is the meal for you. Neither of us had ever eaten a Churro and this is another 'one and done' thing for us as we found this particular version to be heavy and flavorless.  The Red Velvet Cake was pretty tasty and probably the highlight of this particular meal.  Normally I go to Columbia Harbour House and have salmon, and I probably should have just stayed in my rut and had my old favorite.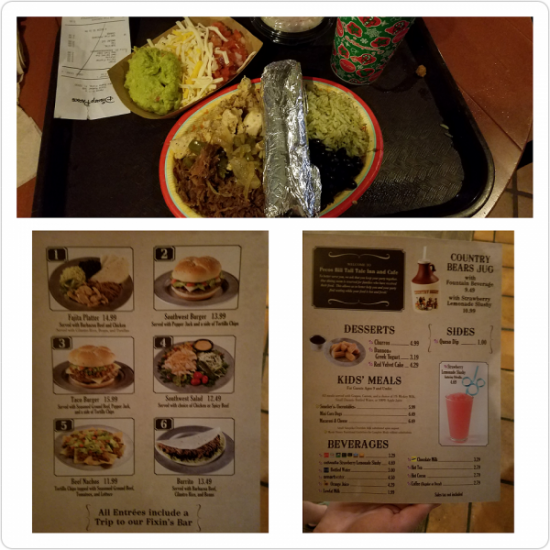 Dinner that night was 1900 Park Fare which is a character meal at the Grand Floridian Resort and Spa with Cinderella and Prince Charming and her family.  I've been here many times and love the characters.  Anastasia and Drizella were their usual charming selves and Lady Tremaine gave me some parenting advice as we both had daughters. It was fun and the buffet desserts were great.  Oh, and I did get my salmon…  Cost for dinner:  $47.00 per person.
Day 4 Dining Plan Value: $148.93 w/tax.  Amount paid:  $127.40
Day 5:  Wednesday, January 4, 2017 – 
Another early morning out the door to beat the crowds, and this time we headed to Animal Kingdom.  Kilimanjaro Safaris is one of my favorite things to do and I never tire of it.  We also wanted to see a show or two, and DD wanted to ride Expedition Everest.  Her other request was Yak n Yeti Anandapur Local Foods. Since we had a dinner reservation at 6:00 pm in Epcot we ate an early lunch.  She got her usual Sweet & Sour Chicken ($10.69), and against my better judgment I ordered the Korean Rib Tips and Fries ($12.99) as I had never tried Korean BBQ.  Dessert for her was the frozen lemonade ($4.59) and the Pineapple Coconut Cake ($4.59) rounded out my quick service credit.  Drinks were $3.69 each.  Her chicken was delicious.  My ribs… well, let's say they were just not my taste.  The meat itself was on the fatty side and not very appetizing.  I picked through it, and ate a few fries but most of it ended up in the trash along with a lot of her frozen lemonade.  The saving grace here was the Pineapple Coconut Cake.  It was absolutely delicious and I would order this if it were on a menu somewhere.  (I think that cake deserves to be elevated to its own place in a table service restaurant.)  We finished lunch and saw "Finding Nemo:  The Musical" and crossed back to the safari area for our Express Transportation to Epcot as dinner was at Chefs de France.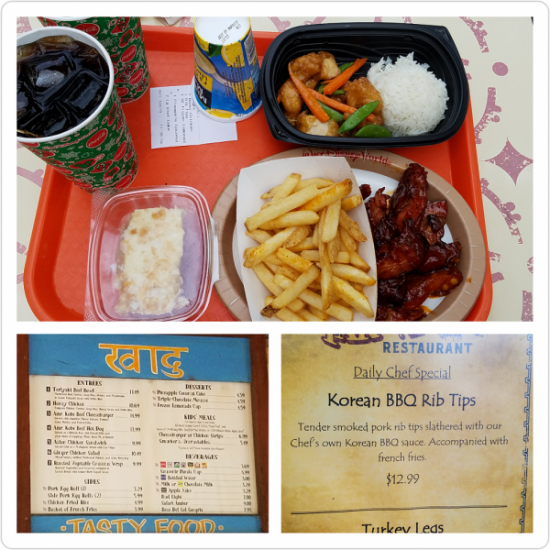 Once back at Epcot we got our snack for the day:  A Mickey ice cream sandwich and a funnel cake.  When ice cream bars from the carts were $2.50 each I'd buy them for the kids. Now that  the price is doubled to $5.00 there's no way I'll spend that much.  The Funnel Cake was $7.00 if I was using real money. Both items are a great deal for a snack credit when considering their cost and that Funnel Cake could serve more than one person if you're inclined to share.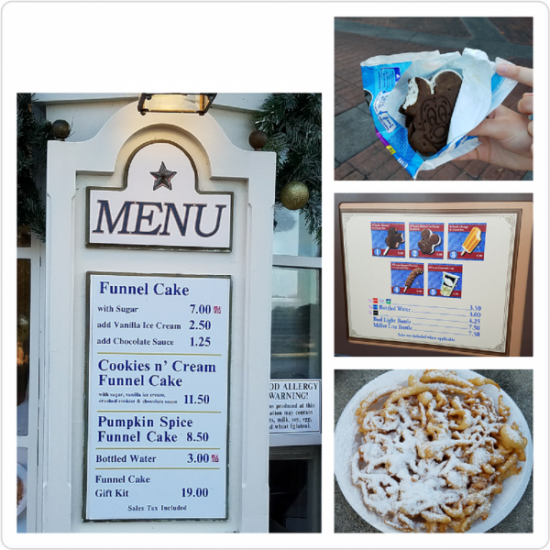 Chefs de France used to have several lunch entrees I really enjoyed including a quiche and salad (the quiche now is at Les Halles) and a crepe with chicken that looked a whole lot like a fajita. A while back they went to one all day menu and my favorites are gone but I still go there for lunch as I can get the French Onion Soup.  We had a dinner reservation at 6:00 pm and were seated promptly. The menu includes a prix fixe dinner (appetizer, entrée, dessert) which is available with the dining plan and I was happy to get my soup and even salmon ($39.99 includes dessert.) DD had the beef tenderloin ($34.99) and our food was delicious.  For dessert we both had the apple tart (mine was included as part of my prix fixe meal, her cost was $9.75 but part of the dining plan. Yikes!)  Fountain drinks were $2.99 each.  This meal was absolutely delicious and I will definitely go back.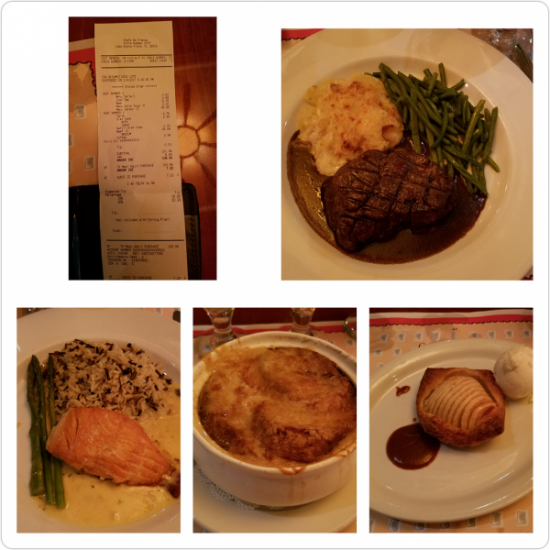 Day 5 Dining Plan Value: $155.34 w/tax.  Amount paid:  $127.40
Day 6: Thursday, January 5, 2017- 
Time to pack up and bring luggage to the front of the hotel for Resort Airline Check In and use the rest of those dining credits.  We still had two Quick Service meal credits (one for each of us) and 4 Snack credits remaining.  So where do we go?  Epcot.  Seems to be a pattern for us—when in doubt, or when trying to avoid crowds, go to Epcot.  It was only natural to go to Sunshine Seasons Food Fair for a decent meal as we had a late flight and would not be home until midnight.  Lunch was the rotisserie chicken dinner ($12.29 each) and for dessert we had the Black Forest Cupcake ($5.59) and a Carrot Cake ($4.99).  Beverages were $3.29. That Black Forest Cupcake ranks up there as one of the best things I've ever eaten at Disney.  It looked beautiful and tasted divine. After lunch we went to use our four remaining Snack credits in Karamell Kutche (Epcot-Germany).  Ended up with two bags of freshly made caramel corn ($5.99 each), a caramel apple ($6.29) and a Mickey Rice Krispie treat with chocolate and caramel ($4.99.)  Although I set a rule to not buy extra food, I broke it by purchasing the pineapple spear ($4.79.)  This was my one impulse buy of the trip.  We no longer buy merchandise so I can justify the five bucks on fruit.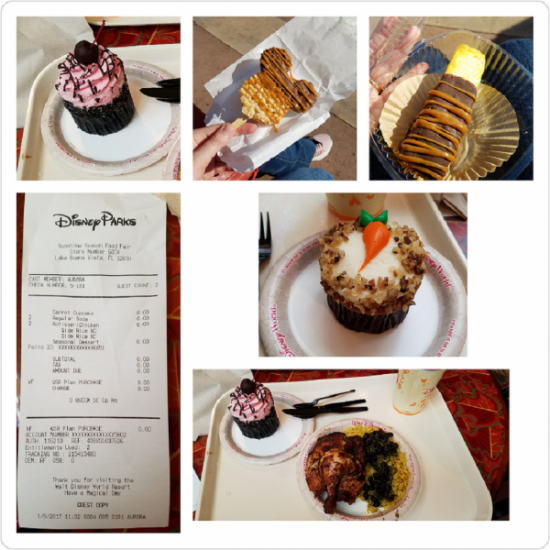 Day 6 Dining Plan Value: $69.23 w/tax
Since numbers don't lie and I tracked everything, I was able to determine we did pretty well with Disney's Dining Plan.  Although it sounds like I spent a lot by purchasing a dining plan, food is expensive at Disney!  I paid $637.00 for the 2016 Disney's Dining Plan, and I received $798.08 in value which is a 20% savings.  We also received a resort refillable mug which we didn't use because we spent no time in the hotel and frankly it was just too far to walk just for coffee. If crowds had not been so high we probably would have spent time at the hotel.  The refillable resort mug makes a great souvenir and I use them at home.
Here is my actual tracking spreadsheet with costs: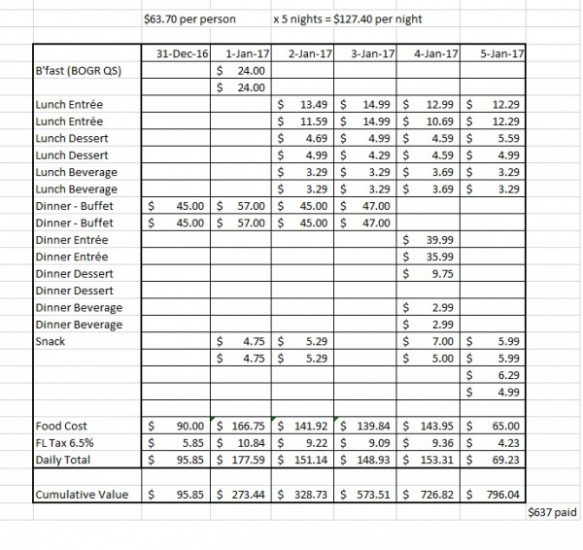 To sum it all up…  
Can you eat at Disney for less than the cost of a dining plan? Of course. There are plenty of options at various price points.  But to eat healthy food for at least two meals a day you're going to come close to the nightly cost of Disney's Dining Plan.  The 2017 cost for the Disney Dining Plan is $67.33 per night of stay for persons age 10+ and $24.22 for children age 3-9.  (Disclaimer: Children age 3-9 must order from the kids menu when one is available.  Children age 2 and under do not receive dining entitlements and may share from your meal, or you may order their food at additional cost.)  And a side note since you've made it this far: there are many web sites that offer a dining plan calculator, however most do not keep up with menu pricing at Disney which varies depending on time of year.  When making your own decision as to whether or not a dining plan is 'worth it', always use CURRENT information like what we have on The Mouse For Less.  Disney's web site also has menus when you browse each restaurant, but they typically do not provide prices for buffets or all-you-can-eat locations. Table service meals do not include the gratuity/tip/service charge, so this is extra cost. The service I received for my meals was excellent and I'll add that I had no issues with the suggested tip of 18-20%.
Disney structures their dining plans so you may use your credits as you like and you really can do well.  As a party of two, planning dining reservations just two weeks prior to arrival netted me some great places. The Park Hopper option meant I could be flexible with my restaurants too, and buying the extra cost Express transportation saved me a whole lot of time and walking.  If you notice I do not mention having breakfast, or needing three meals per day. This is because I normally do not have breakfast at home. When at home or traveling, including my trips on cruise ships, I usually have coffee in the morning and an early lunch, which is what we did at Disney.  If you need something in the morning you could use a Snack credit, as the 2017 plan removed the dessert from the QS meal and added it in as a Snack.  If your morning meal needs to be more than what you'd get with that Snack credit, a quick service breakfast is pretty inexpensive to buy with real money–and generally a poor value when using dining credits on Disney's Dining Plan.  If you need three good meals per day, Disney offers a Deluxe Dining Plan, which involves much more planning to hit that break even point. There is also a Quick Service Dining Plan, which I have found to be more of a convenience thing than something that gives you a lot of value. The QS dining plan offers no table service meal options; it is strictly counter service where you place an order, pick up your food and seat yourself.
Will I do a dining plan in the future?  You bet. Because I had a plan I found I did far less running around for food and it was nice not to worry about how much something cost as it was prepaid.  I also spent more time in the parks than I had in a long time as I was not jumping in a car at 1:00 pm and heading to Lake Buena Vista for my usual late lunch.  My daughter loved this trip because I told her to just get what she wanted and not worry about the cost.  Considering she's in college and in an apartment and cooking for herself, she really appreciated good food every night that she neither had to purchase or prepare.
Need help with your own trip? Let me or one of my colleagues at The Magic For Less Travel help you plan your magical Disney vacation!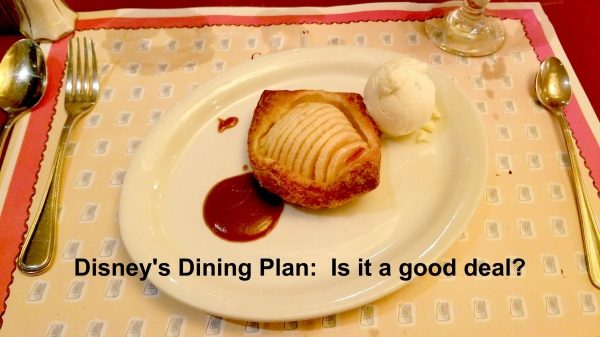 Similar Posts: