With the opening of Diagon Alley, some of The Magic for Less Travel Team has been spending more time at the Universal Orlando Resort.  We are always impressed with the on-site hotels and enjoy each one of them.   The announcement of a new on-site option is so exciting, and we can't wait to see it.
When it opens in the summer of 2016, guests visiting the new Loews Sapphire Falls Resort at Universal Orlando will walk into a colorful and casual Caribbean hideaway built around a lush, tropical river and towering waterfall.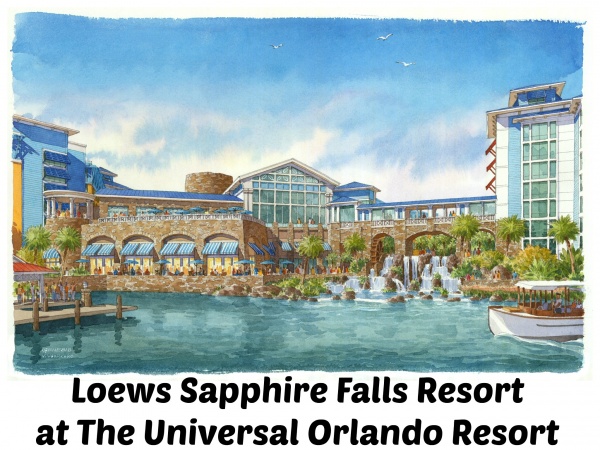 The new hotel, will be located across Adventure Way from the new Cabana Bay Beach Resort. It will become the destination's fifth resort hotel and its 1,000 rooms, including 77 suites, will bring the number of on-site hotel rooms at Universal Orlando Resort to 5,200. Reservations will be accepted beginning in spring 2015.
Inspired by the picturesque rivers and waterfalls of the Caribbean, Loews Sapphire Falls Resort will immerse guests in a highly themed resort environment using traditional island styling with modern touches. A resort-style pool with a waterslide, sand beach, fire pit and children's play area will help form a central courtyard and will be surrounded by the hotel's guest rooms. There will be water taxi and shuttle access to all of the dining and entertainment options throughout Universal Orlando Resort.
"We are excited to continue our growth plans at Loews Hotels by building another hotel with our long-standing partners at Universal Orlando," says Jonathan Tisch, Chairman of Loews Hotels & Resorts. "Loews Sapphire Falls Resort will be every bit as distinctive as the other four on-site hotels and will offer a new option to families looking for a truly special Orlando vacation."
"Our guests repeatedly tell us that our Universal Orlando on-site hotels provide them a completely immersive vacation experience from the moment they enter our hotels and are transported to another place," said Tom Williams, Chairman and Chief Executive Officer, Universal Parks & Resorts. "We look forward to bringing them yet another incredibly themed experience with the opening of Loews Sapphire Falls Resort."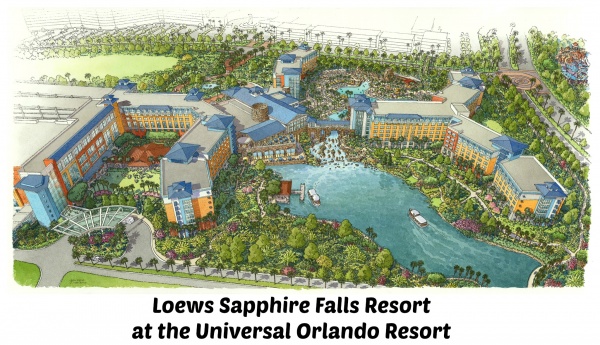 Like The Cabana Bay Resort, guests at Sapphire Falls Resort will not have access to the Universal Express benefit.  Guests   who stay onsite at Sapphire Falls Resort will enjoy many benefits and amenities, including Early Park Admission to the theme parks, a full-service restaurant with scenic views, poolside bar, valet service, fitness center and more.
The Universal Express benefit is available for guests who stay at one of Universal Orlando's three deluxe on-site hotels – Loews Portofino Bay Hotel, Loews Royal Pacific Resort, and Hard Rock Hotel.
More details on this resort will be announced and the opening will be in the  summer of 2016.  Until then will just have to be content to stay at one of the other on-site resorts.
If you are interested in learning more about a Universal Orlando Resort vacation, contact on of the Universal Orlando Specialists at The Magic for Less Travel.
Guests can also The Magic for Less Travel to see  current specials and discounts available for the Universal Orlando Resort including an exclusive Wizarding World or Harry Potter Package.
Similar Posts: