For several years I tried to figure out how to time a trip during Mickey's Not So Scary Halloween Party. I just couldn't seem to get our schedules to line up. Then it happened. Labor Day weekend, school track outs, fall discounts – it's as if the stars were aligned for us!
We were traveling with a four year old though whose idea of staying up late is making it clear to 9:00 PM! After a few days in the parks, are our kids going to make it until midnight? Is it going to be worth the extra money? Yes, we had the same questions every family with young children have when considering the parties. We have gone to Mickey's Very Merry Christmas Party and always felt like it was worth it and I knew we would love this too!
I will preface this by saying, we did all the things I advise my guests when taking young children to a late party. We took the day slow, relaxed at the resort, made everyone take naps, and arrived at the parks around 4:00 PM so we could eat dinner prior to joining in the festivities. My four year old did incredible – she made it clear to 9:30 PM before passing out. I know that may sound like a big disappointment to parents but we planned for this. We brought the stroller knowing she was just not a night owl child and we did the things that she valued the most, earlier in the evening. She still thought it was the best party ever!
Would I recommend Mickey's Not So Scary Halloween Party to parents with young children? ABSOLUTELY! We had a blast and enjoyed every minute of it. My only complaint is that the time flew by as we were having so much fun! I've polled my family and here are our top 10 favorite things that we would recommend to everyone attending!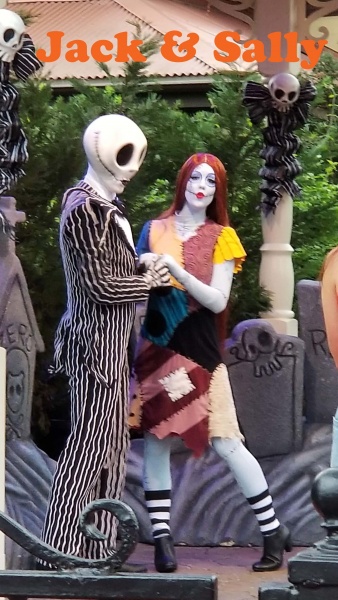 10. Enjoy the Costumes and Décor – The Halloween décor throughout the park will quickly get you in the spirit of the holiday. As party time closes in though, the guest costumes are amazing! We had a lot of fun enjoying the costumes of various guests throughout the party. Some of our favorites included Lumiere and Mrs. Potts and a family of three dressed as Russell, Carl Frederickson, and Kevin. There were so many great costumes and it was fun just to see everyone in the spirit of the holiday fun!
9. Take Advantage of Shorter Ride Lines – Only a set number of tickets are sold for the parties which limits the quantity of people. With all of the special attractions and shows, the crowds spread out and the lines for rides are much shorter than during the day. You can hit some of your favorite rides with little or no wait. In fact, this was the first trip when my youngest was tall enough to ride Thunder Mountain Railroad and since it's one of her big sisters favorites, we rode it three times in a row walking right off and back on the ride with no wait!
8. Groove at the Character Dance Parties – This is a great place for kids and kids at heart to get their wiggles out! There are two dance parties during Mickey's Not So Scary Halloween Party. There are characters on hand that both lead the dances and mingle and dance with the little guests. One is in Tomorrowland and one in Storybook Circus. We found the one in Tomorrowland a bit less crowded when we were there.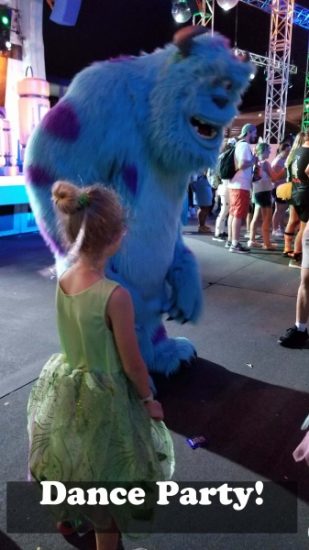 7. Trick or Treating – I read all of the reviews that said the best plan was to trick or treat at the end of the night and spend early party time doing everything else. I know it made sense but try to explain that to children who see barrels of candy and were just given a trick or treat bag! We found walking through the trick or treat spots as we were in an area already to be a good time saver for us. We weren't going back and forth through the park and just did it as we walked through. If we're going to push a stroller we can use it to hold the bags of candy too! I'm glad we did this as we went because it was a big deal to trick or treat at Magic Kingdom to my girls and I was surprised at how much fun they thought this was! Cast members complimented their costumes and made them feel pretty special.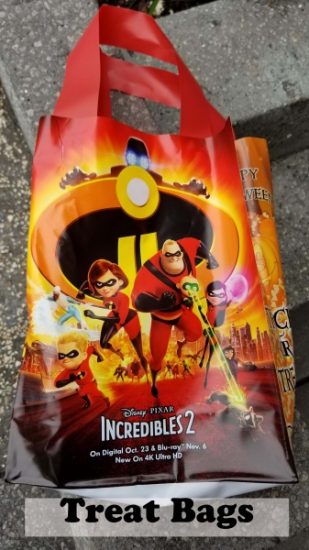 6. Magic Shots and Memory Maker – Admittedly, photos carry a great value to me and I always purchase Memory Maker because of that. During the party, there are a lot of Photopass Photographers on hand! There are also a number of special magic shots that can only be found during the Mickey's Not So Scary Halloween Party. It's a great time to capture memorable photos that will make the best souvenirs.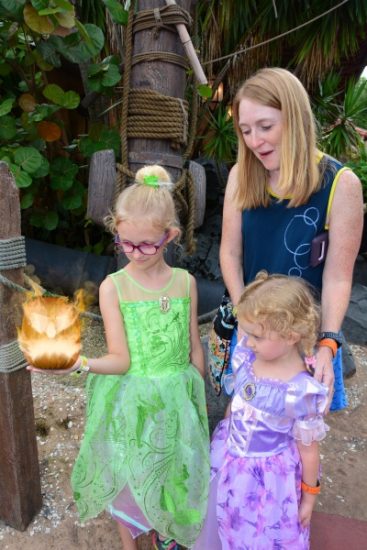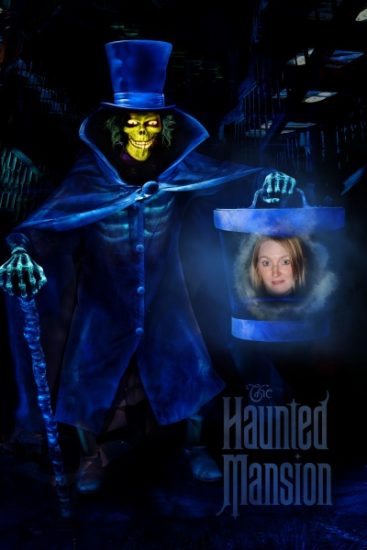 5. Character Meet & Greets – Choose a couple of must do characters but know that you can't see them all without sacrificing some other aspect of the party. We would have loved to meet Jack and Sally but settled for snapping a close picture from the sidelines when they were in between guests. None of us wanted to lose a couple of hours in the party waiting for them. We focused on Moana since my girls look for her every single trip! It was a great meet and greet and when my youngest asked Moana if they could hula together, Moana took a few extra moments to show her some steps!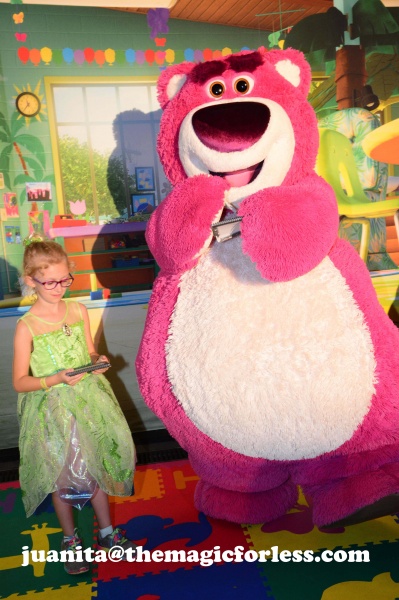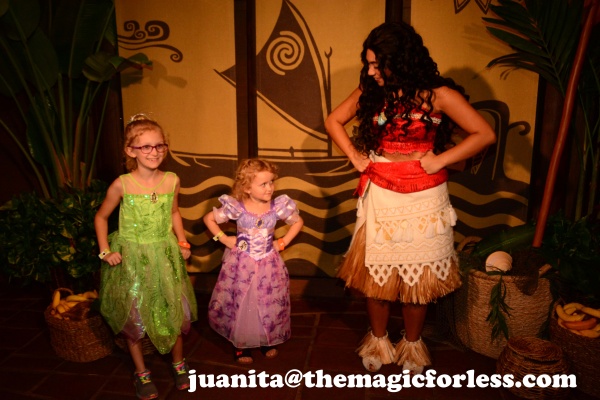 4. Rides just for the Party – This year there were some special additions to several rides just for the party! The Mad Tea Party has some special lighting and effects just during the show. It was a lot of fun and we were surprised how different the ride seemed with the lighting. Pirates of the Caribbean had some new effects and rookie pirates look for Gunpowder Pete. We did find we were getting a bit more wet than usual when the explosions went off on this special night! We decided to skip Space Mountain just because of the amount of time we had and height restrictions but if this is a favorite, don't miss the soundtrack offered for this ride only during the party!
3. Boo To You Parade – The parade takes place two times during the party. The first parade definitely had larger crowds. People tend to make sure they hit that parade just in case weather disrupts the second one. We actually took advantage of the time during the first parade to get some special magic shots with Photopass photographers and meet characters. We watched the second parade from the front of the park near the beginning of Main St. It was great to see the villains, floats, and characters right before us.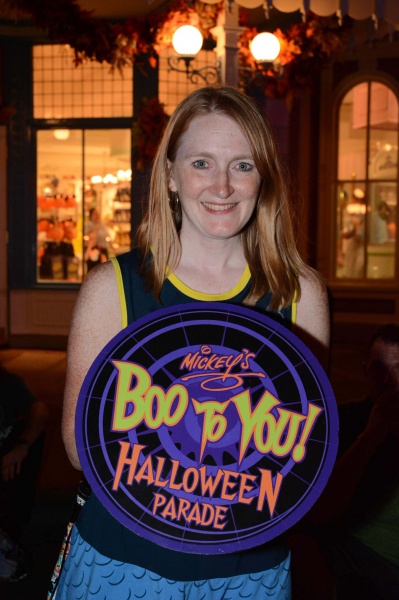 2. Snacks – Admittedly, I have a serious sweet tooth. The special snacks released at the party are definitely worth a stop. The caramel filled pretzel at the Cider House was delicious and that was one of our first stops. Both of my girls loved the apple cider slush drink too. At Auntie Gravity's Galactic Goodies you can pick up a Candy Corn Milkshake. This is a very sweet sugary snack! It's topped with a candy corn cotton candy and a Mickey shaped marshmallow. It's a good treat to share but I'm not sure any of us could have finished one on our own! Our absolute favorite snack though was the Maleficent Dessert from Storybook Treats. This was an amazingly good surprise. I admit lime flavored ice cream just sounded okay to me and it wasn't something was overly excited to try. My husband grabbed one just before HalloWishes though and it was the best snack of the night! It's a black waffle cone filled with lime soft serve and topped with purple sugar and chocolate horns. It looks cute and tastes better! Don't pass up on this treat!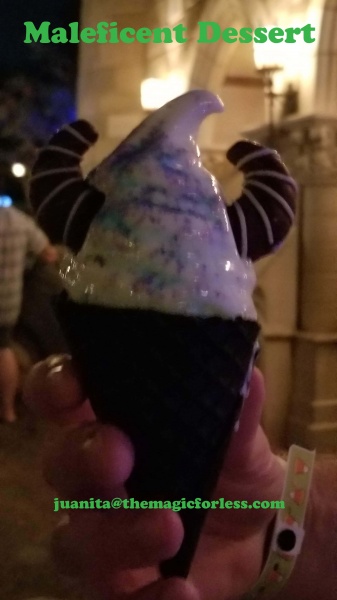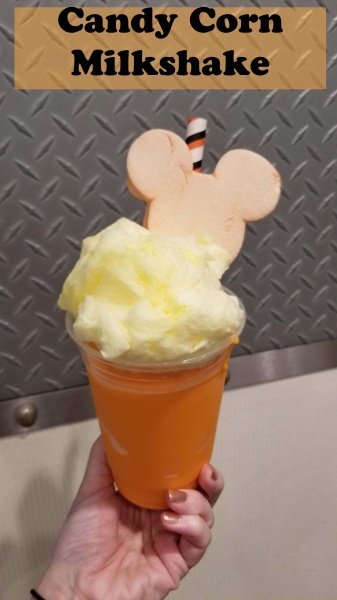 1. HalloWishes – You just can't miss HalloWishes. It is really an amazing fireworks show. We sat in the courtyard behind the castle and were truly in the center of the fireworks. They were going off all around us and it was an amazing display! It was definitely one of the highlights for me!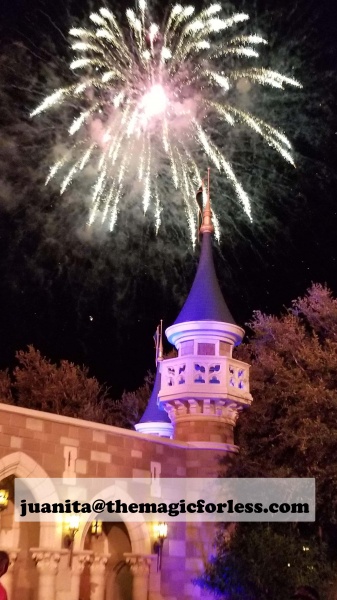 What are your favorites from Mickey's Not So Scary Halloween Party? We'd love to hear what you enjoy most! It's not too late to purchase tickets for the party and Mickeys Very Merry Christmas Party is right around the corner. Contact me to purchase your party tickets and help with other vacation planning needs at juanita@themagicforless.com or  Juanita Burgoon, Travel Consultant with The Magic For Less Travel.
Similar Posts: