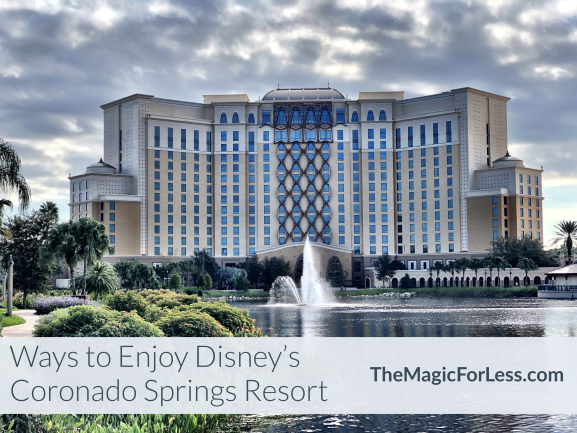 If you are considering staying at Disney's Coronado Spring Resort or if you are already booked at this resort, here are a few tips for Disney's Coronado Springs Resort to help with your stay.
Disney's Coronado Springs is my favorite moderate level resort at Walt Disney World.  I think the grounds are beautiful with Lago Dorado reflecting the surroundings in the day and sparkling so beautifully at night.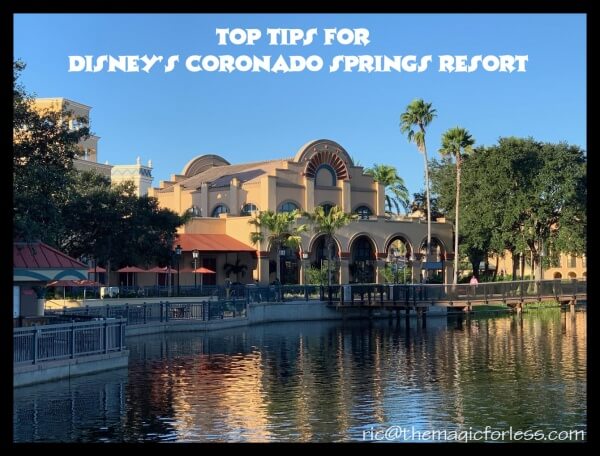 Take advantage of Coronado Springs Split Personality
Disney's Coronado Springs has traditional Disney Moderate Resort rooms in the Ranchos, Cabanas, and Casitas sections of the resort.  The prices for these rooms are in line with other moderate resorts on Walt Disney World Property.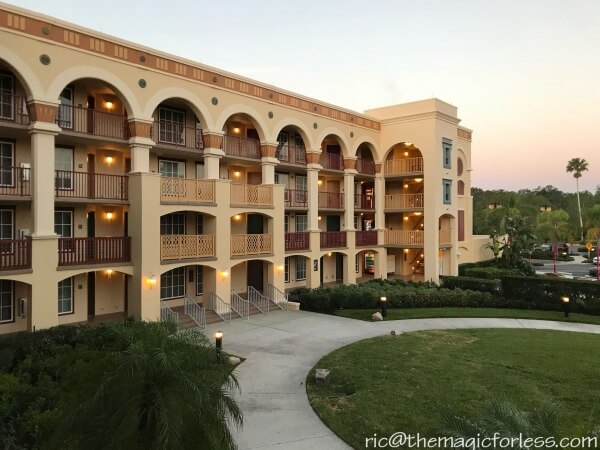 These rooms have been updated and are both modern, efficient, but a little Disney too.
Disney's Coronado Springs also has new upgraded rooms in the new Grand Destino Tower.  The tower rooms have interior corridors and are in the 13 story tower at the entrance to the resort.  These rooms provide a more deluxe level hotel feel for a slightly higher price than the moderates but less expensive than the deluxe hotels.  This is the only moderate resort to offer a concierge lounge as well.
Tip: Invest a little more in your vacation for an upgraded feel.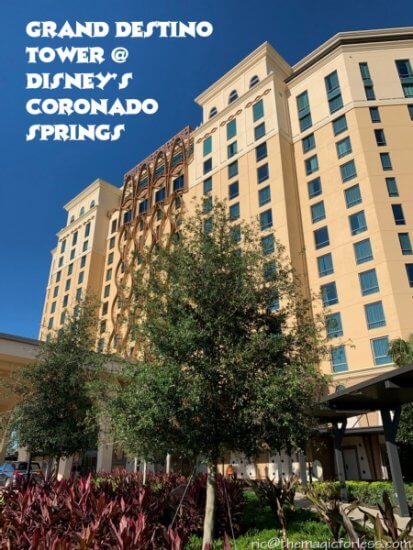 Cool off on a Hot Day
Spread throughout the resort are three quiet pools and one main pool.
The main pool is on the dig site of an ancient Mayan Pyramid.  The Dig Site is located in the center of the resort and features the pool, child play area, water slide, and a 20 person hot tub.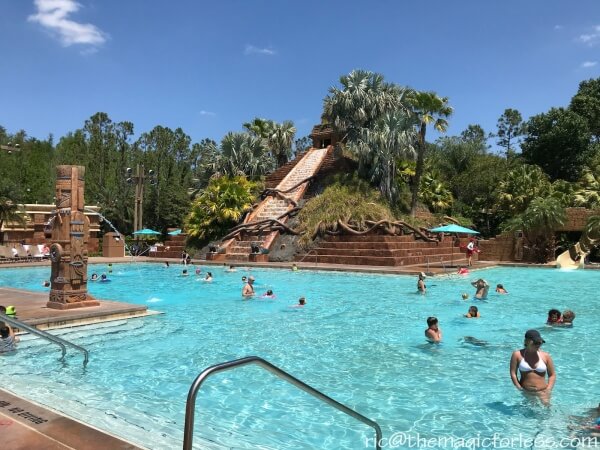 The three quiet pools at the resort are in the Cabanas, Casitas, and Rancho sections of the resort.  These are great to spend time at when you want a little more laid back experience.
Tip: Visit all four pools!
Explore all the Culinary Options
Disney's Coronado Springs has 10 dining options!  Can you believe it, TEN!  This resort boasts multiple lounges, table service restaurants, fast casual options and grab and go. Have a drink by the pool, over the water, in the tower, or in the sports bar.
El Mercado de Coronado provides fast casual dining options for breakfast, lunch, and dinner.  Table service restaurant option are found in Toledo or Maya Grill and there are numerous options for lounges and quick-service.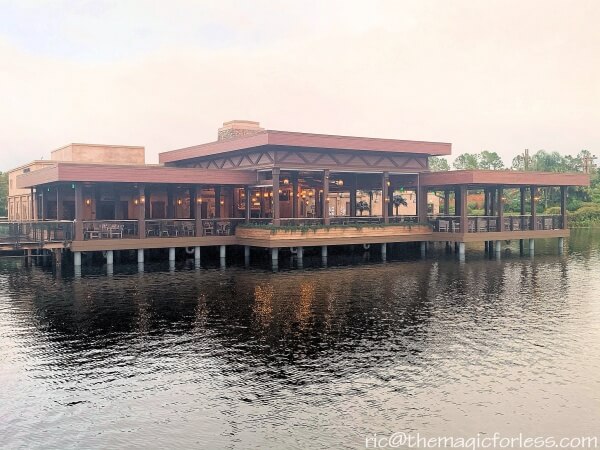 Tip: Make a reservation at one of the table service options for one night during your stay!
Stay Healthy
Disney's Coronado Springs has two fitness centers.  La Vida Health Club is located in the Casitas section of the resort near the quiet pool and the newest fitness Center is Grand Destino Tower Fitness Center located on the second floor of the tower.  The fitness Centers are open 24 hours and are available free to all resort guests.
An onsite Salon and Spa is also available at La Vida Health Club where you can book salon and spa treatments for men, women and children.
If a morning run is more your speed, there is a 0.9-mile jogging path around Lago Dorado.    The path is shown on this map or you can check at the resort when you arrive.  On Sunday Runday, you can enroll on a run around the resort when it's offered.  There is a registration fee and participants receive a collector's pin and a muffin when they complete the run.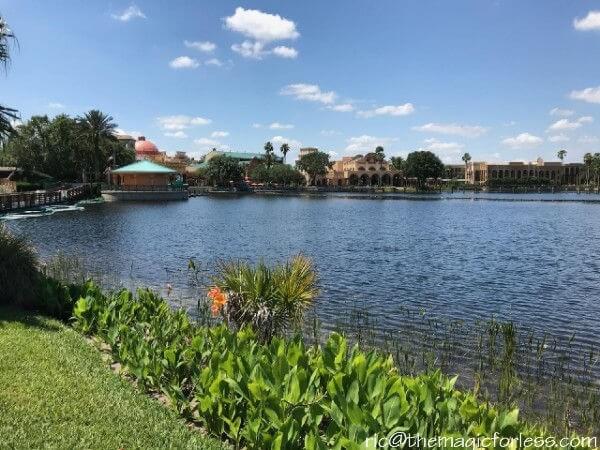 Tip: Start your day off with a jog or a stroll around the lake to get your muscles loose and your blood pumping
Relax after a Long Day
After a long day at the resorts, if you just need to relax, there are hammocks around Lago Dorado, lounge chairs at the pools and seating areas scattered around the beautiful resort.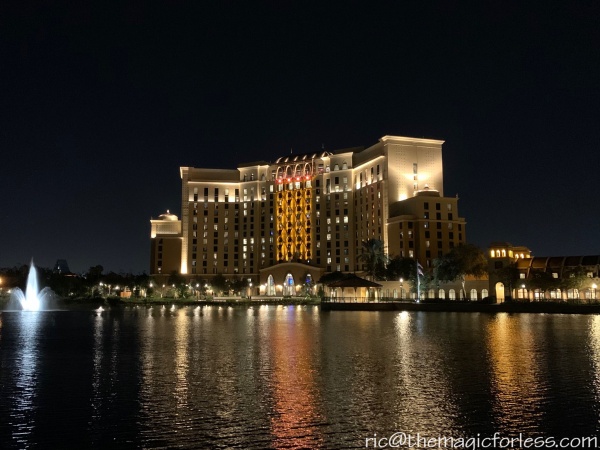 Tip: Spend 30 minutes relaxing in a seat of your choice, inside or out.
Once you have experienced all that Disney's Coronado Springs has to offer, I hope that you will find it is one of your favorite resorts too.modemod
Let The Magic for Less Travel help you plan your Walt Disney World vacation.
Similar Posts: