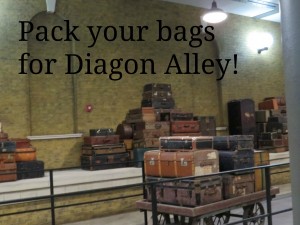 As much as we'd all love to be at big events like the opening of Diagon Alley, it isn't often that it actually happens.  Just by chance, though, this past week, I found myself arriving at Universal Studios just one day after Diagon Alley's official opening.  After hearing reports about the long lines and the wait times for the first day which were up to six hours, I didn't know what to expect.
The first morning, we knew we'd be getting up early to be over at the parks for the Early Morning Entry.  Sadly, though, the Escape from Gringott's Bank ride wouldn't be opening until 9am and the line in place when we arrived was already up to four hours.  It was not meant to be.  We did have a great day at the parks though including the familiar Butterbeer and a ride on the original Harry Potter Forbidden Journey attraction.
Not to be missed though is the Hogwarts Express Train between the two parks.  We entered through King's Cross station the first time we rode and immediately felt as if we had been transported to London.  We showed our Park to Park ticket and were allowed to enter.  If you find yourself wanting to ride and only purchased a base ticket, don't despair.  There are ticket windows at each station where you can upgrade your ticket.  They look just like train station ticket windows.  They have indeed thought of everything.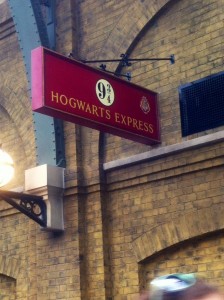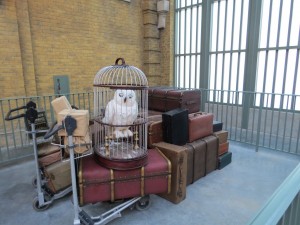 Stand back a bit though before you venture through the wall of track 9 ¾ and watch others pass through (or your own family).  This little bit of magic is just another great example of the details that have gone into making this world as close to "real" as possible.  Once you are shown to your car on the train, you'll feel immediately like you are embarking on a magical journey.  The "window" from the train will show you pulling out of the station and traveling through the countryside toward Hogwarts.  At times, you won't know which way to look because there is just as much happening outside your car door too!  I won't spoil it for you.  Make sure you ride in both directions too.  It's a different view both ways.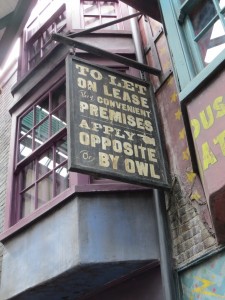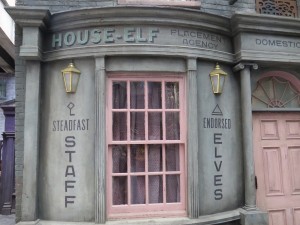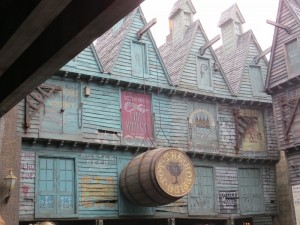 As the evening stretched out in front of us, a downpour came with it and that scattered the crowds that were in line for Diagon Alley and we got our first glimpse of this new area of the park.  It's amazing!  The attention to detail is once again breathtaking for Harry Potter fans and you really have to watch where you are walking because people are just looking up and over and all around and taking photos and pretty soon, you're bumping into someone you don't know.  There are back alleys and dark corners and animated wanted posters.  You can't help but stop to watch the dragon and people were cheering every time his fire breath lit up the sky.  It was easy to see why some fans were brought to tears on opening day.  You can immediately imagine yourself transported to the places in the books that were just part of your imagination before.  Even in the downpour, you felt the realism.  Shouldn't it be raining in London?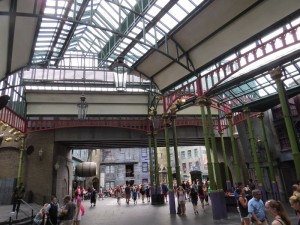 One thing that I thought was brilliant is the covered area over one of the courtyards.  It was a small respite from the rain and on sunny days gives you just a bit of relief from the direct sun.  We could see the entrance to the Escape from Gringott's Bank attraction and I knew for sure that we would try one more time before we left to ride.  We popped into several of the stores like the Menagerie, the Money Exchange and Wizard Wheezes.
My daughter tried out the interactive wand at both the Hogsmeade and Diagon alley locations and we had such a good time watching each display come to life in a different way.  I do think one of my favorites is the water fountain in Diagon Alley that requires a spell to make the water spurt forth from the frog's mouth.  Be careful though because a surprise awaits some innocent bystanders behind the water fountain!
The next morning, we arrived at the gates to Universal Studios at 6:15am along with the masses of other people eagerly waiting for the gates to open.  You can imagine at 6:30am when the gates opened, the stampede the occurred.  For the most part though, the crowds moved in an orderly way to the line to get into Diagon Alley and at 7am, we found ourselves making our way toward the entrance to the Escape from Gringott's Bank ride.  As we approached the doorway, the wait time posted was already 75 minutes but this was the closest we had come and after hearing wait times of over 5 hours the day before, 75 minutes seemed like a small price to pay.  As we entered, we were again mesmerized by the attention to detail.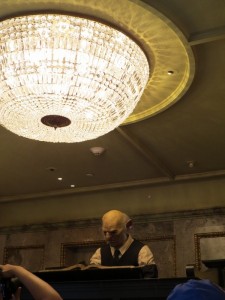 All along the walls, the "bankers" were working with the head guy up front and two amazing crystal chandeliers hanging from the ceiling.  As we got to the other end of the hall, we stopped.  It soon became evident that the ride had also stopped and we sat down and crossed our fingers that the ride would be up and running again soon.  We didn't have to wait long fortunately and we made our way downstairs where a few more surprises awaited us.  The "security guards" were keeping us informed as much as possible and we had one more delay before we were to get on the elevator to take us deep within the bank.  We were all getting very excited now.  This was the closest we had gotten!  As each car full of passengers took off, there was much cheering and funny enough, each car that returned was cheering too!
It was now our turn and we put on our 3D glasses.  As our car took off, we couldn't help but join the cheer.  I'm not going to spoil the ride for you and I'm sure you can google it if you want but let me just say that it was worth the two hours we waited.  It's not as intense as the Forbidden Journey ride but the first few moments might lead you to think that you're in for a roller coaster type experience.  After that, the ride is much more like Transformers but as you might expect, we were cheering when we pulled back into the station.  I happened to notice a young adult standing and waiting to get on the ride and she was so excited, she was visibly shaking.  Universal hasn't let its Harry Potter fans down.
After the fun of riding for the first time, we celebrated with a breakfast at the Leaky Cauldron which is very similar to breakfast at Three Broomsticks but we did like the magic candlesticks that helped the servers find our tables to bring our order to us.  Be sure to wander around, look up, look down, and just marvel at all there is to see from beginning to end.  You won't want to miss a moment.  If you want to learn more or want a free no-obligation quote, you can always contact the amazing travel counselors at The Magic For Less Travel.
Similar Posts: