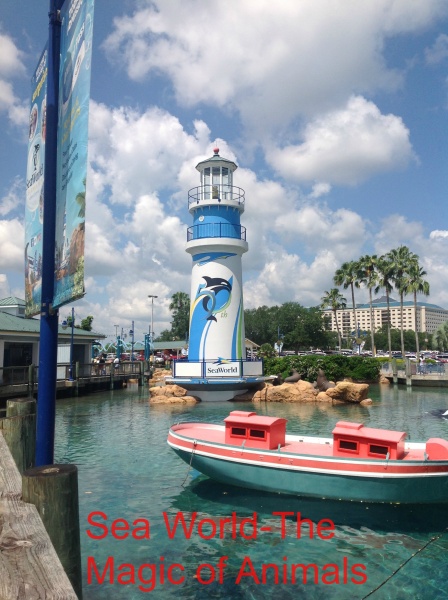 I'm a Disney lover and proud of it but I have to say that I was very excited to be able to visit SeaWorld for the first time on my latest Disney trip.  I've wanted to go there since I was little (many years ago) and I was very happy to find that I really enjoyed the park.  It's much smaller than Disney of course but the park has a different kind of magic—the magic of animals.
Being the planner that I am, I decided to research Sea World before I left and frankly didn't find a lot of information out there but I also found it just isn't as necessary to do a lot of planning with Sea World.  The main thing I did learn is to purchase your tickets before you go so you don't have to stand in a long line when you get there.  I can tell you from first-hand experience now that you DEFINITELY want to buy your tickets in advance as the ticket line even just an hour after opening was at least 40 minutes long (and part of that time in the sun) and that was on a slow day for the park!
A couple of tips to pass on about Sea World(in addition to the one above)—first their website says no food or drink allowed and that's true except you can bring in water bottles and there are lots of water fountains where you can refill your water bottle.  Second, take the time to just look around you—we actually spent a good 30 minutes just watching some of the ducks and cranes that were in a little fenced-in natural area that wasn't an "official" attraction but even as all adults, we enjoyed watching them in their natural habitat!  Third, be sure to download their app before you leave.  You can use the app for many things once you enter the park but my favorite was being able to see wait times for all of the attractions in real time.  Last tip, if it looks like rain and you are about to cross the long bridge across the lagoon, go ahead and put your poncho on or wait to cross.  Trust me the rain comes quickly and in a down pour there is no cover on the bridge and no possibility of getting your poncho on.  This comes from personal experience!
So, what did I see while at Sea World?  Let me first explain that I can't do roller coasters so while Sea World had some really exciting ones, I skipped those.   Second, after having my own drenching experience I decided to skip Journey to Atlantis (although it looked really cool, see picture below).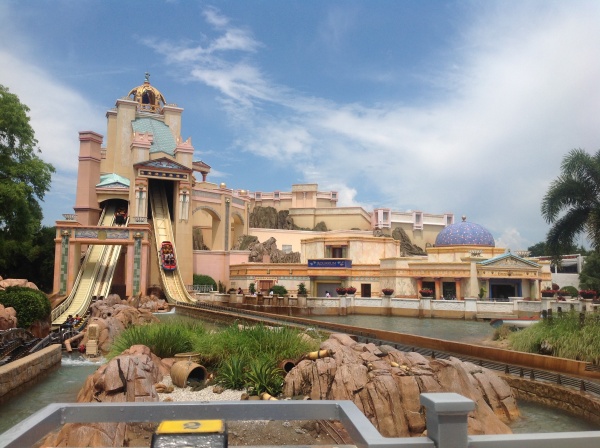 The things I did see (besides the ducks mentioned above) were mostly shows.  My favorite was "One Ocean" which is Sea World's major show featuring killer whales.  This was an awesome show and not to be missed.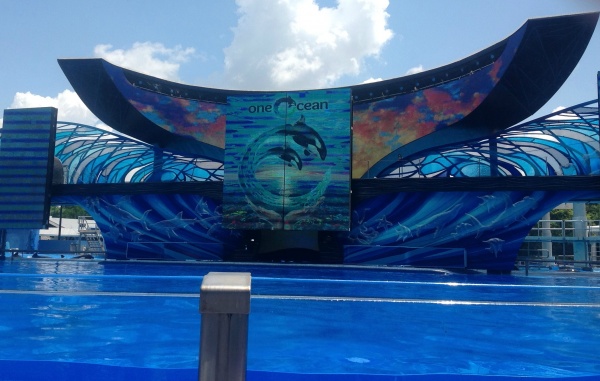 The second one was "Blue Horizons" and I really enjoyed this show.  If you love dolphins or birds (like I do) than this is the show for you!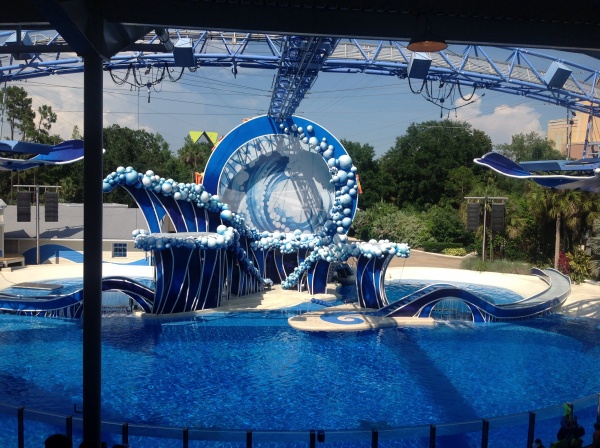 We also tried to make it to Pets Ahoy but never caught that one.  Now for the main event—Antarctica: Empire of the Penguin.  This is a major new area with shops and even an eating area but the highlight is the ride—Empire of the Penguin.  This is the ride with the longest wait times all day until just before the park closes (which is when I was able to ride it).  If you are cold natured, bring a sweater with you for this one as the whole ride takes place as if you are in Antarctica and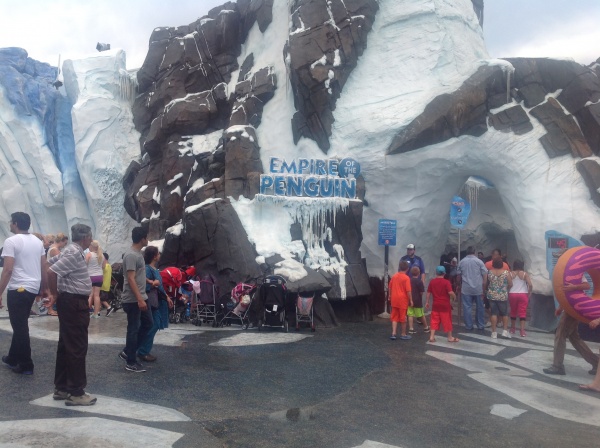 ends with an actual penguin habitat and of course they like it very cold!   This was the main reason I finally made it to Sea World and I was not disappointed!
So have you been to Sea World—what did you think?
www.facebook.com/travelemilywilliams
https://www.themagicforless.com/about-us/meet-our-agents/emily-williams/
Similar Posts: