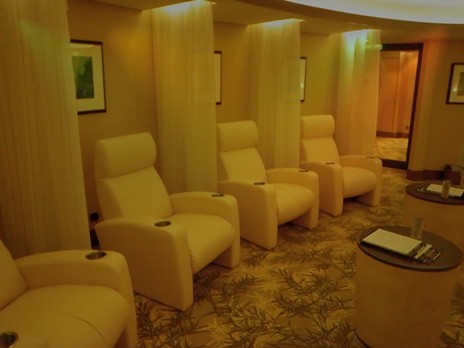 What's Your Fantasy?
by Jessica Johnson
Everyone knows that Disney is the place that makes all of your dreams come true.  Well, when they named their new ship the Disney Fantasy, I decided to take that as a challenge ;o) I asked myself; what's your fantasy on a cruise?  Knowing that it's Disney and that I had to keep things G-rated, I realized that a total "dream come true" experience for me would be to be able to cruise and have a spa treatment every day of the cruise.  I can manage that.
Then came the hard part; convincing Chris that it was actually a good idea.  But, he's a guy who appreciates a challenge, so with some parameters, I was let loose on the Disney Fantasy for 3 nights, and given free rein to enjoy the spa as much as possible.  And I did.  Immensely.  Here's how:
On the first day, after we did the muster drill, my friend Deb and I did the Spa Tour.  We got our bearings on the ship and were introduced to the variety of treatments that are available.  At this point, Deb and I both decided that we want to book a 1-day Rainforest Pass that includes a scrub so we each add that.  I also decided that I wanted a 75 minute bamboo massage for the following day and I got that set up.  Then we go off to enjoy the sail away party.
When the rest of the party headed off to see the show, I decided that I wanted something done that night, so I went up to the spa to ask if they can fit me in for a manicure.  They say that they can at 7 which was perfect! I head down to my room, get ready for dinner and, return just in time for my Fire and Ice Manicure.  My therapist was amazing and so was the treatment.  A Fire and Ice Manicure is a bit different than a traditional one in that you have all the normal parts of a regular manicure but you also have the addition of hot stones and Elemis Instant Refreshing Cooling Gel.  The first step is to soak your nails in a bowl of water with Milk Bath and then exfoliate with the Lime Ginger Salt Scrub.  They file and shape your nails and then the heavenly parts come.  In my case, she first applied the cooling gel to my neck and shoulders and then to my arms and then massaged them with hot stones, working out knots I didn't know I had in my wrists!
Then I had the option to pick either a traditional polish or shellac style polish.  I opted for the regular one and, in short order, my nails were ballet pink using a color named "Tutu" by CND.    In less than an hour I'd gotten my first spa session in and I was ready for dinner!
The next day, after a leisurely morning of touring the ship, checking out stateroom categories and then solving a case for the Midship Detective Agency, I had a 75 minute Bamboo Massage scheduled.  So, I left my group and excused myself to head to the Spa.  Once there, I checked in, was given a robe and escorted to the locker room.  I changed, secured my stuff in a locker and then headed to the relaxation room where I settled into a chair and practiced some deep breathing.  I like to take some time to focus on unwinding and trying to make a deliberate break and ease myself into my relaxation time.  I wasn't there long before my therapist came for me and she escorted me upstairs to my treatment room.  The room was set up for the Bamboo Massage which uses long, heated bamboo shoots much the same way that they use hot stones to massage you.  They are able to work deeper but without it being as painful or sore the following day because it's a round object and not pushing straight into the muscle.
After a few moments of conversation, where we went over the normal paperwork and discussed my problem areas, the therapist excused herself and I got settled on the massage bed.  The treatment was wonderful and I was much more relaxed when it was done.  I only wish it could have gone on longer!
As I was leaving the spa, I saw a sign advertising a Spa Taster.  You would have your choice of 3 to 8 treatments at different price points.  So, I ended up scheduled a session with 3 treatments for 8 am the following morning.
I'm not a big morning person but it was for the spa, so I figured it was worth it ;o)  I got up and headed over to the Spa for my Taster and was quickly escorted in to a treatment area.  The 3 options that I had chosen were a facial, a neck/shoulder and foot/ankle treatment.  So, my wonderful therapist started with the facial and, while that was working, she began the foot and leg massage which was heavenly.  Done with the feet and legs, she moved up and worked on my neck and shoulders and finished by removing my mask.  All in all, a wonderful way to start out the day!
From there, I headed out to Castaway Cay.  When we came back from Castaway Cay, Deb and I headed right to the Rainforest to get some more relaxation in.  Since we had done the package with the scrubs, we got those with our robes at the front desk.  We went to the locker room and left everything but our robes, scrubs and footwear in there.  Then, we headed across the way to the Rainforest Room.  You enter using the RFID bracelets and grab a towel.  Then, pick one of the wonderful aromatherapy showers.  (Hint, one that says tropical or Caribbean or Southern tends to be mostly warm).
Once you're wet, you can dry off a bit but you still want to be damp for the sauna.  Head into the Hamam, where you'll wipe off with your exfoliating pad.  Once you're done with that, then you'll use your body scrub.  Now, you sit back and relax for 10 minutes.  Let the oils do their work and, after they have, go and shower off using your choice of the showers. Be sure to take time to enjoy the scents and lights in the showers!  Then, if you want to check out one of the other steam rooms, feel free.  If not, then you can do what I did and head back to the locker room to grab your book and then come back to the Rainforest and settle in on one of the heavenly lounge chairs to read and relax for an hour or so.
That's pretty much my Fantasy cruise ;o)  If it were a longer trip, I'd probably want to add more treatments but I think that balance worked well for the 3 nights!
Similar Posts: