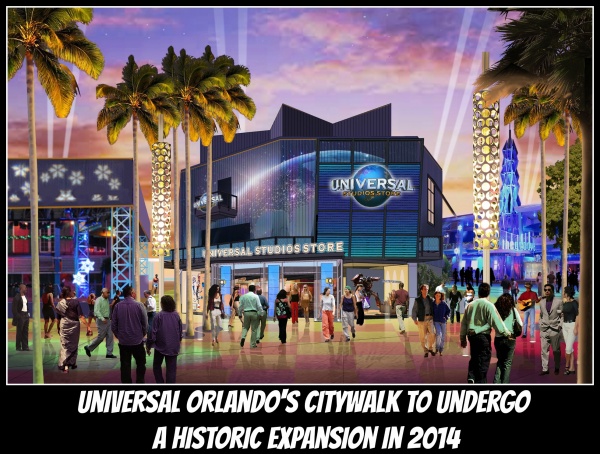 2014 will bring a historical expansion to Universal Orlando's CityWalk.  2014 looks to be a great year for Universal since it will include the opening of the destination's largest hotel, Universal's Cabana Bay Beach Resort, and The Wizarding World of Harry Potter – Diagon Alley.  2014 is a great year to visit the Universal Orlando Resort.
Universal Orlando announced Thursday that it will open eight new venues across CityWalk throughout 2014.  CityWalk is Universal Orlando's entertainment district and contains a collecition or restaurants, shops and night clubs.   It is also home to Rising Star – an energetic karaoke club where guests can perform with a live band and backup singers, the 36-hole mini-golf course, Hollywood Drive-In Golf, and the indescribable, nationally-renowned live show, Blue Man Group.
The Universal Orlando's CityWalk expansion comes after a nationwide search for culinary concepts that include a mix of established national brands, up-and-coming concepts and Universal's own creations.  The new venues will share an overall theme that includes inviting common areas, al fresco dining, open kitchens and more.
The new venues include Hot Dog Hall of Fame, featuring iconic hot dog creations from some of our nation's most famous ball parks.  Universal partnered with Steven Schussler, the global culinary concept creator behind popular restaurants like Rain Forest Cafe, Backfire Barbecue and more, to bring his Hot Dog Hall of Fame concept to CityWalk.  They also include CowFish, an innovative and trend-setting concept out of Charlotte, North Carolina with a signature dish called "Burgushi;" and popular frozen treat spots Cold Stone Creamery and Menchie's.
Original concepts include Antojitos Authentic Mexican Food, a unique tapas-style restaurant, Bread Box, a home-style sandwich shop;  A new modern Italian kitchen concept, where guests can watch as the culinary team handcrafts their pasta from scratch; and Red Oven Pizza Bakery – Universal's first-ever Neopolitan-style pizza bakery, which is now open.
A full list of new venues and descriptions can be found below.  Exact opening dates will be released at a later time.
NEW UNIVERSAL CITYWALK VENUES – OPENING THROUGHOUT 2014
NOW OPEN – Red Oven Pizza Bakery: Take a quick trip to Italy for authentic, artisan pizza–made fresh, while you wait–at Universal CityWalk's first-ever Neopolitan-style pizza bakery. The combination of the highest quality ingredients and a traditional 900-degree stone-lined oven ensures every slice is pizza perfection.
Antojitos Authentic Mexican Food: Take a journey through the cantinas, street carts, and markets of Mexico for unique tapas-style dining at Antojitos Authentic Mexican Food. Only the freshest ingredients are used to create craveable, made from scratch Mexican street fare in an environment of unmatched authenticity.
Hot Dog Hall of Fame: Strike out your hunger at Hot Dog Hall of Fame with some of the most iconic hot dog creations from our nation's most famous ballparks. Take a seat in the bleachers and enjoy a loaded Chicago dog with all the toppings, a perfectly charred Boston brat, a monster LA dog and more.
The Cowfish: Innovative sushi joins forces with creative burgers for an untraditional dining experience at this reincarnation of the popular North Carolina hotspot. The result: "Burgushi". A cutting-edge fusion of burger and sushi, burgushi items include sushi rolls created using burger components and sandwiches created using sushi elements.
A new modern Italian kitchen concept: Immerse yourself in the essence of modern Italian cuisine at this new restaurant created by Universal Orlando. Watch as the culinary team handcrafts your pasta from scratch to create fresh takes on classic dishes in a clean, contemporary dining atmosphere.
Cold Stone Creamery: For more than 25 years, Cold Stone Creamery has served up the finest, freshest ice cream, cakes, smoothies and shakes using only the highest quality ingredients and their signature process of preparing your custom ice cream creation on a frozen granite stone.



Bread Box: With a Bread Box sandwich, you'll be transported back to your childhood kitchen or your favorite street corner deli.  Here you'll find that the combination of quality meats and vegetables, fresh bread, and simple preparation can transform a sandwich into something more.

Menchie's: One of the world's most popular frozen yogurt shops is coming to Universal CityWalk.  The dream was to create a place where people from all walks of life and ages could enjoy themselves—not only with great tasting, quality frozen yogurt and an expansive self-serve toppings bar, but with a unique experience in a fun and happy environment that makes you smile.
Let one of the Universal Specialists at The Magic for Less Travel assist you in planning your vacation to the Universal Orlando Resort.  There are discount packages available for 2014 travel dates. We know Universal and we can help you make the most of your Universal Orlando Resort vacation.

About
The Magic for Less Travel is a travel agency dedicated to making your vacation dreams a reality. We specialize in Walt Disney World, Disney Cruise Line, Disneyland, Adventures by Disney, and Universal Orlando Resort Vacations. We can help you save time and money on a vacation that is customized to your needs. We know that each guest is unique and we work with you to design the personalized vacation of your dreams.Life moves fast. Don't wait another day to create vacation memories that will last a lifetime!