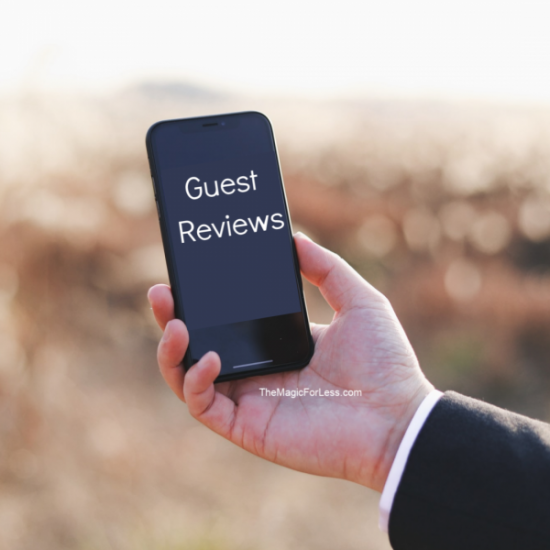 We haven't been able to take our vacation yet because of the corona virus pandemic but our Magic for Less counselor has been very helpful and in getting us through the process of scheduling and now rescheduling all of our plans with Royal Caribbean.   Whenever we have a question she always sends a reply in a very timely manner.   She is very efficient.  She is an excellent travel counselor. 
–Sonya S
Our agent is so amazing to work with! She is always available to help me and answer my questions. It's so much less stressful having her in my corner to help plan my vacation.

-Crystal N
Our counselor went above and beyond. We have reservations for December and she has kept me in the loop about when tickets could be purchased. She purchased my tickets early on the day tickets went on sale and provided me with info on how to make park reservations.
-Kim T
Our Magic for Less agent has made planning this vacation easy. She answers all my questions and gives me insights I can share with my family.   Herding cats isn't easy, but her patience and guidance has been invaluable.   With all the changes associated with COVID-19, I'm still on the fence with going with our August 2020 vacation, or possibly postponing it until 2021. I look forward to hearing about our agent's first hand experience to help guide my decision.  It would require quite a few changes if we proceed with the 2020 vacation including resort and ticket changes.  I am grateful to your business and more importantly to our agent.  I understand that this business has been hit hard by COVID and many dreams have been cancelled/postponed.  But the Magic is still there, we just need to be patient to return to it.  Thank you  for all you do to make my family's vacation magical. 

-Quailan P
I know a lot about Universal Studios being an annual pass holder already, but I had never stayed on-site or visited Volcano Bay park before.  Our Magic for Less counselor helped out so much by giving me info on whatever I was interested in. She helped me make decisions by really listening to what I wanted to accomplish in my special vacation and narrowing down options based on my goals (time, budget, new experiences, etc.)   She did so much of the foot work I usually do in our vacay planning…it was so nice to be able to just shot her a question or concern and she'd get right back to me. She shared in my excitement before, during and after the trip!   A++++++++++++ in my book!
-Mollie W
We really appreciated all of the travel tip's  emails for Universal Studios and especially the Wizarding World of Harry Potter, since this was our first trip to Universal Studios.

-Eric S
Our counselor is AWESOME! She always tries to get us the best deal and always answers my multiple questions promptly!
-Karen K
Our agent always responds quickly and is very helpful.  She has made any changes needed and has made this years trip possible with all the changes and rebookings.   She is amazing, I used to book our Disney vacations myself, but she was so amazing with our Disney Alaskan Cruise that we used her for our current trip and will keep doing so in the future.  I love not having to sit on hold with Disney.  I just shoot her and email and it is taken care of!

-Damienne E
Our Magic for Less agent is always professional, knowledgeable, and very responsive. Especially in light of the pandemic, he has exceeded all expectations.
-Mike S
Always quickly and knowingly answers all questions; in the case of an unsure answer; she has diligently tracked an answer down.   Due to the unique situation in planning a vacation during a nationwide lock-down, all expectations were met.   Couldn't be happier with the service, normally we would do the banter back and forth to find the perfect package fit; our counselor took control and our "behind the scenes" research confirmed all of her recommendations. She was always open to changes and adjustments to scheduling etc. A true pleasure to work with.

-David B
Our counselor has went above and beyond for me during all the changes being made.   She has answered every email almost instantly.  I recommend her to everyone I know that wants to go to Disney.  I Would not plan a trip without her. 
-Tara McK
Similar Posts: