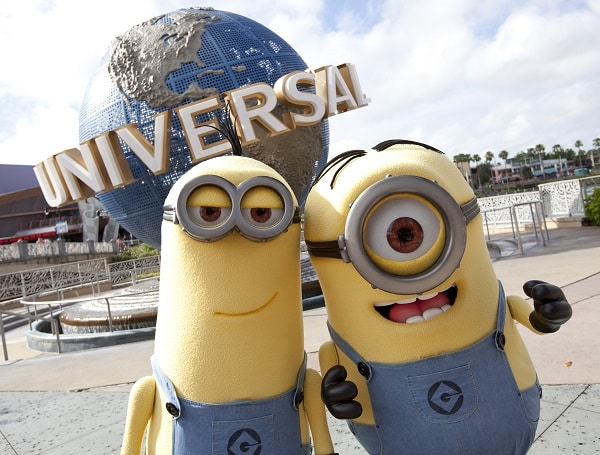 Go behind the scenes and beyond the screen at Universal Studios Florida™, the number one movie and TV based theme park in the world. At this real, working motion picture and TV studio you'll find an amazing array of rides, shows, movie sets and attractions that put you right into the action of the biggest films of all time.
Learn the secrets behind movie special effects. Stroll realistic sets that re-create the streets of New York, San Francisco, Hollywood and more. And experience your favorite scenes from your favorite movies. At Universal Studios Florida you're the star, and we guarantee you'll completely lose yourself in your role.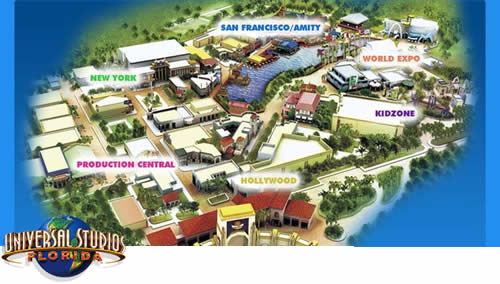 Universal Studios Florida Theme Park Attractions
The Wizarding World of Harry Potter™ – Diagon Alley™
All-new thrills and magical experiences await at Universal Studios Florida and The Wizarding World of Harry Potter™ – Diagon Alley™. Dine at the Leaky Cauldron™, shop at well-known establishments including Weasleys' Wizard Wheezes, and experience the darker side of magic in Knockturn Alley.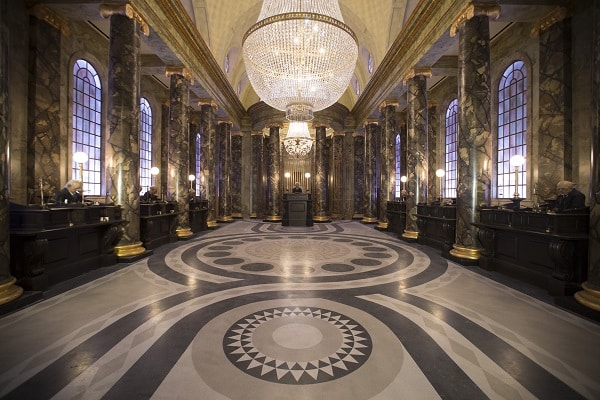 Harry Potter and the Escape from Gringotts™ – Inside Gringotts™ you'll walk through the bank's grand marble lobby and see goblins hard at work. Then take a journey through cavernous passageways that lead deep underground. This multi-dimensional thrill ride puts you right in the middle of the action and seamlessly melds the latest cutting-edge technologies and live special effects to create a completely immersive, unforgettable adventure.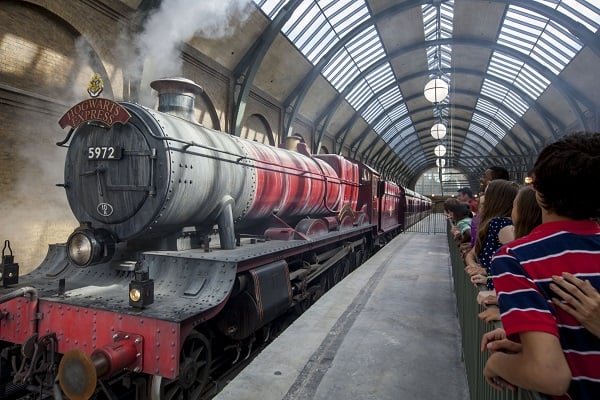 Hogwarts™ Express* – Guests with a Park-to-Park admission ticket can pass through the brick wall onto Platform 9 ¾™, board the train at King's Cross Station in Universal Studios Florida®, and travel to and from Hogsmeade™ Station in Universal's Islands of Adventure®, enjoying a different experience each way.
*Additional restrictions may apply.
Knockturn Alley – Practitioners of the Dark Arts know they can find everything they need in Knockturn Alley, a gloomy back street just off Diagon Alley™. Those brave enough to wander down this dark, narrow alleyway will encounter a variety of shops and storefronts showcasing objects associated with Dark Magic. Here, you will be able to visit Borgin and Burkes where you will find shelves lined with items such as Death Eater masks, skulls, and other sinister objects.
Ollivanders™: Makers of Fine Wands since 382 BC – Makers of Fine Wands since 382 BC, Ollivanders™ is one of the wizarding world's premier wand shops. Surrounded by towering walls of thousands of wand boxes stacked to the ceiling, you will be able to witness the magical experience of how a wand chooses a wizard. Here, you will also be able to purchase your own unique Ollivanders™ wands or select one of the many replica wands used by your favorite Harry Potter™ characters.
New York
The studio's New York street sets recreate the backdrop of big city productions, from a 1920's alleyway to urban parks and modern Manhattan residences at Universal Studios Florida.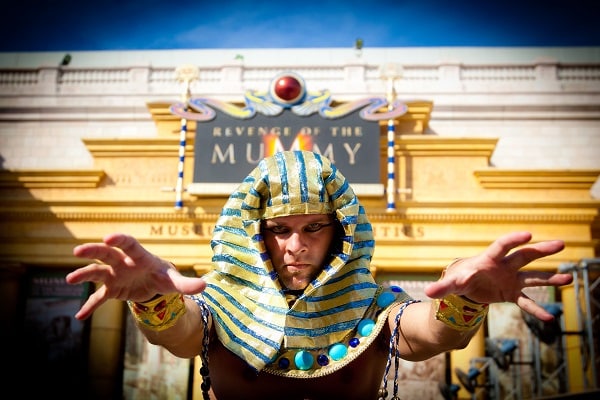 Revenge of the Mummy® the Ride – The curse is real! Plunge into total darkness as you face fireballs, scarab beetles and an army of warrior mummies on a psychological thrill ride totally unlike anything that's come along in the past 3,000 years! Can you survive the awesome power of Imhotep's curse…or will you be entombed inside forever?
"Race Through New York Starring Jimmy Fallon" – Guests will enjoy the full "Tonight Show" experience as they're transported to Studio 6B to race against Jimmy in a crazy adventure that only he could imagine. Race through New York Starring Jimmy Fallon will open to guests in 2017.
The Blues Brothers® – It's a party on Delancey Street in New York with Jake and Elwood, the bad boys of blues.
Universal Studios Production Central
Inside the gates of Universal Studios Florida, you'll find yourself in the middle of a real working film and television production studio. Production Central is where Hollywood meets Orlando, and the business of making movies meets the excitement of living them.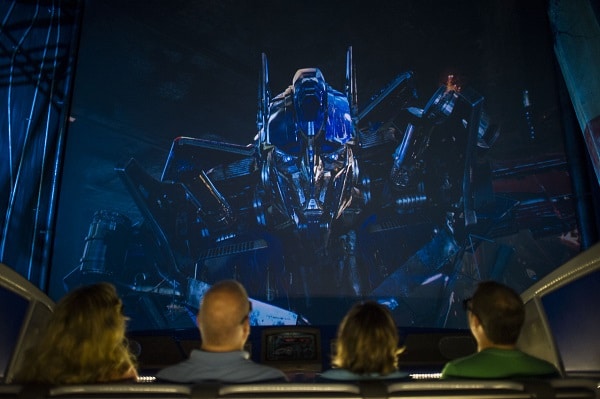 TRANSFORMERS: THE RIDE-3D – As a N*E*S*T recruit, you'll find yourself on the front lines of an intergalactic war between the Autobots and Decepticons. You'll fight alongside Optimus Prime and Bumblebee, trying to keep the Allspark from falling into enemy hands.
Shrek 4-D – Join Shrek, Donkey & Princess Fiona on a honeymoon adventure picking up where the Oscar®-winning movie "Shrek" left off. Shrek 4-D™ features an original 3-D film, plus an extra dimension of special effects. Through the miracle of OgreVision, you'll see, hear, and FEEL the action right from your seat!
Hollywood Rip Ride Rockit® -Take Your Music for a Ride®! On this multi-sensory coaster, YOU pick the music, while on-board cameras capture every moment of your pulse-pounding experience. Must be 51″-79″ tall.- all guests must remove all items from pockets and place in a locker (metal detector at the ride).
Despicable Me Minion Mayhem in 2D: Join Gru, his daughters, and the mischievous Minions on a heartwarming and hilarious 2D ride. Start your adventure in Gru's home, where you're recruited for his latest scheme – one where you'll become an actual Minion. Must be 40″ or taller.

San Francisco
Fast & Furious Ride – Fast & Furious is all about adrenaline and action-packed thrills. We're taking all of those awe-inspiring experiences and creating the next chapter in this blockbuster franchise with an all-new theme park ride.
FEAR FACTOR LIVE – See if you have what it takes at the most extreme audience participation show ever – Fear Factor Live at Universal Studios. Perform gravity-defying stunts in front of thousands as you compete against other guests, or watch all the action from the audience. (seasonal)
Hollywood
The glitz and glamour of the movie-making capital of the world has been re-created here. The magic of Hollywood at Universal Studios Florida is recognizable by the landmark buildings and star-covered sidewalks.
Universal Horror Make-Up Show – Learn the secrets behind Hollywood's top make-up special effects artists.
Universal Studios Woody Woodpecker's Kidzone
Woody Woodpecker's KidZone at Universal Studios Florida is home to some of the most popular stars in children's entertainment, along with a variety of rides, shows, and attractions that appeal to all ages.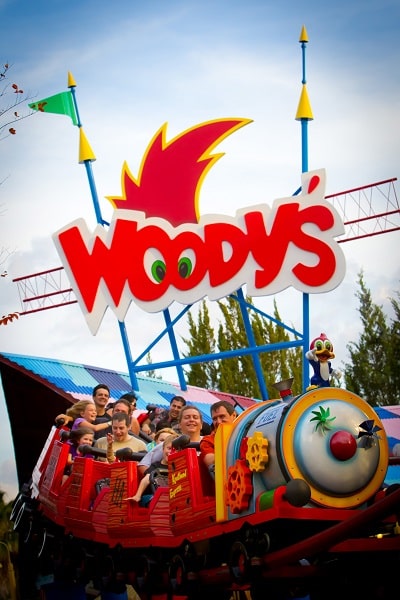 Animal Actors On Location!SM – A fantastic show that features live animal performances, video, and audience interaction.
E.T. Adventure® – Hop aboard your star bound bike and help E.T.® save his dying planet. It's an adventure that will touch your heart all over again.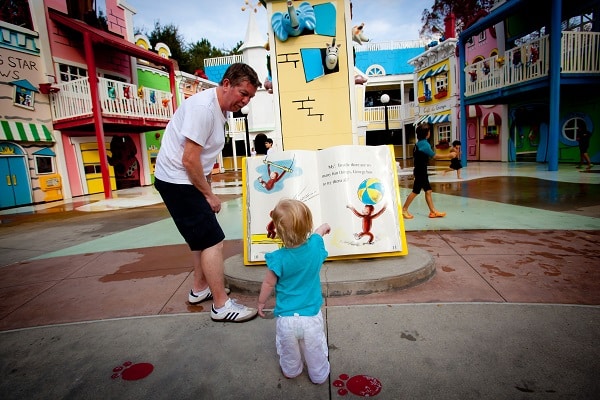 Curious George Goes to TownSM – Follow the footsteps of that mischievous monkey in this children's play area.
Woody Woodpecker's Nuthouse Coaster® – Take a fun-filled roller-coaster ride through Woody's nut factory.
Fievel's Playground® – Get a mouse-eye-view of the world in this unique oversized playground.
Universal Studios World Expo / Springfield
Looking like the setting for an international exposition, World Expo is a blend of the futuristic and the retro at Universal Studios Florida. Here you'll find the 1964 World's Fair exhibit "The Universe and You," which may not be what it appears.
Ride along with The Simpsons™ as they visit Krustyland, the low-budget theme park created by famed TV personality and shameless product huckster Krusty the Clown. Is somebody out to sabotage the park? You'll find out as you join Homer, Marge, Bart, Lisa, and Maggie and enter through the carnival-like midway.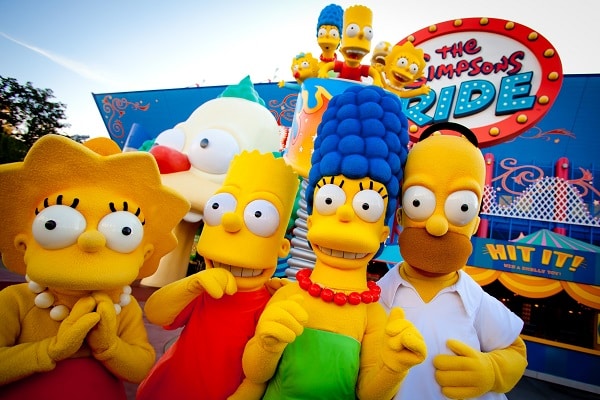 The Simpsons Ride™ – Board your vehicle and prepare yourself for one surprise after another as you embark on a wild, over-the-top ride through Krustyland.
Kang & Kodos' Twirl 'n' Hurl: "Foolish humans!" Aliens Kang and Kodos from The Simpsons™ take you into orbit on an all-new ride designed to make your head spin, your stomach tumble, and your Glorb blowout. Say hello to many of your favorite Springfield citizens as you try to fry them with lasers. It's good ol' family fun!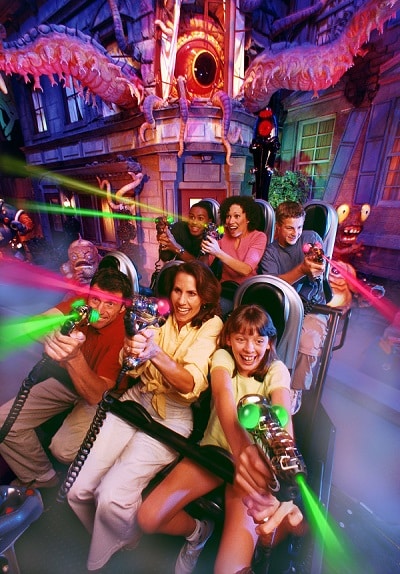 MEN IN BLACK™ Alien Attack™ – It's up to YOU to protect the Earth from aliens in MEN IN BLACK Alien Attack. As an agent trainee, you'll zap aliens as you chase them through the streets of New York in this high-tech ride based on the hit movie. The outcome is based on your score — save Earth and you might get promoted to full-fledged Men in Black agent! With multiple endings, it's never the same ride twice! Have you got what it takes to join the best of the best?
Request a Universal Orlando Resort Vacation Quote
Let's start planning your Universal Orlando Resort vacation!
Get a FREE, No-Obligation Quote from one of our travel consultants. Start planning your Universal Orlando Resort vacation today!