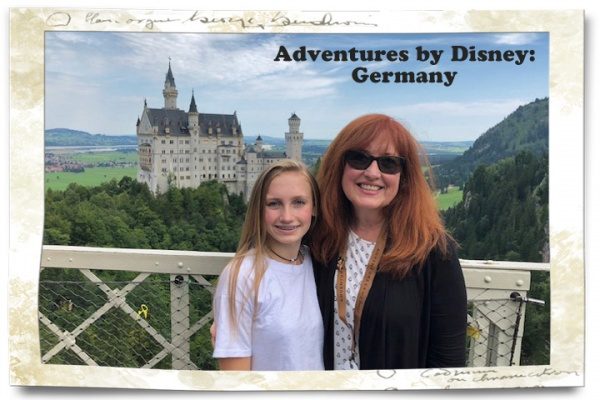 I went on my first Adventures by Disney trip this summer and it was fantastic! I took my niece Sasha, who is 14, as a graduation gift. I was 13 the first time I went on a trip outside of the United States, and it was such a wonderful experience, I remember much of it. I thought a trip to Europe would be a good experience for my niece, as it was for me at that age.
I chose the Adventures by Disney Germany itinerary because there were things to do for both of us. I have been to Germany a few times, but not to Rothenburg or Berlin, and I knew my niece would love the graffiti class in Berlin and the 'make your own chocolate bar' at Ritter Sport. My choice of Germany was a good one – we had an AMAZING week!
The tour started in Munich and our hotel, the Kempinksi Four Seasons (not the Four Seasons hotel chain) was gorgeous. We went on a walking tour of Munich, including seeing the Glockenspiel, followed by dinner at the Ratskeller. The food was wonderful German fare – sausages and potatoes. We took a day trip to Neuschwanstein Castle, which was Walt's inspiration for Cinderella Castle. And of course we had a fantastic German dinner at the Hofbrauhaus where the pretzels were about the size of my head!!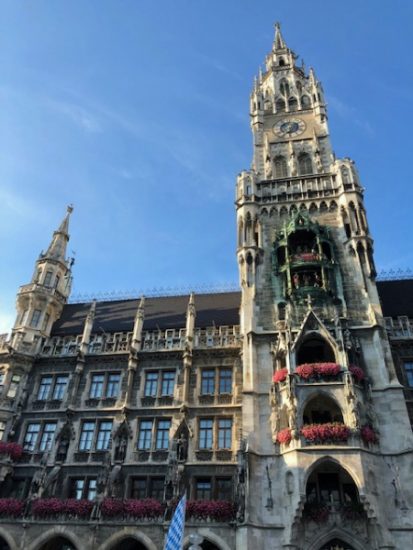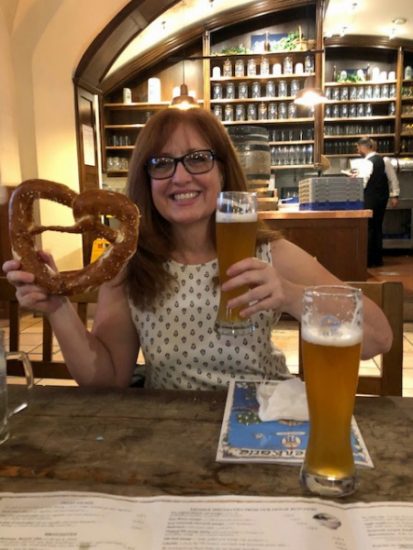 After Munich, we traveled by coach to Rothenburg ob ter Tauber, a beautiful medieval walled city that you might recognize from Chitty Chitty Bang Bang or Harry Potter and the Deathly Hallows Part 1. It's a beautiful, unchanged town with cobbled streets, lined with cafes and shops and my niece's favorite, German Eis (ice cream).
While in Rothenburg ob ter Tauber (there are other towns called Rothenburg, that is why they are specific), we had a really fun pretzel making class and received our Master pretzel bakers certificates. This was really fun and was a great bonding experience for some of the kids on the tour. We also had what for me turned out to be the highlight of the tour, a costume dress up. I have never, ever seen my niece laugh so hard and have so much fun just being silly. Our tour guides, Mark Chris and Zuza were incredible and really made this experience something both Sasha and I will remember for the rest of our lives.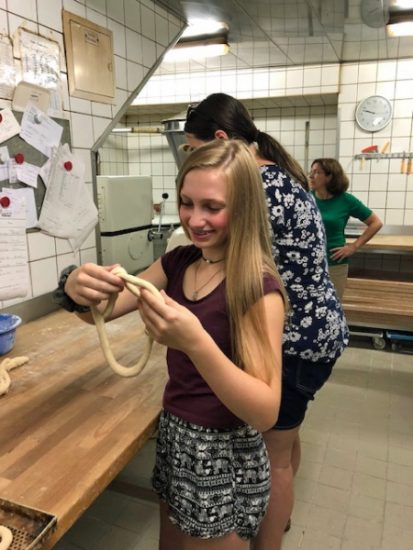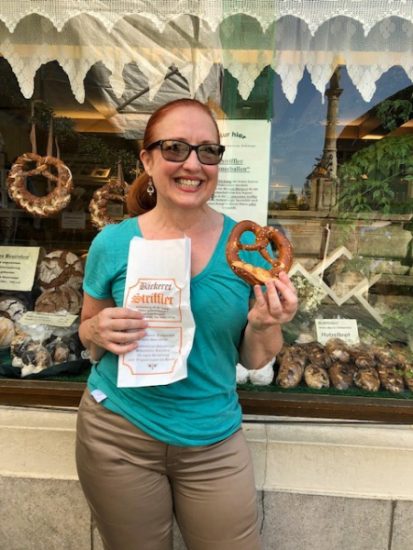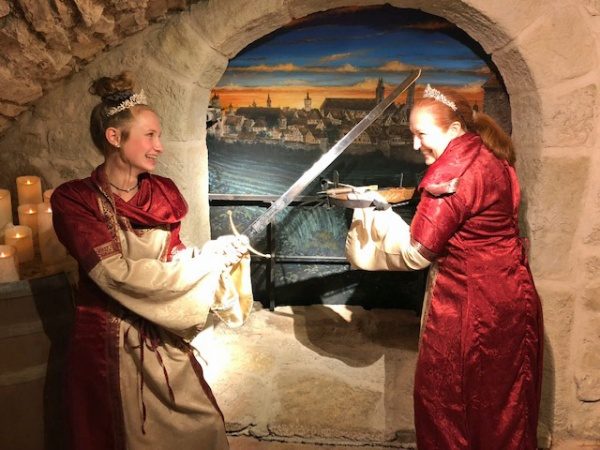 After our lovely 2 days in Rothenburg, we headed for Bamberg and a quick walking tour of what is a really beautiful old city. From Bamberg we took the train, a fun experience for everyone, on to Berlin. I had never been to Berlin and I was not disappointed.
Our hotel was gorgeous, and of course our guides made sure our visit was amazing. We visited the Brandenburg Gate, and saw the spot nearby where President Reagan asked Mr. Gorbachev to "tear down this wall", took a river sightseeing cruise, tried curry-wurst which is a local Berlin favorite (it was delicious!), stopped at Checkpoint Charlie and of course saw the Berlin Wall and museum. Most of the wall is gone, but they have built a museum around the remaining wall as a history lesson for us all. The buildings nearby still have bullet holes in them, and some of the statues are missing pieces. These, too have been left as a reminder. On a much lighter note,  one of the Berlin highlights for us was visiting Ritter Sport, the chocolate company, where the kids were taken to a chocolate lab, given white coats and lots of melted chocolate and proceeded to make their own candy bars. They loved it!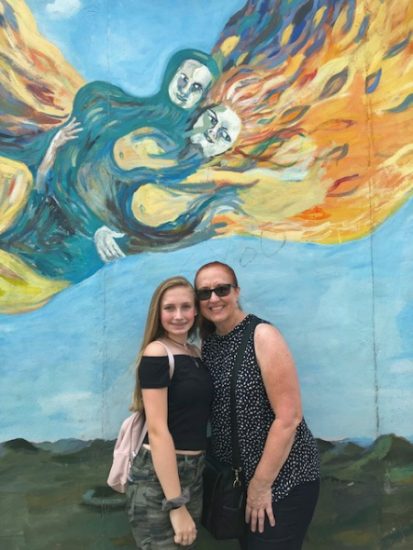 The other major highlight in Berlin (and of the entire week) was a graffiti tour and class! Art and graffiti are a huge part of Berlin culture, and we did a graffiti tour that included speaking with artists and learning the history of graffiti, as well as actually participating in our own art class! We were given a canvas and were able to chose a stencil and we each made our own bit of graffiti to bring home. Sasha and I both absolutely loved this and we each have our artwork hanging in our houses. This is a memory we will have forever, and the artwork to show for it!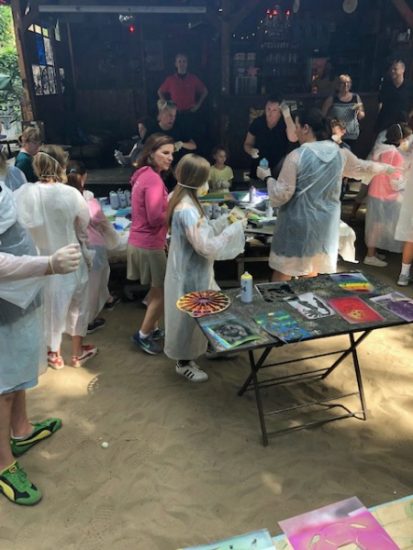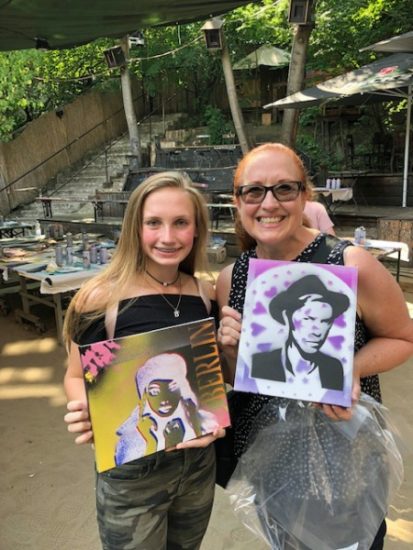 There is so much more to the tour, I could go on and on. The 'little' things that Disney does to make extra magic are things like – each day you get a new pin for your collection (as a Disney pin collector, I loved this), snacks and water are available to you on the bus at any time, and you never EVER have to worry about your luggage. It's taken away at the hotel and it shows up at your next destination without a worry. I love that!!!
The tour was lots of little magical moments and some HUGE magical moments, but overall truly a wonderful, magical week that we will never forget.
If you are interested in an Adventures by Disney trip, please contact me here at The Magic For Less! I would love to help you plan an amazing once-in-a-lifetime journey!
Similar Posts: