It made our first Disney Trip truly magical. I was so confident in our trip planning and the advice I got from our agent, and everything went absolutely wonderfully! We will definitely be coming back to her to plan our next trip (hopefully soon!).
-Cindy A
We are extremely impressed with our TMFLT's counselor's knowledge, promptness, and professionalism when it came to booking our Disney trip. It was a pleasure to work with her as we tweaked our trip plans because she was quick to respond to any questions or concerns we had and she followed up with us before and after our trip. We continue to share our experience with family, friends, and colleagues. Using "The Magic for Less" agency has made our trip scheduling a terrific experience. A special thanks goes out to our counselor….she's the BEST!

-Chris and Trisha J
Our TMFLT agent helped us save a ton of money by rebooking our reservations after a new deal came about and was able to get us an incredible room!  She also applied additional discounts when she found them that we would never have found on our own.
-Allison E
This picture is so sweet it takes our breath away, thanks for sharing Melissa L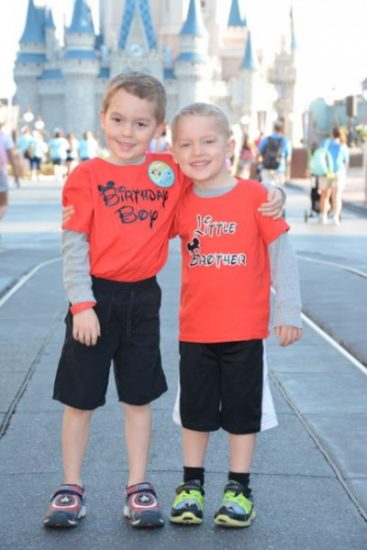 Personal attention of agent.  Knowledge of Disney and tips for planning above and beyond.  Also, being aware of us personally as to our needs and obtaining discounts throughout the booking process outstanding service.
-Peggy E
As always Tricia was knowledgeable and help in planning our trip!  She always goes above and beyond to ensure that our needs were not only met, but surpassed our expectations!  Keep doing what you are doing.

-Manda M
Our counselor is a wealth of Disney knowledge!! It had been 5 years since our last trip and so much has changed and she helped me along the way with all my questions and making sure we were getting the best possible package /deal available.  Just want to thank our counselor for all her help in planning our trip! It was truly magical and we got so much done while we were there. I can't wait to plan the next one! 
-Val H
Our TMFLT agent helped me quickly arrange a 3-night stay for our high school graduate daughter and one of her best girlfriends. It was perfect – Port Orleans was a wonderful place for them to stay on their own – the meal plan was perfect – everything worked out beautifully!!! Thank you!!

-Pam P
It was wonderful,  I didn't need to worry about ordering any tickets or making reservations. She asked what I wanted and arranged everything.   I have already recommended her  to a friend.
-Dawn H
Our vacation was picture perfect.  Nothing went wrong, we were completely prepared.  We owe all of that to our TMFLT counselor.  Not only did she help me plan, but she provided valuable tips along the way.

-Michelle S
Our Magic for Less Travel Counselor was able to quickly handle a few last minute changes for us…including changes due to additional family deciding to join us last minute.  We had an amazing vacation! Thank you very much for being a part of our favorite vacation yet!!
-Crystal G
I don't think we would've taken our Disney vacation if it wasn't for our agent's help! It seemed to overwhelming to figure out all the details, fastpasses, hotel/park discounts and specials, etc. She gave us exactly the info we needed whenever we needed it. And more that I might not even have thought to ask about. She was so knowledgeable about the parks, specials, hotels, rides, etc. I've already recommended her to multiple friends!

-Erin D
Our counselor was able to get us a room at Art of Animation a lot cheaper than I could using Disney website……..we absolutely LOVED the resort…..it's our favorite now…..we go to Disneyworld about every 18 months and I will always contact her from now on….
-Rachel D
Our counselor made everything so quick and easy to get everything organized and planned. And when planning a trip for multigenerations, that was a big help!

-Amanda P
Our agent is wonderful! She offered us options that fit our needs and gave advice on what might work best for us.  She helped us pick restaurants that worked for our kids who don't like character costumes and made sure our Fast Passes made sense so we weren't running back and forth across the parks.  Excellent service all around!!
-Emily P
This was our second trip to Disney.  For our first trip we used a different travel company and the trip was horrible.  I was giving it one last shot.  Thanks to our magic for less agent we plan to do Disney every other year for the foreseeable future.  She had wonderful insight, was extremely responsive and helpful and converted us to Disney lovers!

-Sarah B
Our TMFLT Counselor offered to help plan the Universal Orlando experience, as well as the WDW. What a relief! It was seamless.  He was fantastic to work with,  as always. I recommend him all of the time.
-Rebecca M
As a novice our agent really assisted us in helping us book our reservations, our meals and our rides letting us know the distance between the hotels and Parks she was very outstanding. She is a rock star. I hope to work with her again soon.  Thank you

-Reginald L
Our agent is awesome! Loved being able to ask her anything and get a quick response! It's awesome having someone to rely on, even as many times as we've been!
-Jenifer P
She let me know what to expect since we had not been to Disneyworld in 12 years.  She advised us of the best restaurants, how to use our magic bands, and the best fast pass rides & attractions to select.  She made excellent travel suggestions and hotels.

-Nancy C
This is the second time we've used The Magic for Less and our agent to plan our Disney vacation.  All questions were answered promptly and I had the opportunity to save some money by switching resorts several months before our travel date. The day we left for Orlando, we had awful weather in Houston that caused many delays for our flight. She kept in contact with me through out the night until we got on the plane. I felt that was above and beyond and I was grateful for her keeping an eye on things. I've recommended the Magic for Less Travel and her to friends in the past and will continue to do so in the future. When it comes time to take another Disney vacation, I know who I will contact to help me!
-Kristin R
Similar Posts: