Our agent was wonderful and super helpful in arranging our FP. Her knowledge of the parks and rides were so helpful to us in navigating our way around the park. 
-Michelle
We have used our magic for less counselor for several cruises and trips to Walt Disney World. She has always been very helpful in helping us get the most out of our vacations.

-Lance B
I had an idea of what I wanted in our vacation as I am from Central Florida and have been to WDW dozens of times, however, my counselor gave me some options I didn't think of and I am grateful to her for it. We had a wonderful room location at the hotel, she made reservations for our character meals and even while I was at the park, I emailed her and she immediately researched something and assisted us. I plan on using your/her services again when we plan our next trip.
-Cindy T
Thanks for sharing this fun picture with your boys Cindy!   The tall floppy eared one doesn't look like the other three though…..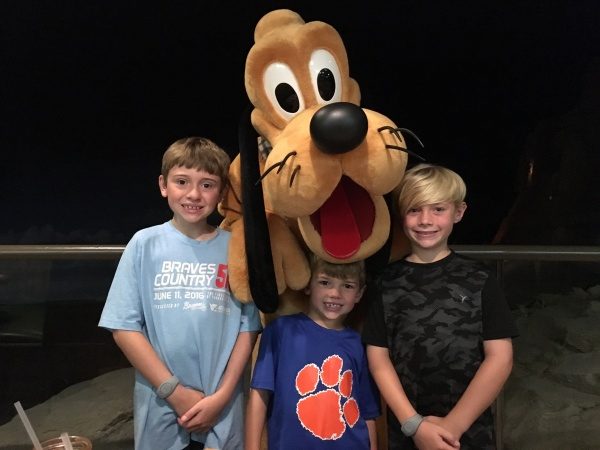 We have a home-based business so I already have lots to take care of.  I just knew I could trust our travel agent to take care of the many, many details for our trip to Disney and Universal Studios!  Her attitude is awesome!  Her knowledge of these parks was invaluable…and the itinerary she put together for the trip made things so much easier.  She was even available for questions that came up during the trip…it was so good to know that we had support if we needed it.  She went above and beyond to ensure our trip was awesome!  I highly recommend her and the Magic for Less Travel…
-Sandra C
I am typically a very stressed out planner. My magic for less counselor helped put my mind at ease. She provided plenty of helpful info and made the planning seamless. Then when we were caught in the chaos of getting out of Orlando before the airport closed due to Irma, she went above and beyond offering to help with anything we needed, whether she had booked things for us or not. I was definately impressed and grateful.  I am very glad we decided to use the magic for less travel. It was overwhelming booking our first disney trip and she made everything easier. I couldn't have done it without her!!!!

-Celeste
Our travel planner is extremely knowledgeable and has so many good contacts.  She was able to provide us with several options/recommendations based on our budget and timing (very last minute), and was BEYOND patient and helpful.  We're so appreciative!
-Laura S
She kept me informed of promotions and other options for my vacation that I would not have been able to find or keep track of on my own.

-Kate V O
Having inside information and tips allowed us to navigate our trip as we went along.  It's hard to know until you're in the moment, but everything made perfect sense once we got there thanks to the information provided by our counselor.  She was extremely responsive, as well.  We had family come at different times and she navigated those details with ease.  It was a pleasure working with her.
-Michael C
He was so knowledgeable on Disney and helped to make every minute count. Gave great suggestions that made for an awesome Disney experience.

-Nancy H
Her experience on where to stay with the criteria I requested was fantastic. Having been to Disneyland for the last 10 years this was by far the easiest and best experience !
Cindy D W
We were able to get alot of helpful tips about our trip. Our agent helped us plan meals and found times that worked for us.  She was very helpful.

-Robin E
Our counselor does a great job of providing us with just the info we need.  After 12 trips to Disney, I don't necessarily need info on attractions and shows, but she does send info such as when the party tickets go on sale.  Additionally, she'll answer all the questions we have and is very readily available for phone calls!  She's done a great job for us and I look forward to working with her in the future!  She never seems annoyed when we make resort or ticket changes.  She truly makes us feel like we're her top priority, something I think is difficult to do when working with so many people!
-Mary H
Our counselor was wonderful!  It was so nice to not have to worry about planning the vacation.  She knew what we wanted to do and what we wanted to see, and she did an amazing job!  Can't wait to have her plan our next Disney trip.

-Amy B
It was SO NICE to have our Magic for Less agent handle all of the details! Not only did she save me time and money, but she was an absolute expert on what our family would enjoy based on our kids' ages, etc. She was excellent on communicating upcoming deadlines and keeping us on track as our trip approached. She didn't overwhelm us and she was always a step ahead with what happens next. She was such a joy to work with and she thought of everything for us!
-Katie S
We heard that our agent had helped other members of our Disney club so we contacted her for assistance.  She made sure we were booked into the same hotel as our friends, sent a copy of the confirmation to us and followed up to make sure everything was OK.  We are quite happy with her service and will contact her for our next Disney trip.

-Wayne B
I would never go to Disney without contacting our counselor first.  She makes the whole experience so simple and less overwhelming.  The Magic for Less is awesome about saving families the most money and making the vacation great.  I am so glad that I found your service to help with our travel! 
-Melissa A 
Similar Posts: