Discovery Cove in Orlando is a hidden gem that many have not yet visited. In a city where visitors are used to crowds, lines, and planning, this experience offers something completely different.  This all-inclusive day resort limits the amount of people admitted each day through ticket reservations, so the park never feels crowded, even during the busiest travel seasons.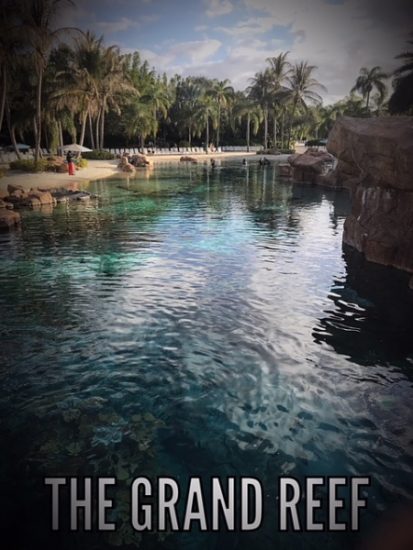 Discovery Cove is part of the Sea World Parks and Entertainment Group.  It is an oasis from the hustle and bustle that travelers are accustomed to.  It feels more like an exclusive cruise excursion than a theme park.  The different areas of the park flow seamlessly and naturally to create a paradise.
ACTIVITIES INCLUDED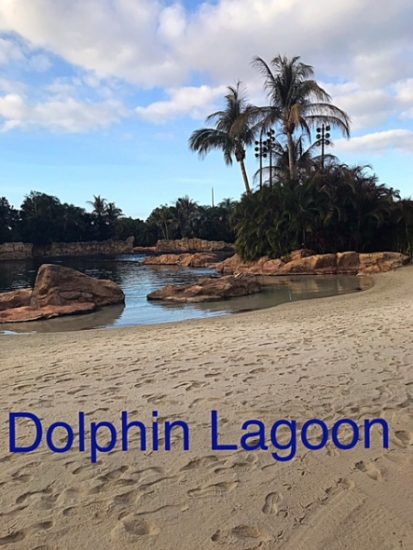 Guests are greeted and given ID lanyards to wear throughout the day.  If extra activities like a dolphin or shark encounter are purchased, guests will be given their scheduled time and are then escorted to breakfast.  After breakfast, the park officially opens and visitors may choose how to spend their day.  The choices are many – visit the aviary where hundreds of exotic birds are waiting to be hand fed, view otters, learn about animals and during a demonstration, snorkel in the grand reef, relax in a hammock, or float around on the lazy river.  Many choose to enjoy the dolphin encounter (additional cost) in which guests get in the water with the dolphin and trainer and pet, learn, and swim with dolphins.
ALL-INCLUSIVE
All snacks, breakfast, lunch, and drinks (including alcohol) are included with the package.
Animal safe sunscreen, towels, beach chairs, snorkel equipment, and even wet suits are provided at no cost once in the park.  The well equipped locker rooms have changing areas including showers, hairdryers, soaps, and even bags to take wet suits home.  This experience is truly all-inclusive!
BOOKING YOUR VISIT
The animals, theming, staff, and beauty of Discovery Cove are truly outstanding.  This experience is an excellent value as when you purchase a day ticket to the resort, you are also given unlimited admission to SeaWorld® and Aquatica, SeaWorld's Waterpark™ in Orlando for14 consecutive days around the date of your reservation.  For an additional $25 per person, guests can upgrade to the Ultimate Package which also includes Busch Gardens Tampa and free parking at all three parks.
Guests can schedule a visit to Discovery Cove up to 13 months in advance to reserve their day at the park. Hotel packages are also available for an even more convenient visit.  Contact an expert agent today to plan your next adventure at The Magic for Less Travel.
Similar Posts: