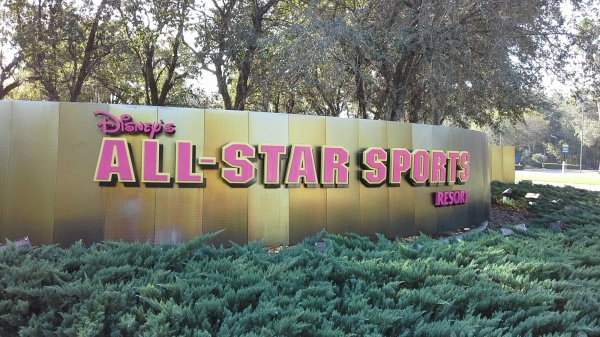 I recently had the opportunity to stay at All Star Sports for the first time in several years.  To be honest, I have always thought of this as my least favorite value resort but after this latest stay, it's moving up on my list!  To set the stage, it was just my husband and myself traveling (no kids!), we drove down from Atlanta and we were visiting just before Thanksgiving.  One note for those who are driving but used online check-in–don't forget to go by the front desk and pick up your parking pass!  I was so excited that the resort was already completely decked out with Christmas decorations and that we got an upgrade to a king bedroom!  We weren't expecting a king as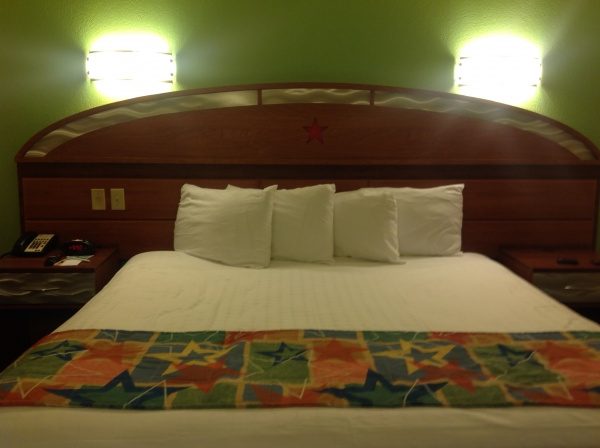 these are the handicap accessible rooms at this resort and can't be booked ahead of time.  Since I've never stayed in a king bed at a value resort it was exciting to try something new and as a travel agent, it was nice to be able to share the experience with others.  We were located in the Touchdown building (as we paid for a preferred room), building 7 room 7224.  It was a very convenient location and we could be in the food court in less than 5 minutes.  Just one note of caution for those with children(or those like myself who are highly allergic) the first door you can enter for the food court from this direction is right next to the smoking area!
Speaking of the food court at All-Star Sports, I love the new layout and found there were several toasters and microwaves located just on that side of the food court.  I also found the mug washing station to be perfect for rinsing and washing out mugs. The only negative thing I found was that the booth seats were way too close to the table and couldn't be adjusted.  These would be perfect for children and very skinny adults but not for most adults I know.  I did however find that the food was awesome!  On our first night there I got the roasted turkey with rice and gravy and Mac and cheese.  Being a food court I wasn't expecting much from the food but was I surprised.  The turkey was moist and delicious and the rice and gravy was about as close to my mother's home-cooked gravy as I've ever found!  Not only was it delicious but there was way too much food. I ended up giving the Mac and cheese to my husband who said it was pretty good.  We found that almost everything we ordered was good and that there was plenty of food for one person and even some extra for a second person.
One other thing that I really enjoyed on this trip were the bus estimated arrival time displays for each park.  They hide them so most people may not see them but if you are standing in line and look back toward the building you will see them mounted just under the roof.  I found that the times would adjust by a couple of minutes but that the buses were there right at the estimated time every time!  It was nice to know when the bus would arrive instead of standing there trying to guess!  Speaking of buses, I also found one advantage to staying at All-Star Sports when coming back from a park.  If it was a shared bus amongst the 3 All-Star resorts (not all of them were) you knew you would be the first stop–how awesome is that!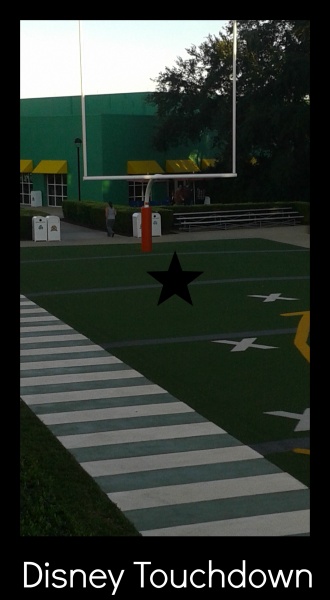 I have to stop and mention our very favorite part of the resort that was located right next to our building–a huge football field with goalposts at each end.  Every time we went by, no matter what time it was, there was always someone kicking a ball around or playing football–it was like a kid and adult magnet and shouldn't be missed–you might even want to be sure to pack a ball/football to take advantage!
I hope I was able to encourage you to try All-Star Sports for yourself–you might be very surprised and glad you did!
For help booking your All-Star Sports stay(or any Disney resort) click on the following link: https://www.themagicforless.com/request-free-no-obligation-quote/?ldsrc==TMFL-TMFLEmilyW
Similar Posts: