Disney's All-Star Sports Resort
1701 West Buena Vista Drive
Lake Buena Vista, Florida 32830
Check-In: 3:00 PM
Check Out: 11:00 AM
Big on Everything…Except for Price
Welcome to the extraordinary world of Disney's All-Star Sports Resort, where Disney celebrates the vibrant, high-energy competition and camaraderie of sports. Positioned within the thrilling heart of Disney's property, this resort is a haven for fans of surfing, basketball, baseball, tennis, and football, offering an immersive, sports-themed getaway. Dive into a place where imagination meets exhilaration, all at a value that applauds your budget.
From the moment you step into Disney's All-Star Sports Resort, prepare to be transported into colossal sporty dimensions. The resort is a spectacle of giant icons that celebrate the fun and excitement of sports, from monumental surfboards and massive basketballs to colossal baseball bats. Each detail is designed to make guests feel like they're part of their favorite games.
Disney's All-Star Sports Resort Downloadable Map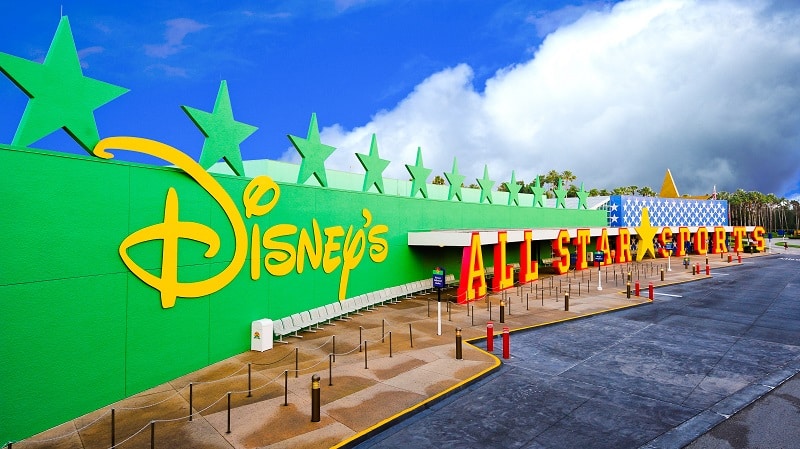 Guest Rooms
– Disabled accessible rooms are available
– All guest rooms are non-smoking
– Buildings offer elevators and stairs
Guest Room Amenities
Alarm clock with radio
Hair Dryer
In-room safe
Internet – Free WiFi Service
Iron & ironing board
Mini-refrigerator
Telephone with voice mail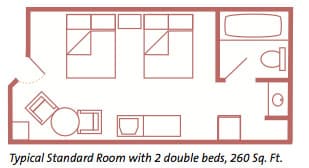 Standard Room Location –
Views of the Courtyard, Pool, or Parking Area
2 Double Beds
Sleeps up to 4 Adults
Preferred Room Location
Views of the Courtyard, Pool, or Parking Area
Close to Stadium Hall, Dining, Shopping, and Transportation
2 Double Beds
Sleeps up to 4 Adults
Dining at Disney's All-Star Sports Resort
With a mouthwatering array of fresh food to choose from, the dining selections available at Disney All-Star Sports Resort are sure to win over every member of your family.
End Zone Food Court
Breakfast, Lunch, Dinner
Blitz your appetite with an all-star line-up of fan favorites by heading to the End Zone where guests will find a winning line-up of burgers, hot dogs, pizza, pasta, smoothies, and gelato!
End Zone Food Court Menu
Grandstand Spirits Pool Bar
Bar Service
Dip right into a refreshing Grand Margarita—and more—at this cool hangout next to Surfboard Bay Pool.
Grandstand Spirits Pool Bar Menu
Recreation
Pools
At Disney's All-Star Sports Resort guests can enjoy a refreshing swim in one of the pools overflowing with fun themes and Disney characters.
Pool with Surfboard Motif – Giant-sized surfboards line this sprawling pool area perfect for catching some rays or taking a dip. For the little ones, a kiddie pool is located nearby
Grand Slam Pool, an additional pool shaped like a baseball diamond, features a Goofy fountain that squirts water at swimmers.
Movies Under the Stars
After the game is won and the day is done, take in a Disney movie outdoors on the football field at Disney's All-Star Sports Resort.
Jogging Trail
Go for a personal best during a breezy one-mile run or walk amid Disney's All-Star Resort area.
Playground
Little athletes can climb and slide at the playground located near the Touchdown! hotel area.
Game Point Arcade
Compete in a variety of video and pinball games at this arcade in Stadium Hall, by the food court.
Resort Amenities
Disney Bus Transportation
Complimentary bus transportation is available to transport you and your family to most Walt Disney World Resort areas, including theme parks, water parks, Resort hotels, and the Disney Springs area. The bus stop at Disney's All-Star Sports Resort is located in front of Stadium Hall.
Complimentary Wi-Fi Internet
Parking
Standard overnight self-parking is available to registered Disney's All-Star Sports Resort guests.
Complimentary standard self-parking is available while you enjoy select dining, shopping, entertainment, and recreation experiences at this Resort.
Disney Minnie Van™ Service Connected by Lyft
Discover a whimsical way to dash about! Getting to select locations around Walt Disney World Resort—or traveling to and from Orlando International Airport—is easy when our private vehicles whisk you off in delightful Disney style. (Additional charges apply.)
Online Check-In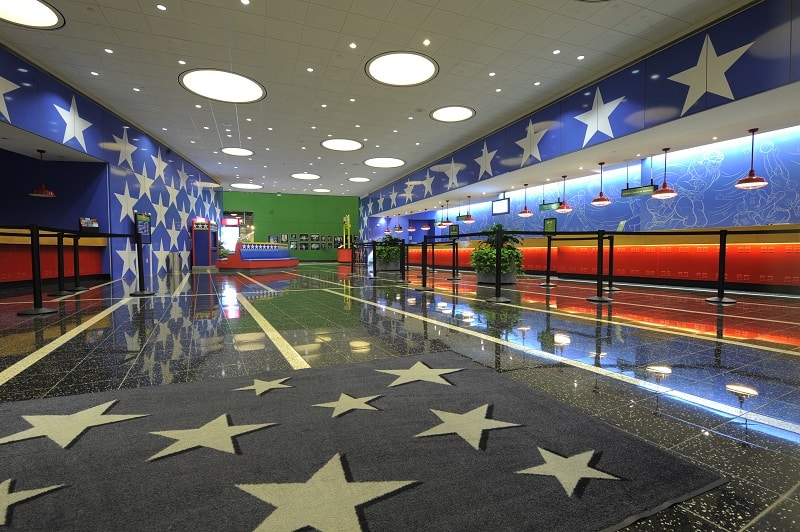 ATM
A 24-hour ATM is located near the Front Desk.
Currency Exchange
Guests interested in exchanging foreign currencies may visit the Front Desk or Lobby Concierge of Disney's All-Star Sports Resort hotel.
Designated Smoking Areas
Housekeeping Service
When you stay at Disney's All-Star Sports Resort, enjoy peace of mind knowing that Disney's housekeeping will thoroughly clean your room before your arrival and a modified service every other day during your stay.
Laundry and Dry Cleaning Services
24-hour self-service laundry rooms are near Grand Slam Pool and Surfboard Bay at Disney's All-Star Sports Resort. Please select "Housekeeping" on your Guest Room phone for dry cleaning and valet laundry service.
Mail Services
Letters, postcards, and pre-packed, pre-labeled packages with postage already applied can be mailed from the Front Desk or Concierge Desk.
Merchandise Delivery and Pickup
Thanks to complimentary merchandise delivery to Disney's All-Star Sports Resort, shopping is a breeze at Walt Disney World Resort.
Take advantage of this convenient service—and enjoy the parks without extra baggage! Merchandise delivery is available during your stay at any Disney Resort hotel for purchases made:
In-store at select Walt Disney World shops
Through the Shop Disney Parks mobile app (valid for merchandise in stock at Walt Disney World Resort)
When staying at Disney's All-Star Sports Resort, you can arrange to have your merchandise delivered to Sport Goofy Gifts and Sundries, where it will be available for pickup later.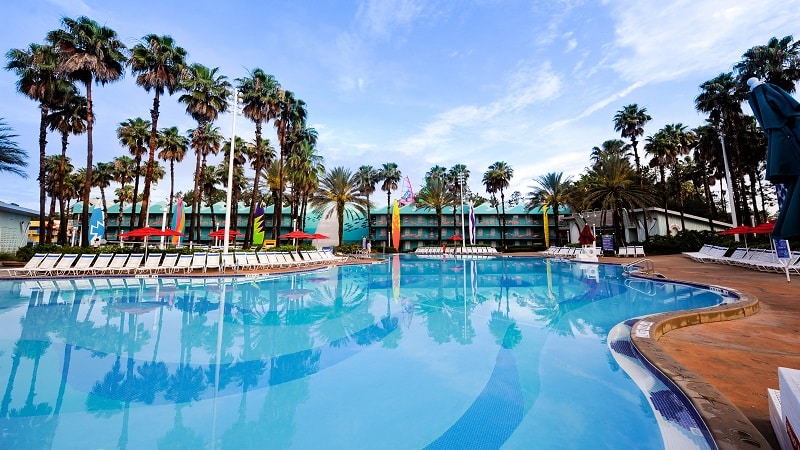 Rates and Packages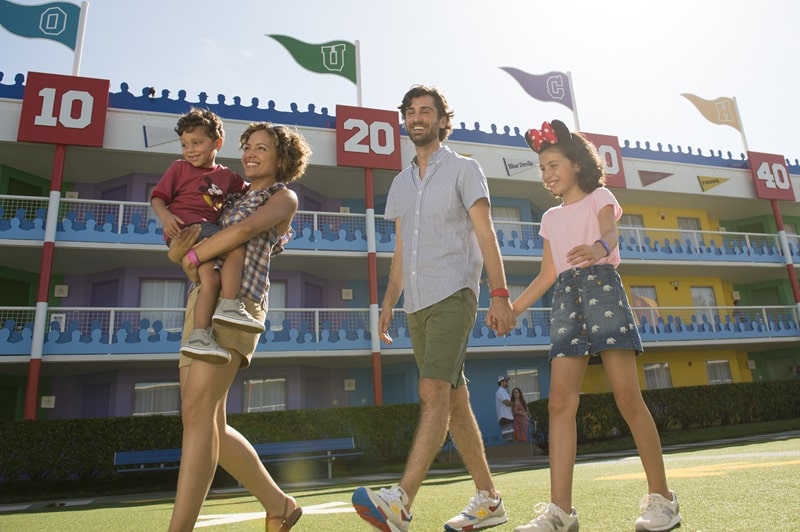 Disney's All Star Sports Resort offers a variety of room types at varying rates to cater to different preferences and budgets. Several factors affect the pricing at Disney's All Star Sports Resort, including the time of year you plan to visit, the length of your stay, and the specific room category you choose.
It's important to understand that rates at Disney's All Star Sports Resort can change throughout the year in response to seasonal demand. Typically, peak periods such as holidays and school vacations have higher rates compared to off-peak times. However, if you have the flexibility in your travel dates, you might want to consider booking during the off-season or on weekdays, as these periods often present more cost-effective rate options.
Standard rooms at Disney's All-Star Sports Resort will sleep up to four guests in two double beds or 2 guests in a King bed.
An additional adult charge of $15 per night applies when there are over two adults in a room at Disney's All-Star Sports Resort. Prices, benefits, and other terms are subject to change without notice.
Disney frequently provides special offers and packages, including discounted rates on rooms at Disney's All-Star Sports Resort. These discounts may be available for specific travel periods or with other park-related experiences or dining options. The Magic For Less Travel will watch for discounts and promotions that can be applied to your reservation even after you book.
Disney offers packages that include a stay at Disney's All-Star Sports Resort, as well as tickets to the theme parks, dining, and other activities. Packages vary in price and content, so it is important to compare different options.
2024 Walt Disney World Resort Hotel Packages
2025 Walt Disney World Resort Hotel Packages
Here are some tips for finding the best package at Disney's All Star Sports Resort:
Consider your budget: Assess your budget for your Walt Disney World vacation. This will help you narrow down the available package options at Disney's All Star Sports Resort. Packages can vary in price based on factors like the length of stay, room category, and additional inclusions.
Consider your travel dates: Your travel dates are crucial when looking for a package at Disney's All Star Sports Resort. Peak travel times, like summer and holidays, tend to have higher package rates due to increased demand. If your travel schedule is flexible, consider visiting during off-peak periods for potentially more affordable packages.
Consider your interests: Reflect on your personal interests and preferences when selecting a package at Disney's All Star Sports Resort. Think about the experiences and amenities that matter to you.
Compare different package options: Evaluate different packages available at Disney's All Star Sports Resort. Look at the details, inclusions, and prices of each package to find the one that aligns best with your budget and desired experiences. Look for packages that offer the right balance of accommodations, park tickets, dining plans, and any additional perks or benefits that appeal to you.
Free Quote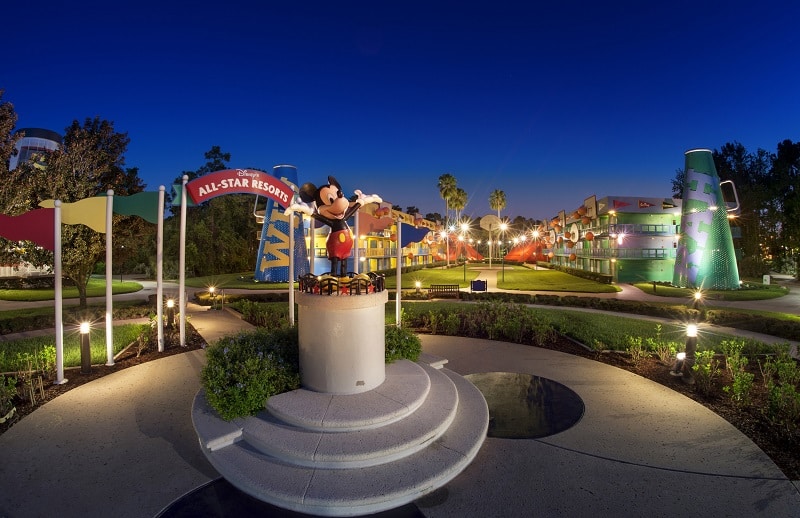 Use the form below to request a FREE, No-Obligation Quote from one of our travel agents. Our services are provided FREE of charge. You won't pay more when you book with The Magic For Less Travel.  Start planning your Walt Disney World Resort vacation today!
Blog Posts
Read more about Disney's All-Star Sports Resort with posts from our blog
Newsletter
Stay informed of the latest special offers. Subscribe to the Magical Notifications weekly newsletter from our friends at The Mouse For Less.
NOTE: After subscribing, you will receive an e-mail asking you to confirm your subscription. This is a standard security feature. Follow the instructions in the confirmation e-mail to complete your subscription.