By Steve Baker, The Magic For Less Travel
Animator's Palate, one of the three main dining rooms on each of the Disney Cruise Line's fleet of amazing ships, may be perhaps one of the most iconic, fun and beloved dining experiences afloat.
On the Disney Magic and Disney Wonder the dining room comes to life from black and white sketches to brilliant color live animation in a highly innovative show that celebrates the perfected art of storytelling that Disney has mastered.
On the Disney Dream, Animator's Palate is vastly re-imagineered in a re-created animator's studio adorned with larger than life sketches, paintbrushes and animator's trade tools.  The show element has been completely changed to be highly interactive with guests staring the characters of Finding Nemo in a fashion quite similar to the Turtle Talk with Crush experience at Walt Disney World.
Animator's Palate on the Disney Fantasy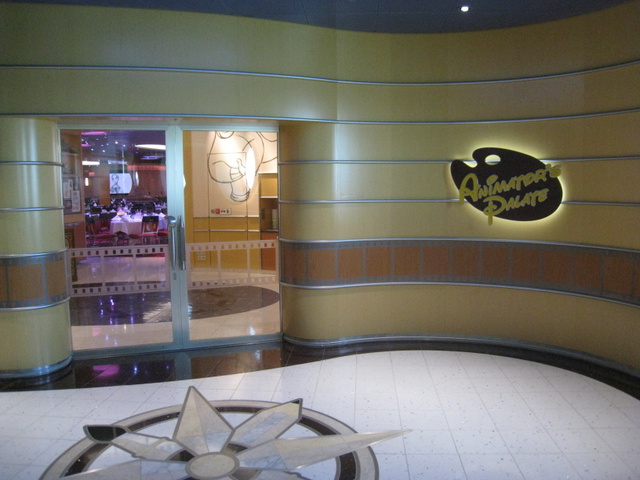 And while the dining room may appear to look identical to its counterpart on The Disney Dream, the show version on the Disney Fantasy has an even more exciting, interactive element that will enchant guests of all ages as they have the chance to now become a Disney animator themselves!
Once seated at their table, guests have the opportunity to draw their own Disney character on a specially designed place mat using a "gingerbread man" style template.  Make sure to stay within the lines, but be as creative as you can.  During my recent cruise I drew a "hidden Mickey" on my character's shirt while one of my business partners, Ric Flack, drew a full blown Mickey icon on his character's t-shirt.
Disney Fantasy's Animator's Palate Place Mat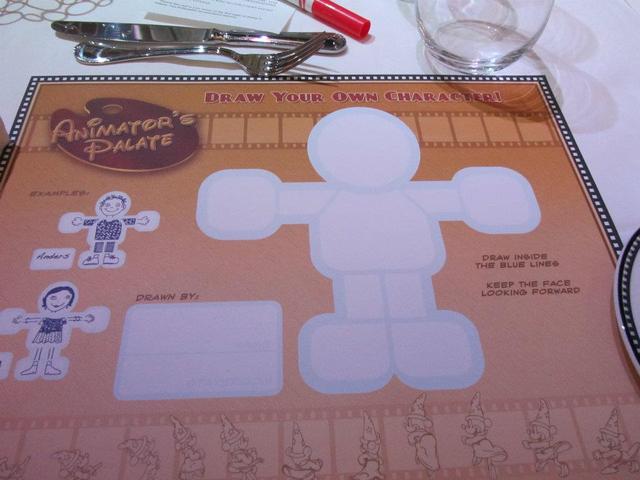 TMFLT agents Steve Baker & Ric Flack show off their animated creations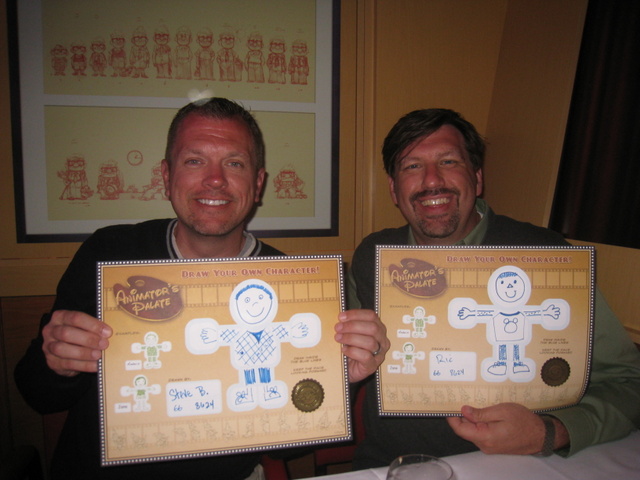 Make sure to sign your drawing in the designated area (I suggest putting first and last name) and give it to your server prior to placing your dinner order.  Some Disney magic is about to happen very soon!
After dinner, but before dessert is served, watch the screens in your area begin come to life with the characters you have just created.  You'll see your character dance and move in a variety of fun maneuvers alongside the characters drawn by your table mates all orchestrated to an upbeat tempo.  As the show progresses, you'll soon find your characters embedded in scenes with classic Disney characters such as Mickey Mouse and Donald Duck.
Everyone will be enthralled watching their creations come to life, but don't look away too soon because at the conclusion of the show the credits roll as they do in every feature film – watch for your name to appear on the screen as one of the creative talents who contributed to the evening's performance!
The end credits with our "names in lights"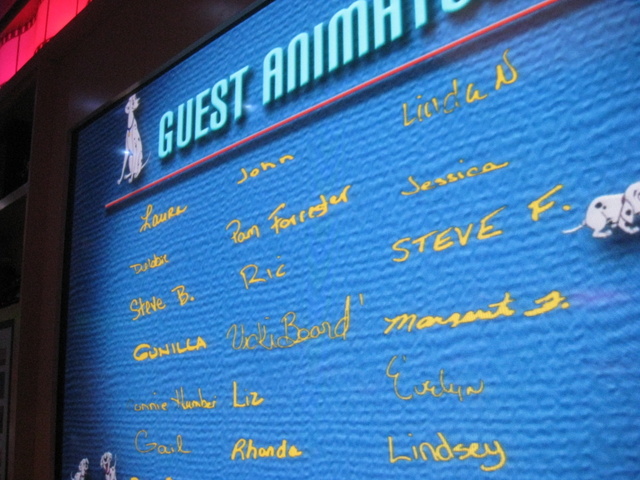 And don't despair all you Finding nemo fans sailing aboard 7-night voyages on the Disney Fantasy, as the "Undersea Magic" show presented on the Disney Dream is also presented on a subsequent night of your dining rotation on the Disney Fantasy in Animator's Palate!
You won't want to miss any of your evening dining experiences aboard the Disney Fantasy, but get ready for twice the show and twice the fun now in Animator's Palate as you become part of the show!
Similar Posts: