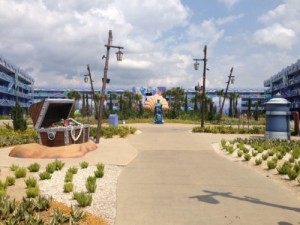 You have to love a new Walt Disney World adventure!  Having traveled to WDW many times before with my family, it's always nice knowing that you have a brand-new experience waiting for you on your next trip.  This was the case when my family spent a couple of nights outside of the Walt Disney World theme parks before our recent Disney Cruise.  We chose to check out the new Disney's Art of Animation Resort in the Little Mermaid rooms.
Our family is a big fan of Disney's Pop Century Resort.  We feel like we have "grown-up" through our Disney experience at this place.  We stayed there in 2003 when it opened, and have been back many times.  We love the family atmosphere, value rates, great food court, and the every around this resort.  So, for years, we wondered what was going to become of the area across Hourglass Lake.  When we finally heard the plans for Disney's Art of Animation with it being similar to Pop Century, just with a lot of family suites, we knew we had to check it out.
The chance to stay at Disney's Art of Animation came in March over Spring Break.  We were headed down to Miami for a 5-night cruise on the Disney Wonder and thought it might be fun to spend a couple of nights in Walt Disney World before the cruise.  We knew we wouldn't have theme park tickets this trip as our Annual Passes had expired, so we wanted a resort that we could explore, all while on a budget.   Disney's Art of Animation was the perfect solution.
We chose a Little Mermaid room, as this is one of my 5-year old daughter's favorite character, and with there only being three of us on this trip, no need for a Family Suite.  We love the room, as it was fresh and "very Disney" with touches from the Little Mermaid movie all over the place!  Even the shower looked like Ariel's cavern with all of her treasures.  It felt very much like a Pop Century room, only upgraded.  We love the beds, with the seashell headboards, and the tasteful art from the movie in the room as well.  It was a great room.  My daughter was delighted!
We also spent time exploring the offerings of this large Disney Value Resort.  We enjoyed the Landscape of Flavors with the extensive offerings for a food court.  I know a lot of people are really excited by the more authentic flavors from around the world that you can find, but let me tell you my favorite item – Mom's Mac & Cheese.  It was just like my grandma makes and delicious!  You have to give this a shot the next time you visit!
No trip to a Disney resort would be complete without taking a swim!  We did this in the Big Blue Pool, of course, themed after Finding Nemo.  Next, we headed to Radiator Springs to the Cars Pool.  This was my personal favorite.  I kept telling my wife that I thought I had really walked right into Radiator Springs.  Everything was spot-on!  Finally, we spent most of our time swimming in the Little Mermaid Pool, as that was right near our room!  Lots of fun to be had in all three pools!  Also, if you are looking for something fun, each afternoon until early evening, you can play all kinds of "pool games" that are hosted by a Disney Entertainment host near the Big Blue Pool!  From things like the Limbo to relay races to scavenger hunts, everyone was having a great time!
If you are like our family and are always looking for that next "new" Disney experience, give Disney's Art of Animation Resort a shot!  Disney has really taken the Value Resort to the next level in both theme and design at this resort.  You will love it!
Similar Posts: