As a frequent Walt Disney World visitor I'm always looking for something new and different to experience on each trip.  This is especially true for my kids as I want them to have Disney memories that will last a lifetime.
On our most recent vacation we sent them off to experience something new on their own for the first time.  Disney's Pirate Adventure Cruise is something I had considered several times but hadn't booked yet.  I think this is mostly because there is just very little information on this experience outside of what Disney publishes on their website.  But in spite of this I finally took the plunge and sent my 10 year old son & 11 year old daughter on their adventure.  Boy am I glad I did!  And for those of you curious if this adventure is right for your little pirate, I sent my camera along with the kids to capture some of the fun.  So here is your, normally for-kids-eyes-only, peek into Disney's Pirate Adventure Cruise!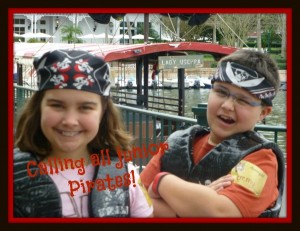 To start with here are some of the basics.  The Pirate Adventure Cruise is available seven days a week and departs from four different Disney resort hotels; The Grand Floridian Resort, Caribbean Beach, Yacht & Beach Club Resorts, and Port Orleans Riverside.  The adventure starts at 9:30 am and is two hours long.  Kids between the ages of 4 and 12 are eligible to cruise and all kids must be potty trained.
Our cruise departed from The Grand Floridian marina.  After checking my kids in for their reservation they were fitted with their special pirate life preservers.  And just in case you are wondering, the two Disney cast member pirates are first aid and CPR trained.  Kids are given safety instructions and loaded onto the special pirate themed pontoon boats and then they cast off for their adventure.
Departing from The Grand Floridian means this cruise takes place on the Seven Seas Lagoon and Bay Lake, visiting the other resorts along the shore to find clues and pieces of the treasure map.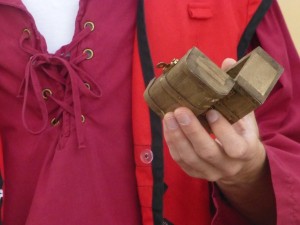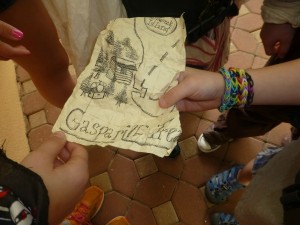 Along the way they stop for a snack fit for a pirate.  For those not familiar with pirate-talk these normally consist of Goldfish Crackers, Rice Krispy Treats, and apple juice.  Water is also available upon request and if you inform them of your child's dietary restrictions they will accommodate that as well.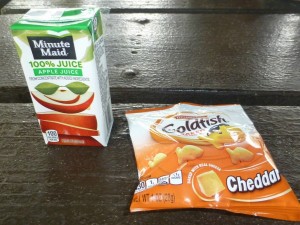 Their ship docked at the Polynesian Resort, the Contemporary Resort, and Fort Wilderness Campground.  At each stop more pieces of the map were found to finally lead them to the ultimate treasure chest.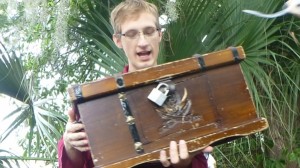 Upon arrival back at the home port the kids were able to share in the booty found in the chest.  I asked my kids what they thought of the experience and both gave it glowing reviews.  So if you're looking for something extra to add to your next Walt Disney World vacation then check this out.  By the way, mom & dad spent those two kid-free hours walking down Main Street in the Magic Kingdom with a Dole Whip Float in hand.  The kids were none the wiser.
Request a Quote: https://www.themagicforless.com/request-free-no-obligation-quote/?ldsrc=TMFL-TMFLTriciaF
Follow me on Facebook: https://www.facebook.com/TriciaFurmanTMFLT
Similar Posts: