Universal Orlando's New Quick Service Dining Plan 
After many years of a mostly unlimited "Meal Deal" where you could pay one price and get quick service meals at one or both parks at Universal in select locations, Universal Orlando now has the Universal Quick Service Dining Plan, valid in theme parks, which is good at over 100 locations in both parks.    Rather than decide if you want a Meal Deal, and whether or not you want it one park or two (for extra cost), one price buys you a card that can be used in either park.  Here's the new signage, and it can be purchased all over.  (You won't miss it.)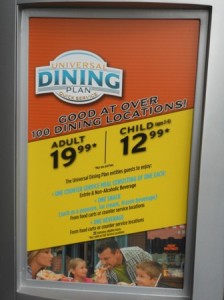 So what's the big change from the Meal Deal to the Universal Dining Plan?  First of all, there's no unlimited amounts of chicken tenders, burgers and pizzas for a flat rate like you had with the Meal Deal.  Beverages were not part of the 'old' Meal Deal either.  With the new Universal Dining Plan, you pay a flat rate and get the following:
One Quick Service Meal including a designated Beverage
One Snack from a list
One additional Beverage (fountain drink, bottle of soda or water)
The new price as of January 2014 is $19.99 plus tax,which is an increase from the Meal Deal.  Your purchase price gets you a card like this one: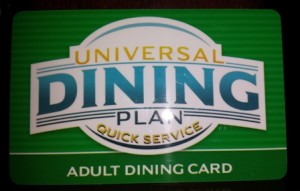 Simply find a location where you would like to eat, look for the symbols on the menu board, and order.  Because I do not eat burgers and fries in theme parks I decided to go to Thunder Falls in Islands of Adventure for a rotisserie chicken dinner.  I was also trying to figure out how to do this "For Less" and perhaps feed two people by going to a place where I could get a large plate of food that more than one person could share.
At Thunder Falls, I was able to order a Chicken and Rib dinner for $14.99 and a beverage for $2.69: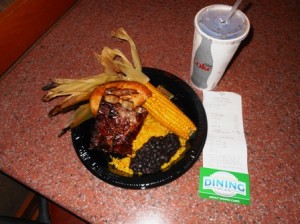 This was a LOT of food! On my plate are ribs, a chicken quarter (white meat), ear of corn, and rather than potatoes I ordered rice & beans. It was also pretty tasty even if the chicken was a tad dry (on the plus side it was cooked.)  What I ordered could be shared between two people, but you'd be short a drink.  If you bring in bottled water then everyone would have something to drink.  My travel companion had run off to Citywalk for sushi  but I knew she would be hungry so I saved her some chicken.  This meal, as well as this location, is a good value for the Universal Dining Plan. I had paid $19.99 (plus tax) for the card and already had used $17.68 and still had a Snack and Beverage remaining.
Because I was in Islands of Adventure, the Snack meant…  (drumroll please…)  BUTTERBEER!!! Many frozen beverages are a Snack on the plan and no trip to this park is complete without Butterbeer. While I can not drink a whole Butterbeer as I find it incredibly sweet, I do  manage to get down about a third of it, thus leaving the rest to my travel companion.  Cost for Butterbeer was $4.79 as of January 2014: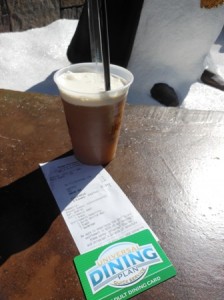 After my lunch and my Butterbeer, I've already exceeded the price I paid for my Universal Dining Plan card.  I've already received $22.47 worth of food and I still have a beverage remaining.
It was getting warm in Orlando and the sun was out (and wow, it sure felt great after the snowpocalypse and frigid temps in the Midwest) and it was time to get some bottled water, which was $2.79.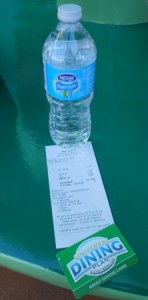 Although I am not a fan of Nestle Pure Life water, its all they had, and it tasted pretty good. Universal is a Coca Cola product park and I had already exceeded my self-imposed limit of diet Coke.
All in all, my choices made the Universal Dining Plan a great deal for me.  I paid $19.99 (plus tax) for the card and received $25.26 (plus tax) in food out of it.  My savings was 20% with my choices, but not everyone is going to save this much.  My opinion of the Universal Dining Plan is that its super convenient to buy one of these cards and give to each person in in your travel party so they can manage their own meals if you separate.  You could do what I did and look at maxing out the choices to see how many people you could feed.  On the flip side… its very easy to NOT come out ahead on the plan especially if you order on the cheaper side of the menu board.  Here are some other menus for comparison purposes: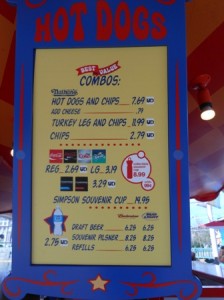 I ate chicken and ribs for $14.99; if you wanted a hot dog and chips the cost is about half of my entree (and less than half the food too), so you'd be losing money with the Universal Dining Plan with this choice.  The hotdog meal is a good one for someone paying cash and looking for  less costly meals.  Mid range options include pizza: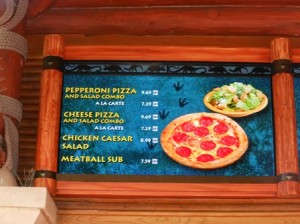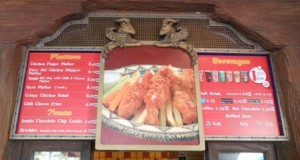 Universal has other snacks besides $4.79 Butterbeer too. Here are some options: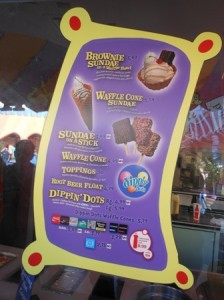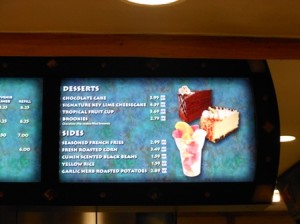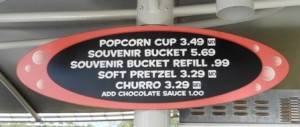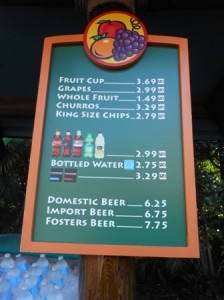 So what do I think about the Universal Dining Plan?  I like it a whole lot!  Its a great way to control your costs for the day and not deal with cash. Also as you use your entitlements your receipt will show what remains.  Its pretty simple.  If you plan ahead with your food you can come out ahead, or just eat what you like and not worry about parting with cash–which would be a great idea if you have teens on their own.   I will buy this again if I'm planning on a quick service lunch.  What I really like about the Universal Dining Plan is that there is NO DESSERT with the quick service entree:  they give you a separate drink later on.  In a theme park there's no shortage of junk food and where you end up spending money later on is with beverages.  Universal seems to have thought about how the typical guest spends their money on food and gave us an extra drink which is really necessary in the hot summer months.  In cooler months its not such a big deal but its pretty easy to take a bottled beverage 'to go.'
If you enjoyed the Meal Deal for its copious amounts of food you are not going to be happy with this change.  I did not like the menu options or locations with the old Meal Deal so I never bought it.  I do see myself buying this new plan on future park visits though because it is flexible and can be used in both parks.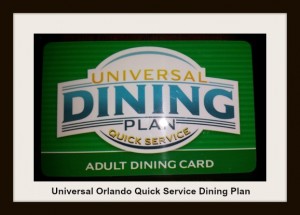 Similar Posts: