By Steve Baker, The Magic For Less Travel
Recently, my good friend and fellow TMFLT colleague, Ric Flack, and I had the opportunity to experience an incredible, jaw dropping adventure on the Wild Africa Trek tour at Disney's Animal Kingdom.   A fairly new tour, the Wild Africa Trek takes Disney storytelling to an entire new depth by immersing you in a 3 hour semi-private safari with some up close and personal experiences with a plethora of animals on the Kilimanjaro Safari.
We began our tour by meeting before park opening time for our 8am tour in front of the main entrance.  We were led past the Dawa Bar to our meeting spot "backstage".   After a series of very in depth instructions (and stowing our personal belongings in lockers – nothing loose is permitted on the tour with the exception of a small camera with a secure wrist strap) on what to expect from our guides, Lauren and Devin, our small group of 12 were harnessed up and provided with some light refreshments before beginning our trek.
Our guides, Lauren & Devin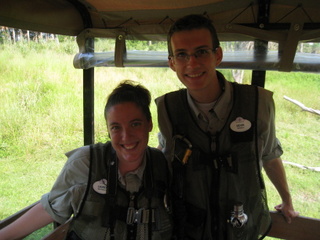 TMLT agent Ric ready to hit the trail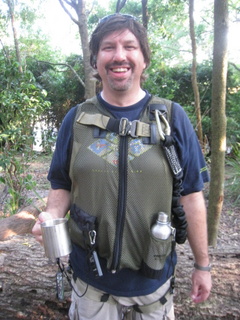 TMFLT agent Steve Baker harnessed for the trek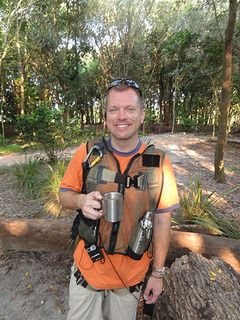 After being geared up we began our adventure by hiking through the dense brush of Kilimanjaro Safari learning more about the animals we'd be seeing from our two guides.  Arriving at the hippopotamus habitat we began one of our tethered experiences where we were attached to a line and able to lean far out over the hippos.  Our guides tossed food down to entice them to come near and sure enough we had some amazing encounters with these huge animals.
A very hungry hippo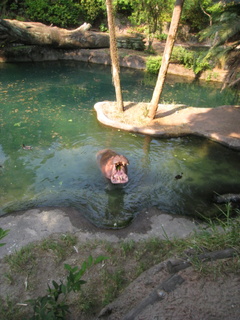 Up close and personal with the hippos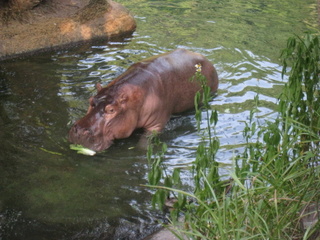 Steve & Ric tethered over the hippo habitat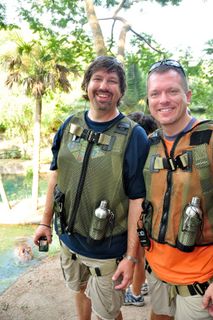 After our hippo encounter we continued our hike until we reached the first of the two suspension bridges we'd cross.  After being tethered yet again we crossed the bridges one at a time.
One of the bridges crossing over Kilimanjaro Safari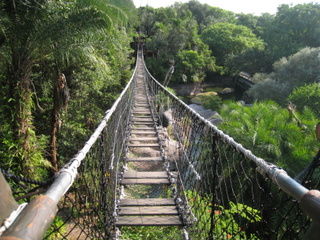 Steve making the cross over Kilimanjaro Safari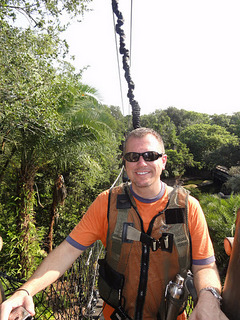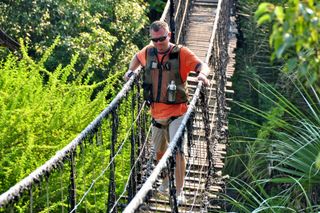 Ric making his first cross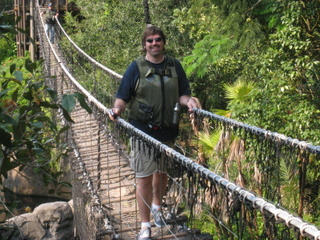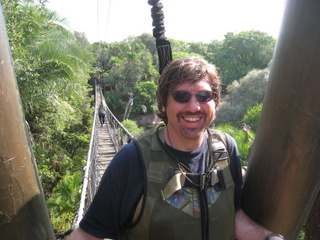 Each bridge is about 100 feet in length and about 30 feet high – it seems much higher and longer when making the cross, however! Don't worry, it's Disney and completely safe – I even jumped on and shook the bridge to make sure!
Ric approximately 30 feet above the safari!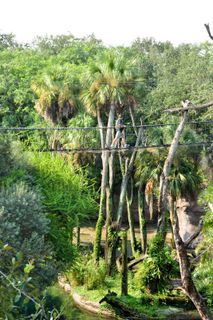 After the everyone completed the exciting bridge crossings we met in an open area where we were able to remove all of our gear and we boarded an open air jeep for our private safari where we had a more private experience with the animals on the safari by going "off road" to points of the savanna that guests normally do not have access to.  We were treated to some amazing animal encounters!
Ric & Steve on our private jeep tour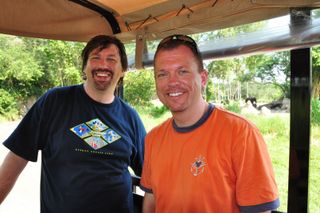 One of the lions taking a big stretch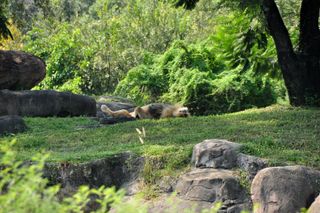 As close as we've ever been to the cheetah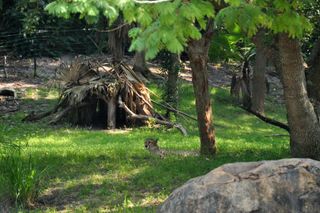 Elephant waiting to greet our group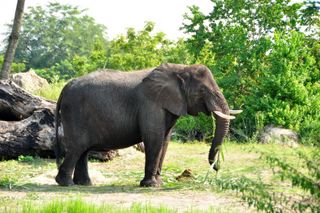 After our jeep adventure we arrived at a private outpost in the back of the savanna were we would stop for delicious breakfast prepared especially for us by Tusker House and served in a two-tiered tin.  The outpost has an overlook area with thatched roofs and decking with tables and chairs to relax in while we ate and watched animals.  There were also telescopes and binoculars strategically placed so that we could get a close up view of the animals on the savanna.
The outpost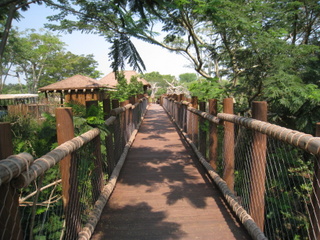 Our Tusker House breakfast in the tins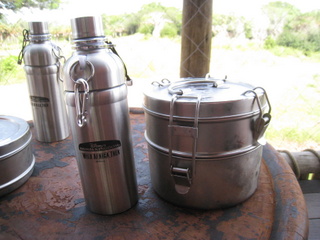 Breakfast on the savanna is an amazing experience (even the flower was edible)!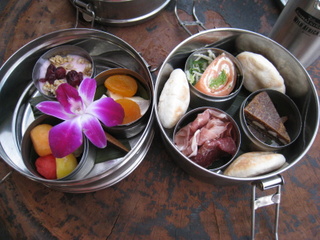 Ric & Steve enjoying breakfast on the savanna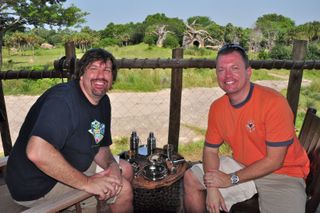 Taking in the views from the outpost
We were able to spend about 45 minutes enjoying the outpost before we loaded back up on the jeep and headed back toward "civilization".  We exited at the platform that guests exit from the Kilimanjaro Safari ride and trekked back over to our original meeting spot backstage near the Dawa Bar.  Here we collected our personal belongings from the lockers and took one final group photo before our tour concluded.
Our group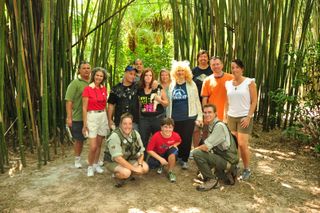 Disney's Wild Africa Trek is an amazing experience for anyone who loves adventure and who is a fan of Disney's Animal Kingdom and the Kilimanjaro Safari ride.  It's exciting, thrilling and it is as close as one can get to a real safari without heading to Africa!
What is included in the $189/per person cost:
water bottle to take on your journey and to bring home as a souvenir
3-hour walking, hiking, climbing tour of previously unseen sections of Disney's Animal Kingdom park's Kilimanjaro Safari
a 30-minute stop on the savanna platform for a breakfast or lunch
binoculars for use during your private safari on the truck
PhotoPass CD with personal and group photos of your Trek
Requirements:
310 pound weight limit (you are weighed before you are harnessed)
no loose articles other than a camera that must be secured by a wrist strap
closed toed shoes (sneakers are preferable, I wore Mickey Crocs on our Trek)
all guests must be at least 8 years of age
lightweight clothing is suggested, especially during warm months or later day tours – you will walk through thick brush, however I wore shorts and had no problem with cuts or scrapes
Similar Posts: