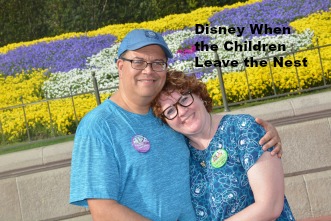 Disney destinations like Walt Disney World, Disneyland and Disney Cruise Line typically bring up images of families with young children spending time together and making memories that the parents can look back on fondly when the children grow up.  And they do just that.  But what happens when the children are out on their own and parents want to visit one of these destinations on their own.  Can they have just as much fun?  My answer is:  absolutely!
My husband and I planned a long weekend at Disney World shortly after our youngest child went away to college.  The original idea was to take my mind off the fact that our house was empty unfortunately, Hurricane Irma had other plans and we were forced to move the trip to late in February.  After getting over the initial disappointment, I turned lemons into lemonade and tried to plan a trip we would both enjoy with a few magical touches.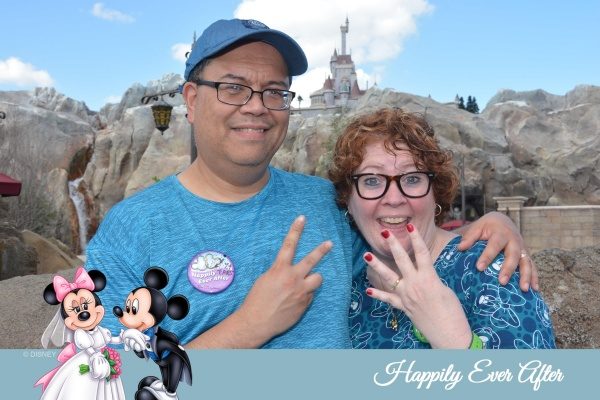 The cast member who checked us in was the first to make magic happen with our celebration buttons.  Since our anniversary was so close, she presented us with "Happily Ever After" buttons customized to celebrate our 24 "Ears" together.  In addition, she gave us "I'm Celebrating" buttons that explained to everyone who looked that we were celebrating "Empty Nesting".  I wasn't sure at first but they certainly did garner their fair share of attention!  So many people offered their congratulations on either our anniversary or the new empty nest.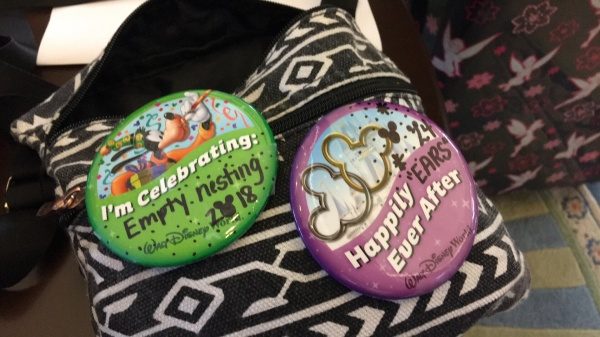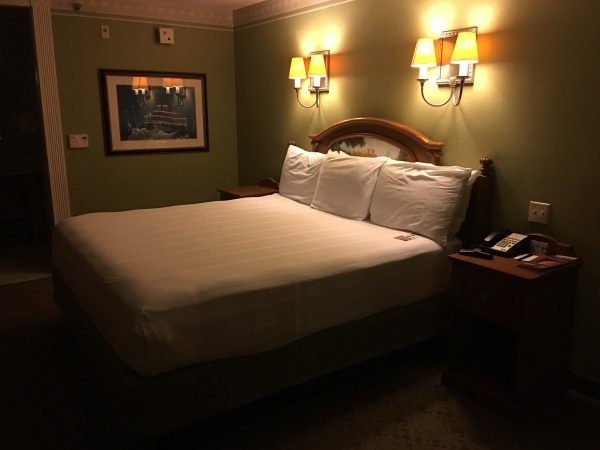 With two less people traveling with us, we were able to take advantage of a King bed room at Disney's Port Orleans Riverside Resort which we'd never had a Disney resort hotel before.  What a luxurious treat!  We don't have one at home.  While some resort properties have King beds as a request and are not guaranteed, there are several Disney resort hotel properties that offer King bed guaranteed rooms like Disney's Port Orleans Riverside.  Disney's Caribbean Beach Resort, Disney's Coronado Springs Resort and Disney's Port Orleans Resort – French Quarter each have King Bed guaranteed rooms.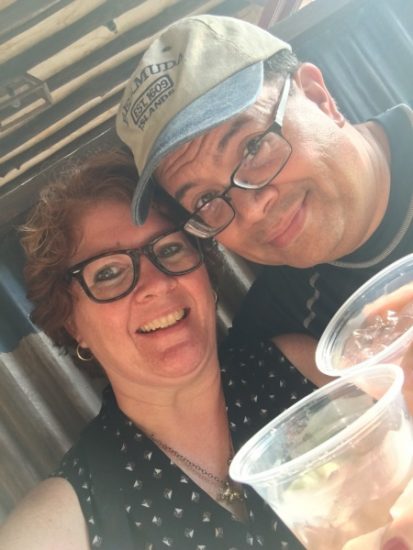 We were able to revisit some old favorite places and try some new ones.  John's pick was Tusker House.  We opted to go for an early dinner and had a cocktail at the Dawa Bar before entering.  This was another treat since normally, we are running from ride to ride, show or attraction and don't typically take advantage of the bars and lounges.  With just the two of us, we could speed up or slow down as much or as little as we wanted.  My pick was Ohana for dinner.  I had been thinking a lot about the bread pudding and hadn't been there in 11 years.  It was just as good as I remembered it.  We revisited dinner at the Hollywood Brown Derby and our server brought out a special champagne toast to help us celebrate our anniversary.  Along with the grapefruit cake, it was delicious.  Our new choice was Via Napoli which somehow we had never experienced and it was some of the best pizza I have ever eaten.  Lunch on our final day was at the new Edison restaurant at Disney Springs.  We loved the Steampunk atmosphere and the loaded fries were a thumbs up from both of us.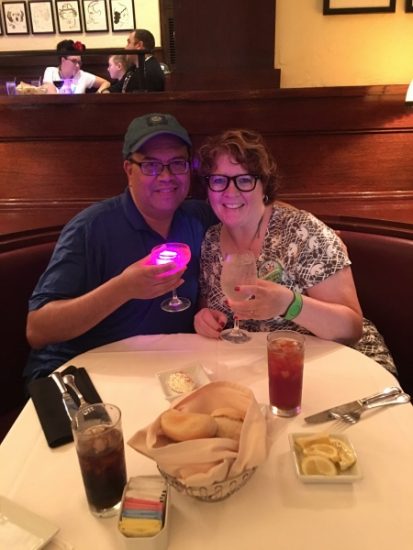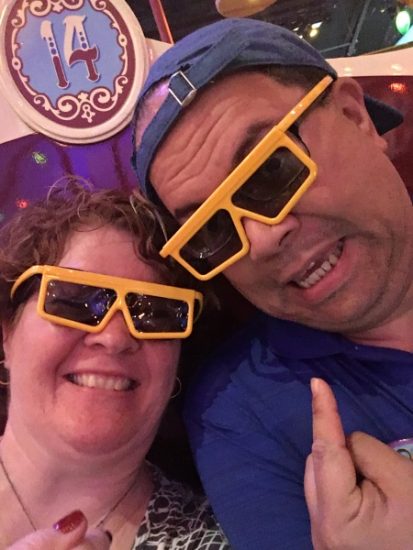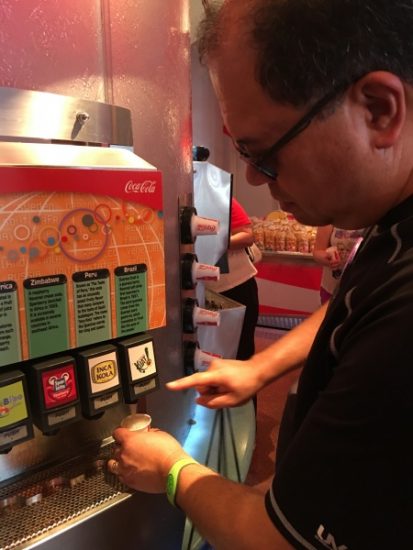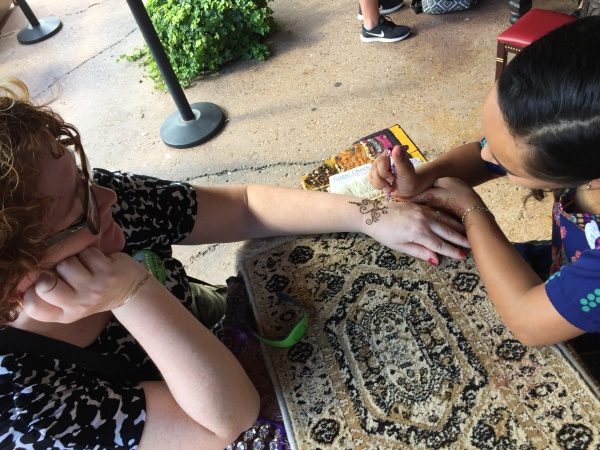 We were in no rush to get to rope drop and we didn't feel the need to stay every night until the parks closed.  John hadn't seen the new "Rivers of Light" night time show at Disney's Animal Kingdom and he enjoyed it as much as I did.  We did take advantage of the Star Wars Galactic Dessert Party which we both loved and the viewing area for the night time "[Movies]" show followed by the Star Wars Galactic Spectacular Fireworks show was well worth it to us.  We rode old favorites and even challenged one another to ride the Hollywood Tower of Terror which we hadn't ridden together since 1995!
I think the best part of the trip was the time we spent talking, holding hands, laughing and being kids together again like we did on our first trip together in 1992.  It was at that time that we stood around the World Showcase lagoon, looked out at Illuminations getting ready to begin and decided that our next trip would be to Alaska which turned out to be our honeymoon.  So many memories are interwoven with Disney destinations and whether we are there with family, friends or just the two of us, we continue to make memories that will last a lifetime.
Similar Posts: