Disney's Caribbean Beach Resort
900 Cayman Way
Lake Buena Vista, Florida 32830
Check In/Check Out
3:00 pm / 11:00 am
Color Your Vacation Caribbean
Welcome to the enchanting escape of Disney's Caribbean Beach Resort, where the spirit of the islands sings in every detail. Positioned in the heart of Walt Disney World, near the magical realms of Epcot®, this unique resort is a tropical paradise that offers a vacation experience filled with leisure and excitement for both kids and adults. Here's a glimpse into the sun-soaked adventures that await you.
Nestled around the shimmering shores of a 45-acre lake, the resort is a picturesque haven with five vibrantly themed "island" villages, each representing a distinct region of the Caribbean. The colorful architecture, lush landscapes, and soothing rhythms create an ambiance reminiscent of laid-back island hamlets. Stroll through winding pathways, embrace the soothing breezes, and let the vibrant surroundings transport you directly to the islands' heart and soul.
Disney's Caribbean Beach Resort Overview

Guest Rooms
– 1,536 guest rooms
– Rooms for guests with disabilities
– All rooms are non-smoking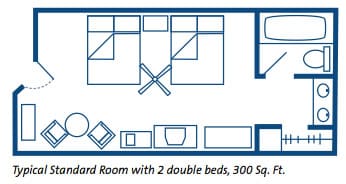 Standard View/Standard Rooms offer views of a courtyard, garden or parking area.
Pirate themed standard view rooms offer views of a courtyard, garden or parking area.
Pirate themed water view rooms offer views of the Lake or Pool.
Preferred Rooms are closest to Food court, Feature Pool, Transportation, and Main Building. Preferred Rooms offer views of a courtyard, standard view or or garden.
King rooms offer views of a courtyard, pool view, lake view or parking area.
Water view rooms offer views of a pool view or lake view.
Guest Room Amenities
In Each Room
– Beverage Cooler
– Ceiling Fan
– Coffee Maker & Setup
– Hair Dryer
– Ice Bucket
– In-Room Safe
– Iron and Ironing Board
– Pool Towels
– Table & Chairs
– Telephone*
* Local, 1-800, collect, credit card and third party calls placed from an in-room Disney Resort Guest telephone do not incur a surcharge. Charges will apply for directory assistance and domestic/international long-distance calls.
– Television
– Vanity Area
– Voice Mail
– Wireless Internet
– Crib: Pack 'N Play available upon request
Dining
– Centertown Market is where you will find breakfast, lunch and dinner counter service options with Latin and Caribbean flavors. Take advantage of Mobile Ordering to skip the lines! Grab and go options are available as well as specialty coffee.
– Spyglass Grill is a walk-up counter in the Trinidad pool area with a casual counter service menu available for breakfast, lunch and dinner. Items range from cream cheese and guava-stuffed French toast to chili-lime shrimp salad with avocado, black beans, pickled red onions, tomatoes and crispy plantain chips. Mobile Ordering makes mealtime a breeze!
– Sebastian's Bistro is home to a variety of surf and turf meals made with fresh and savory ingredients. Featuring salad, jerk chicken wings and seafood entrées at dinner, reservations are strongly recommended for this sit down restaurant.
– Banana Cabana is the pool bar featuring the namesake cocktail as well as cold beer, sangria, jerk chicken wings, burgers and more.
– In Room Pizza Delivery: 4 pm to 12:00 am (plus other limited menu options)
Recreation
The feature pool, Fuentes del Morro Pool, is a zero-entry pirate's paradise, themed like a colonial Spanish fortress, complete with 2 waterslides. There is fun for all ages with an elaborate shipwreck for the smaller kids, including mini slides. Five leisure pools, one in each village, are a quiet escape for the calmer members of your party.
Enjoy a campfire and roasting marshmallows.
Watch favorite Disney films under the stars at Caribbean Cay Island.
Other recreation options at the resort include:
-Fishing
– Children's playground
– Arcade
– Jogging trail
– Volleyball
– Bike rentals
Transportation
Motorcoach transportation
– Disney Theme Parks
– Disney Water Parks
– Disney Springs®
– Disney Resort Hotels*
*Requires one transfer at a Disney Theme Park
Disney Skyliner Transportation
Beginning in fall 2019, this new gondola system will offer a bird's-eye view as it whisks guests away to Epcot and Disney's Hollywood Studios.
Other Services
– Calypso Trading Post is where you'll find all of your essentials, from snacks to clothing, sunblock, and other sundries. Located in Old Port Royale, this is the go-to location for any items you may need at the resort.
– There are 24-hour self-service laundry rooms located throughout the resort. One in Aruba, and 2 in the villages of Martinique, Jamaica, Trinidad North, and Trinidad Sout. Tokens for the washers and dryers are available for purchase in the laundry rooms. For dry cleaning or valet laundry service, please drop your items with Bell Services before 9:00 am.
Disney's Caribbean Beach Resort Rates and Packages
Disney's Caribbean Beach Resort, known for its vibrant and tropical theme, transports guests to a paradise-like setting within Walt Disney World. The room rates at this resort are designed to cater to a wide array of guests, taking into account several factors that influence pricing.
One of the main considerations in determining room rates at Disney's Caribbean Beach Resort is the season of the visit. Like many Disney properties, this resort experiences fluctuations in pricing based on demand. Peak periods, typically including major holidays, summer months, and spring break, often see higher rates due to the increased number of visitors. For guests seeking more value, traveling during off-peak times—such as the late fall, early winter, or non-holiday weekdays—can result in more favorable room rates.
The type of room and its location within the resort also play a pivotal role in the cost. The Caribbean Beach Resort offers a variety of room categories, including standard rooms, rooms with preferred views, and pirate-themed rooms, each with different pricing tiers. The more unique or conveniently located rooms, such as those with water views or near central amenities, are generally priced higher.
An additional adult charge of $25 per night applies when there are over two adults in a room at Disney's Caribbean Beach Resort. Prices, benefits, and other terms are subject to change without notice.
Additionally, Disney often releases special offers and package deals that can affect the room rates at Disney's Caribbean Beach. These may include room-only discounts, package deals with theme park tickets, or dining plan options, providing added value for those planning a Disney vacation. The Magic For Less Travel will watch for discounts and promotions that can be applied to your reservation even after you book.
Disney offers packages that include a stay at Disney's Caribbean Beach Resort, as well as tickets to the theme parks, dining, and other activities. Packages vary in price and content, so it is important to compare different options.
2024 Walt Disney World Resort Hotel Packages
2025 Walt Disney World Resort Hotel Packages
In summary, Disney's Caribbean Beach Resort provides a diverse range of room rates to accommodate different budgets, with costs varying based on the time of year, type of room, and available promotions. The resort's pricing strategy allows guests to enjoy a Caribbean-inspired experience with flexibility in terms of budget and preferences.
Start planning your Walt Disney World Resort vacation!
Request a FREE, No-Obligation Quote from one of our travel agents. Our services are provided FREE of charge. You won't pay more when you book with us. Start planning your Walt Disney World Resort vacation today!